HELLO. I'm SJ Alexander. You may remember me from such blogs as "Musing on Poetic Hermaphroditism," "New Notions In Angry Cuntism," and "Let's See If This Fits In Sideways." Anyway, on Sunday evening I got back from the North Bend/Snoqualmie area of Washyourhandsington, and let me tell you I had a fine time there with my sister.
As I mentioned, I went for the Twin Peaks Festival. I didn't expect it to change my fucking life or anything, which it didn't, thank god, because I'm too old for that shit. But I had a really nice time and met some new people. Mostly first timers, because the repeat offenders were catching up with each other, which I completely understood. The festival is aptly named, I think. I'm used to gatherings that have some kind of academic or analytic façade with panels and shit, but this is really just a time for fans to gather and have fun together and geek out. There was a banquet with a costume contest, and a picnic, and a bus tour.
Morgan and I met a young lady there who had talked her father into taking her as a fifteenth birthday present. Let me tell you, I cannot even remember my fifteenth birthday. I said so. My sister said, "I can, Mom made me make my own cake that year." HA! And aww. I probably blocked mine out. My best family birthday was maybe sixteen when I asked for a bucket of coleslaw and got it. My bar was so low at that point I was like, she cannot fuck up KFC.
The funny thing was that the young lady happened to be dressing up as prom queen Laura Palmer. And my sister grabbed some plastic wrap on the way out of town. So really, our happy weekend friendship was meant to be. She wants to be a filmmaker, and runs a horror fan/review site.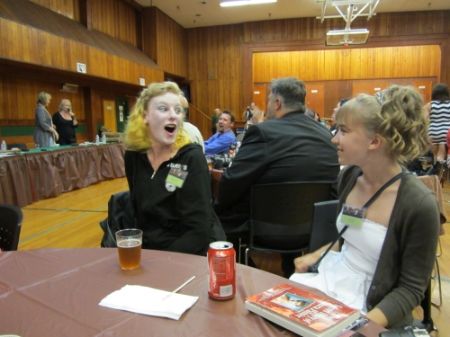 As a bonus surprise, our new friend's father dressed up as Bob. HA. I've made a little album over on the Flickr if you want to see everything.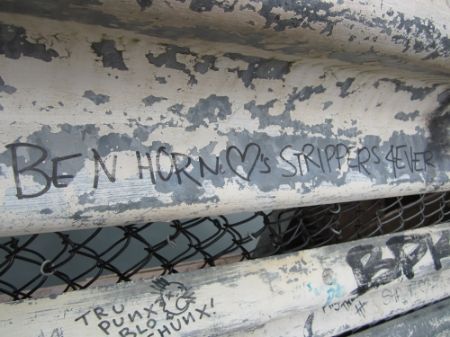 The highlight of the bus tour was probably the Bookhouse. The tour guide told us it's now a methlab. We came up behind the fence to take a picture of it. A shirtless tweaker came out to scream at us. "Get the fuck out of here! This is private property (incorrect, we were on separate property). I'm gonna call the fucking cops!" Like hell you were, Mister.
Since we were staying in Snoqualamie and driving back and forth to North Bend, we happened to notice the local shops. I started to get a bang out of how unassuming and modest the names were.
"Where'd you get your hair done?"
"Oh, you know. Another Hair Place."
"Looks ok."
"Yeah, I guess."
"For our wedding, we want something tropical."
"That sounds expensive. We have tulips for you. They're in season."
"Um, ok, I guess."
Nothing to Wear. I looked in and there was half a shirt and a sock on the floor.
Now I have tomatoes setting. How was your weekend???