This weekend I did putt putt putter around.
My good friend Simichrome came over, and we had a fumey good time. I wear gloves but my hands end up dry anyway and I end up coughing. I'm doing a little at a time.
Before and after:

After and after: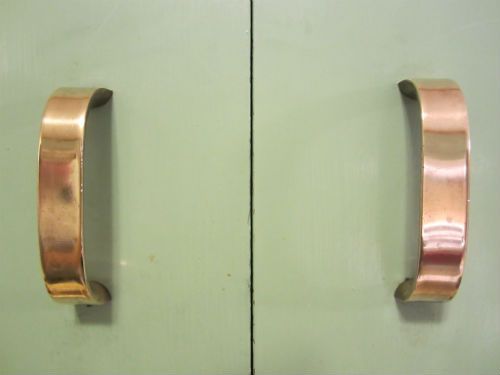 I can see my house from here.
Speaking of brass things, I was at the Value Village recently and I found a nice fireplace screen. Mine was okay, I did not love it. It was the replacement since during closing our real estate agent brought her grandson and he fully broke the fireplace screen that was up here among other things. He was kind of an unsupervised brute. Ah well.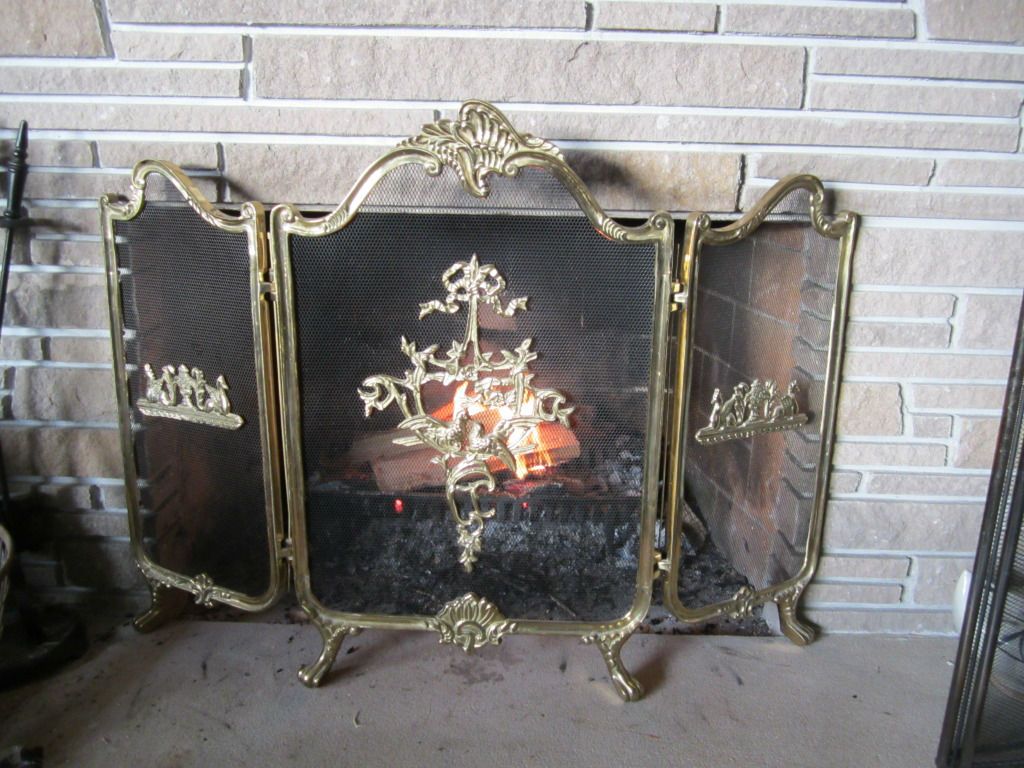 FEETS IT HAS FEETS I LOVE THEM.
WHAT IS GOING ON HERE A MASONIC SYMBOL WHATEVER IT'S CUTE
I do like this better than the old one I pulled up from the basement fireplace. I've kicked it back down there now.
I made some scotch truffles…well, they are part way through. Most of them have been rolled in pecans at this point. So if you are "lucky" enough to be invited over in the next two weeks, you will probably have these very truffles foisted upon you. I made a double batch.
First you mix the cream and the chocolate and the scotch. GANACHEY!
WHIP WHIP WHIP til it is smooth, like on the smooth scale if it one [1] is gravel and ten [10] is opium den hosted by Jesus, then this ganache was probably a seven [7], or Jay Smooth's Cousin Who People Say Looks Like Jay Smooth and Gets Drunk And Rants a Little And Sometimes Accidentally Pulls Girls That Way.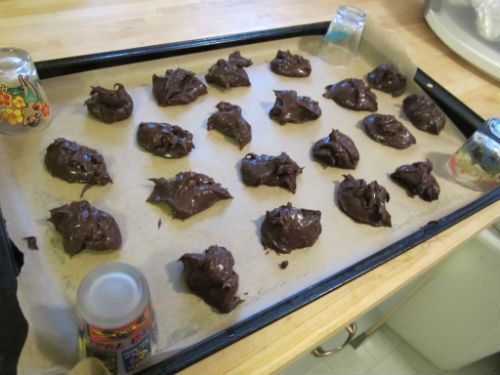 Then you measure out even tablespoons and firm them up more before rolling them in pecans. I made a butt ton so I did a double decker thing with shot glasses and a second cookie sheet. Still probably more stable than some of my old Sim houses. R.I.P lot where each room was separate and joined by a catwalk, while all the property was flooded. Yes, that's practical. I still want to live there, though.
Anyway I don't have any pictures of them nutted, but I will.
Do you remember the NOOK? Sure you do. Baby, don't be like that.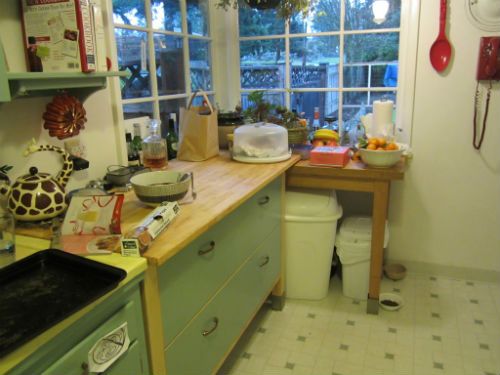 I found a free-standing counter I liked and painted it, and changed the hardware. I even painted the little spats it is wearing on its legs. Yes, that is our old friend Rustoleum rosemary. I took the extra spats and put them on my ye olde butcher block table, which is generally home to fruit and plants nowadays. In this way, if I ever need less cooking space (HA) it can be a nook again.
I think it blends fine. I cook on it a lot and look out the window and think about internal and external space and the pantyopticon and semiotics and crap. And crab dip.
V's Herbie asked about court. Yes. Court. I've been pushed out to January 22nd now due to still no GAL report. Guess what though, my lawyer, Lady Jesse Pinkman, totally subpoenaed the GAL though for Tuesday. So it's like, cough up report or come in and testify. Either way, that's medium bueno. I bet we won't continue-ants again.