I take some steroids for breakfast, some codeine for DIZ-sert/
By the time they bring the pancakes, I'm only partly alert
(With non-apologies to Kanye West but I will link to the lyrics page because that seems to make them send me emails to ask me to stop linking to them. Jolly times.)
Up betimes and pretending to do my taxes, except actually emailing with my contractor, Jolly Mike Ehrmantrout, about some last minute plumbing stuff. It turns out the pipes under the bathroom sink faucet are not long enough to make a connection to the water below. Ha! Solutions are being solicited and bandied. I had to ride my tauntaun to the outlands of West Seattle yesterday to see if they carried a faucet that would come with long pipes.
Also: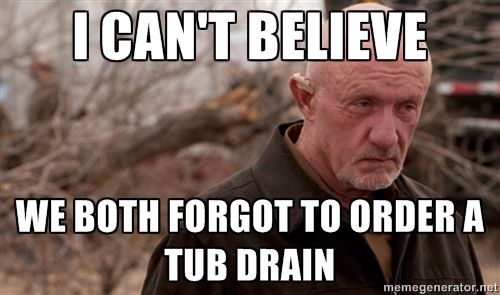 Me neither, JME! This means I get to see Jackass Plumber again. The last time I saw him around Xmas he "fixed" my laundry set up, then left, and my basement trench flooded. I was not supposed to see Jackass Plumber on Thursday when he was here and was to be finishing everything up, since I was supposed to be at work, but I got derailed again (more on that soon). He came up to talk at me about pipe problems and give me some bizarre recommendations for faucet brands. I brought one recommendation to the plumbing store in West Seattle and they pulled out the catalog and said, "Er…see, that brand doesn't really do residential, just mostly pretty plain industrial-purpose stuff." Er okay.
Since Jackass Plumber woke me up, he kind of figured out I was sick. That and the giant pile of pill bottles on the table, which were not arranged so artfully then.
If we are keeping score at home, that's two types of steroids now, an inhaler, Tylenol 3, Vicodin, and Ativan for sleeping. Last month I was taking the occasional Advil, and now look at me. My pill regime comes with a booklet with FUCK YES CAPLOCKS instructions on how and when to take all of these pills. Stapled onto it is a helpful pamphlet titled: "Will You Ever Poop Again? Your Guess is as Good as Ours."

This could be the motto for blogging, yes? I should cross stitch this onto something.
I told the plumber, briefly, that it happened in Hawaii last month and was still kind of a mystery. He launched into a story about Kehei and how his wife tried snorkling but her fake boobs were too big and she kept popping up again? He said something about saline, but it seemed just as likely somehow that he thought that's what regular boobs are made of. I am barely standing, here, bub. I don't want to hear about The Wife's (I think that may be her actual given name) "pontoons."
Jackass Plumber promised to be quiet, but I was really worried about P., who was trying to sleep so he could function well when the girls got home. We are trying to stay very engaged with them in a normal way. For the first two weeks I was home when I was sleeping, sleeping (pre-steroid wakies) I would force myself to get up around the end of school and let them yam on about their day and ask questions and sign field trip forms and make promises for upcoming kid functions I hoped at least one of us could fulfill.
P. was so tired because he had gotten up with me Thursday morning at 3:30 to take me to the ER, since my breath was getting so short I was wheezing. This was one on my list of red flags supplied by urgent care on Thursday. "Go if your breathing gets worse or is labored." This won't get any worse, I thought. And then it woke me up. I've never had asthma, but I was told that's what it looked like and sounded like. The ER is pretty nice at four a.m. on a Thursday. Apparently no one was out getting their arms sliced off or anything, so I had the joint to myself.
They checked for congestive heart failure, since the inflammation is traveling inward and that is a likely place for it to go, and cleared that. I had a CT scan on my lungs to look for blood clots. Being injected with iodine, if you've never experienced it, was not fun. It really burned going in, which I was not warned about, since it wasn't supposed to happen. The pain hit my toes and I started crying. The tech started out by warning me that when it went into my veins it was very warming and I would feel like I was peeing myself, but I wasn't. That hit me suddenly, and I did have to go, and I was convinced it was happened. "Well, this is it. I'm going to have to tell her now that I actually did it." But I hadn't. Dark magicks!
This bad boy took four jabs and two nurses to get in, but thank heavens it worked so they could proceed to poison me with iodine.
I was also given some kind of breathing mask thing that issues a mist that I was supposed to suck down for ten minutes to open me up. "I'm skeptical that this will work," the ER doctor said, "since I don't think this is an asthma-type reaction but some other kind of inflammation. But it won't hurt."
The nurse removed the mask when the medicine was gone. "Now how's that?" she asked.
"Are my lungs supposed to hurt now?" I asked, in the most polite tone I could muster. No, she told me, surprised. I knew they were trying to help. Holy hell did I spend the rest of the day annoyed about that every time I coughed. Lung rage. I told them I felt like I had a small cat on my chest now instead of a great big one. I was back to wheezing by last night but now I have an inhaler which seems to be helping?
Also as of yesterday I am losing my voice, so I assume my vocal chords are inflamed as well? My nose is bleeding too (lightly), but I think it's because my whole body is dry. I douse myself in the take-no-prisoners, wait fifteen minutes before sitting on a slippery surface, industrial-strength moisturizer anyway, because that is how my skin rolls, and it usually is happy for twenty-four hours or so. But my skin on my legs and arms is peeling off in sheets and pills, as if I sustained a bad sunburn weeks ago.
Everyone I see says the same thing–they cannot decide if it is auto-immune attacks (extreme body pain and inflammation), or if I still have an infection (extreme body pain and fevers). Or both. The roulette wheel has been spun and my primary care doc has referred me to an infectious diseases specialist. So I'm going to pay him a visit on Monday. More tests have rolled in–no dengue, no HIV. Still waiting on Lyme's.
I'm thinking about writing up a little history of this to bring in since it's long. The timeline. What I feel like now. What I felt like when it was acting like "normal" flu at first. What I feel like when they taper me off steroids right now. (Like this: ;;;;____;;;;) There's a lot there.
I'm trying to get on part time at work next week and for the next little while. I tried to work full time last week and the first half of the day was decent and productive and the second part of the day was extremely painful and distracting. It's pretty weird being on a double dose of steroids, now though. I think it's making me a little manic. So I am shuffling around very productively. I cleaned the leather in my house, and busted out the Murphy's oil soap and went to town on a midcentury tiled tray that needed some spiffing up. I used to eyeball trays like these at Antika (r.i.p) but they were always four times as much there. But now I have the hook up. I also oil soaped a giant tiki shield that I am going to hang in the bathroom as well, in case some Visigoths invade and I cannot find a towel. Basically I want to oil soap all of the old wood in my house now, especially my velvet painting frames which I can never quite undust completely. I think spring is making me projecty, which I will do very sloooowly.
I've been hitting my hook up spot for ye olde crap in search of tiki theme thinggummies for the basement bathroom, which is going to be a janked up fruity paradise wherein I could entice magically undead Gauguin in take a bath with me. (Note to self: procure Gauguin prints.) But of course I see other things there. Like the tray.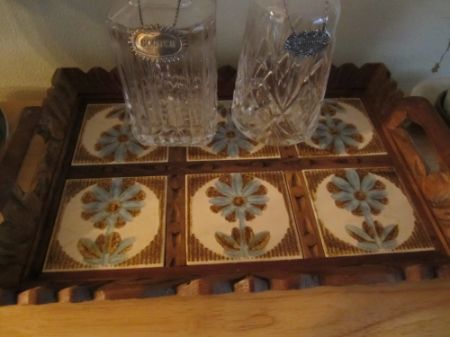 No scotch, which is for the best right now, but still kind of a sad look. Part of me wants to fill them with tea or pus or something decorative for just now.
Also, asking for a friend, do you know anything about the care and feeding of these jobbers? This is a lamp, which, when turned on, oil beads cascade down the strings. It is very classy, like courvoisier and pina colada butt lotion However, alas, a couple of strings are "jammed" and the spice does not flow. Also her center needs to be dusted so it's off for now.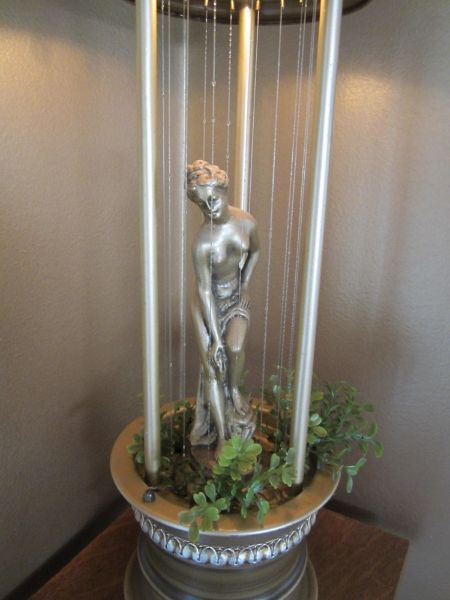 Observant readers will notice that this "friend" also has decided with her impeccable taste and infinite wisdom to paint her dining room bronze as well. Quelle coïncidence!
Seriously though I am going to have to sign P. up for some clubs or something so he can be gone more at dinner time, so he will not obstruct my view of her perfectness.
Okay, I don't appear to be receiving my life's guarantee of death today, so I better start its counterpart, taxes.