A short post to say I bought a lamp.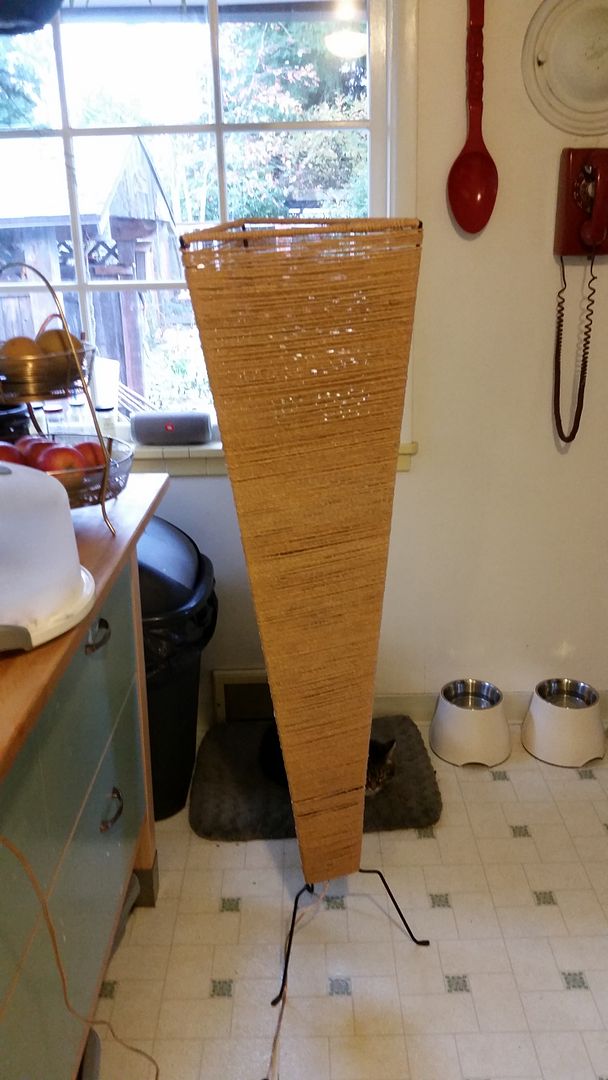 I knew it had my favorite thing: potential. I liked the way it crouched there like an awkward bug or a reject from the Deetz house. What it did not have was a good light bulb.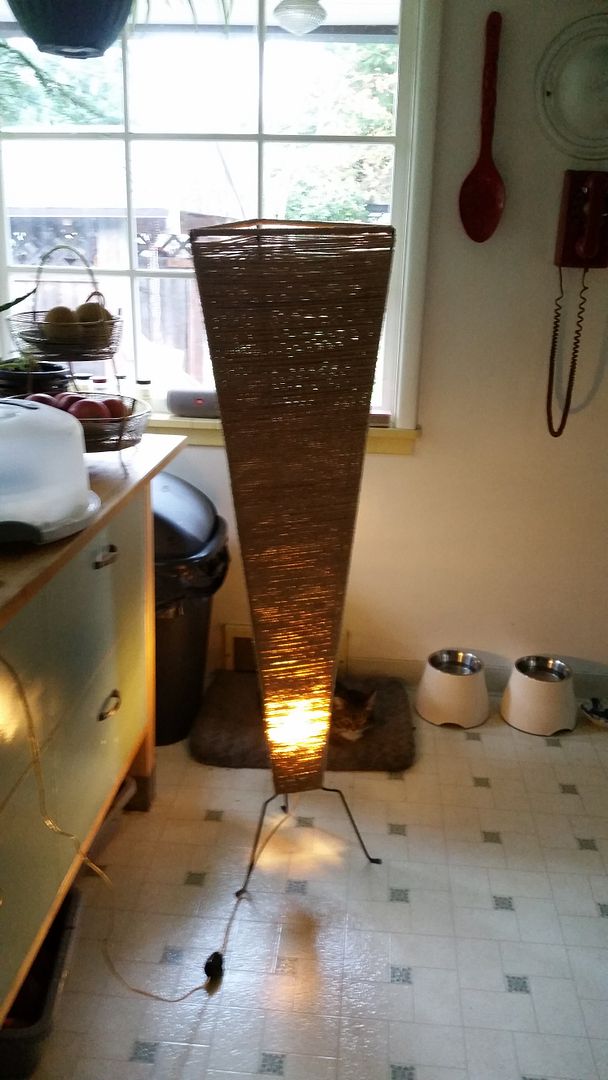 (In the background, Nightmere sleeps on the dogs' wee kitchen bed with extreme prejudice. Lo she has staked her claim to her winter vent.)
To quote our president: SAD! I asked the nice man at my neighborhood junk shop if we could take it into the bathroom to see if it looked any better in the dark. Not really!
"This is not making full use of the jute," he tsked. I like him–he reminds me of John Waters.
Previously, Pete had been looking for a rocking chair for years and found one last summer.
"There's no room for it anywhere," he said.
"CHUH!" I chuhed.
I told him that if he wanted it, I could rearrange the living room to make it fit. So I shuffled the living room around this summer and kicked out a sad Ikea table and some other clutter. (Winnowing down your collection of Ikea furniture: crossing the final Rubicon into stolid adulthood.) Recently I bought a permanent rug for the chair to perch on, instead of an old backless runner (also Ikea) I folded up a little.
I moved the AK-47 lamp over to the other side of the room, and took away another little vintage lamp that was in the living room since we moved in. It was a nice arrangement for summer–plenty of sun streaming in all day long. Now that it's November, one Kalashnikov and another weird arty pendant thing in the other corner felt dim and gloomy.
I wondered how you change a bulb in a lamp like this. It has a long rod down the middle that can be pulled up or all the way out.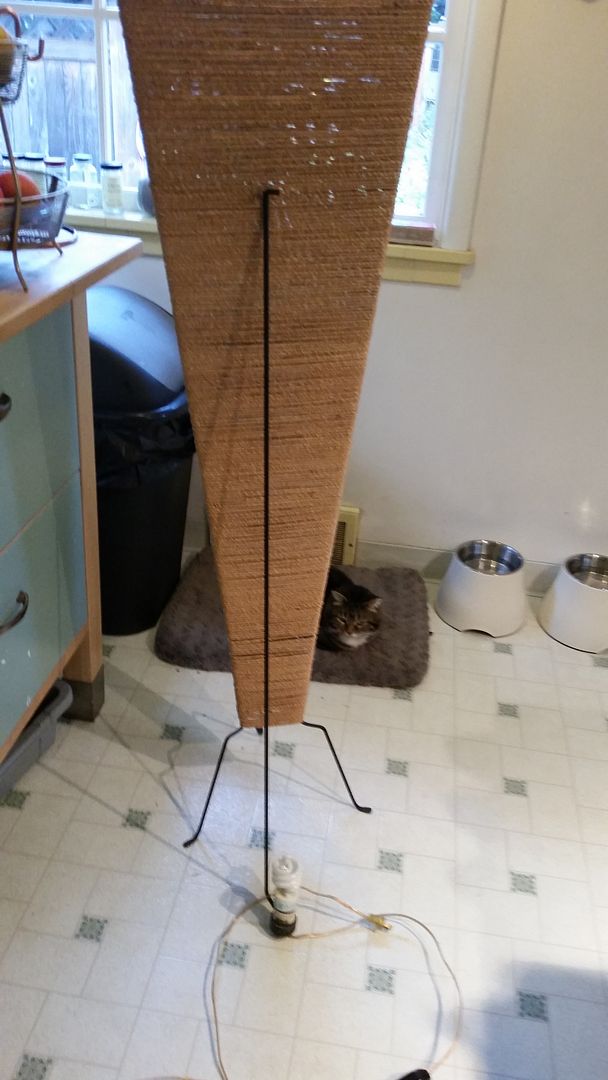 Then you go to the hardware store and buy one of those adapters that turns a lamp receptacle into a plug receptacle.
While you're there, get a couple of strings of patio lights, and turn them into a crazy jumble using black duct tape and zip ties.
Jam the whole mess into the lamp and realize that you made the lights come out a wee bit too far, but it worked out.
Replace chair, and done.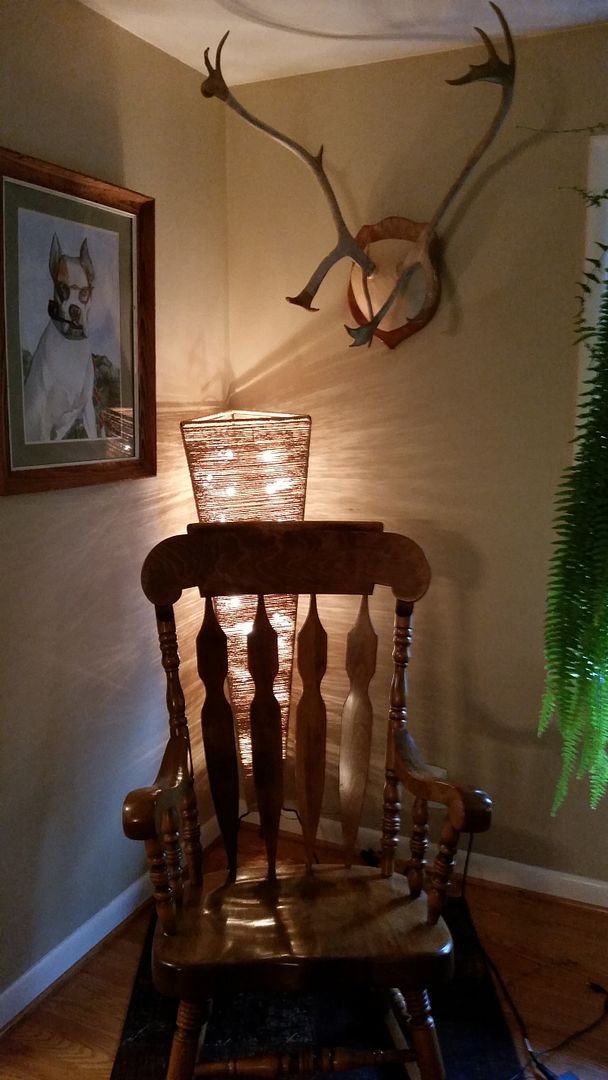 Now Pete's corner is a bit brighter.


Mistakes were made
I ran out of quercetin a few days ago. I thought my shipment was coming just a wee bit sooner than it was.
"Oh well," I thought. "What's a couple of days? This probably isn't doing much anyhow." So I missed my morning and lunchtime dose a few days ago.
My shit was ON FIRE. It felt like I had a sunburn. Even my eyes hurt and were irritated. Right before I ran out the door for my appointment, I saw the package on the porch. I gobbled a dose down and felt better. This is me three hours later.
My usual spider veins from years of painful flushing previously, but much paler. And feeling better.