Dear GD Diary:
One
I'm at the laundromat for the first time in many years. Strudel was up betimes and surprised me by asking if she could come with me. Who wants to go to a laundromat? People who have not spent time there, I guess. When I was very small my grandmother didn't have a washer and dryer—I'm not even sure if there was a hook up at her rural trailer. We went together every week.
I remember playing outside when it was warm, in the dirt with the other kids who had been dragged along. If there was snow on the ground we would stay inside and the windows would fog up. Sometimes I would be allowed to get something out of the vending machine. I thought it was marvelous, actually, but there was no schlepping for me.
"Aw, I'm sorry I'm going to miss the laundromat," Franny said, on the way out the door to her dad's house. Hilarious. Bless her little privileged heart.

Mere surveys the brand new floor hole.
Franny informs me that SeaFed has been made to cut down the pot plant he was growing outside in his garden.
"Did he get a sick harvest?" I asked.
"No. You know our neighbor, Joe, who is 89? He was tired of smelling it. Every time he had his window open he said he could smell it."
"Maybe he was worried because it's illegal, too," I said. "Some people don't like being around that stuff."
Currently I am not allowed to do anything that reminds Franny of her father. This means I am not allowed use the word "fresh" as an adjective (he saw my El Camino and declared it "fresh", giving her a mini-stroke of teenaged embarrassment). I am not allowed to make chili, since that is one of his only meals, and apparently he makes it too often. I am not allowed to play certain music if it reminds her of her father. I am not allowed to say that Robin Thicke does anything but contribute to rape culture (this is an easy one). I have heard Robin Thicke is "fresh" also.
Sometimes it is hard to remember how to act since I was kind of finished being raised by my marriage, and unfortunately my partner in (literal) crime was a b-boy who wore falling down khakis and said "the bomb" a lot. Sometimes I want to say "fresh" too, but I try to mix it up for her sake.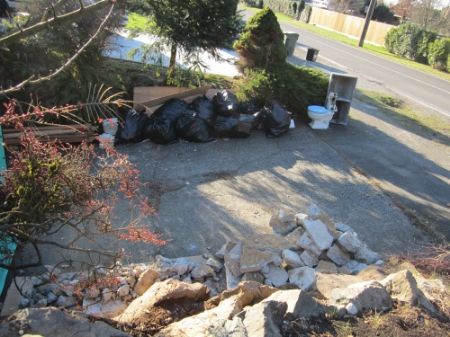 The death of Cool Toilet, Jr. Almost pictured: the driveway portapotty
Two
P's mother, who is Strudel's grandmother, is dying. She has an official diagnosis as of a few months ago. It could get her quickly in the next couple of years, or it could go on for quite some time. When he and I were dating a million years ago, before Strudel appeared, I made an effort to get to know his family. His parents split when he was 25, shortly before I met him. I got along well with his father and found dealing with his mother, who retained his childhood home, challenging.
His father had six children, three with P's mother and three with his first wife. All of the first batch of children eventually came to live with P's mother and father in Portland. They lived in a giant, grand, multi-storey house that was built by the architect of the park it overlooked. It looks like the Addams Family house mated with a ski lodge. They were the third owners.
P's mother is a special lady, hard to describe in some ways. She describes herself as "on the spectrum" and has been attempting to manage that for many years. Even so, she was always able to connect with children, in ways she absolutely could not connect with adults. Unless something has gone wrong, most children are simple—easy to see what motivates them, pretty easy to make them happy.
Over the past ten years or so we have watched P's childhood home decline along with its sole occupant, which has been sad but unsurprising. It was only modernized to a certain point, and then it sort of froze in time after the divorce. P's mother scraped by on her investments and made huge expenditures when she could, like reroofing. What made sense to us and the rest of her children was selling it as part of the divorce and moving into something more manageable. It had been a long time since there were six children and two adults living there.
In the meantime, things got more strained between P and his mother. He confided in me that he felt his mother just didn't like him very much when he outgrew being a simple child. I told him that I found that surprising; she always took his calls, always accepted his visits. She visited us once, four or so years ago, but he told me when I came home from work that day that she had spent the whole brief visit in the yard talking with Franny. P overheard her praising Franny for being "skinny," which worried and upset him.
"I think I need to take a little break from dealing with my mother," he said.
"What will you do when she calls?" I asked.
"She never calls me," he said.
And she didn't. I wondered if it was really him or the fact that she was "on the spectrum" and was so locked into her many daily routines it simply didn't occur to her. Sometimes the outcome is the same regardless of the cause.
P talked about buying his childhood home. We discussed it as a candidate for our future inn. It was, after all, an historic building with large bedrooms next to a beautiful park. We knew it would probably eat hundreds of thousands to restore, update the kitchen, and to add bathrooms to (incredibly, it only had one shower in one full bathroom plus a half bath and W.C. that P's father had added–one full bath! Six kids!). We thought we had time to decide and buy his siblings out. We thought it would probably destroy us, but we're both masochists and Catholics by nurture, so it would have been game on.
Instead we got a surprise on Friday: his mother had finally decided to sell and move into assisted living. She told him and his brother via an email. "Pending my move to Evergreen Manor, would you like to come and get some of your Christmas ornaments?" P was in a panic. Did his brother know about all of this and neglect to tell him? Did his mother forget to tell him with her neurological condition? He made phone calls but couldn't reach anyone. His brother had never set up voicemail since that cost money. P is possibly the only escapee from a lesser John Irving novel. He has fled to me, and now lives in a Wes Anderson movie.
P finally got a hold of his mother. The timing is unfortunate since the bottom has fallen out of the market, of course, and apparently the furnace is broken. P asked her what her asking price was and she refuses to tell him. She knows he is interested in keeping it in the family, in restoring it.
So I believe we are spending part of Xmas in Portland this year. He made noises about helping when he is there, but I tried to talk him out of it. I was imagining him getting sucked into Havisham Manor himself and never getting out from under the stacks of boxes that filled every bedroom. "Just visit with people," I pleaded. "Say goodbye to the house. We'll take pictures."
I assume she's retiring from her volunteer gig with the children of Portland. Thirty years worth of children know her name and her face; she had an honored seat in the children's parade for many years. I have been cross, bitter. I realized I was still hanging on to anger from when P's father died and she did not say one word of condolences to him about losing his father. The divorce became another person in the family and never left again. I am not going to tell the girls these stories. I need to let it go.
Three
On a "lighter" note, our neighbor still hates us. She launched a massive yard cleanup project this summer that mostly seemed to involve our yard. She wanted all of our shrubs cut back, and offered to have "her guys" cut our stuff back. I have to admit I missed a lot of this stuff. I am out and about on the weekends a lot, running errands or seeing friends, or taking the girls places. I would come home and P would tell me "her guy" had come to the door and asked if he could cut the lilacs back under Strudel's window. I looked on the side of the house and they had been reduced to one-foot twigs.
"Uh," I said. "Are those even going to grow back?" In one of P's former lives he worked as an arborist and knows about these things.
"Eventually," he said.
There was also a massive cleanup of mature plantings on the narrow strip next to our driveway. When we applied for construction permits recently, our contractor, jolly Mike Ehrmantraut, commented that our houses are very close together, which we'd noticed.
"That wouldn't be allowed now," JME commented. I wish it wasn't allowed then.
The details of exactly what was discussed between P and the yard guy are not entirely clear to me. It's P's understanding that our neighbor was going to put a line of arborvitae on the edge of her driveway to block us out after the cleanup, which was fine with us. I was surprised when she decided to almost double the size of her driveway, leaving very little room for the arborvitae.
We woke up one Sunday morning in September to hear the sounds of shoveling. I peeked out of the curtain. The ongoing cleanup and driveway projects always took place on Sundays. P speculated that it was the guy from her normal lawn service who was working under the table on weekends.
"Shit," I said, still groggy. "The neighbor is having our yard dug up." I threw on pants and went out in a hoodie with rat's nest hair, feeling myself wake up a little bit from that Oh Good Here Comes a Confrontation feeling.
"Say, friend," I said, finally coming face-to-face with her lawn guy myself. "It looks like you're digging up our yard there."
The guy immediately bristled at me, reddening. I hate to make this sound like something out of Dickens, but he was one of those guys who is so shiny you can't tell if it's oil or…well, he looked greasy. He had bleached blond hair with little roots creeping in. He stood supervising while another man shoveled up the turf on our side.
"I made this agreement with your HUSBAND," he spat at me.
"Really? I'm pretty sure he didn't tell you to dig up our yard and plant arborvitae on our property."
"It's on the LINE," he informed me. "I don't get paid enough to deal with this. I talked this over with your husband and he said this was okay."
P appeared next to me. "No, I didn't," he said.
"Go talk to HER about this," the guy said, pointing at our neighbor's door. "It sounds like YOUR HUSBAND is changing his story now," he said to me. Rut roh. Them's fighting words.
We knocked on our neighbor's door and she came out in her robe. Can I say how wonderful it is to argue about bushes in your pajamas at 8 a.m. on a Sunday? I'm sure you can picture it.
We had a talk with her and the lawn guy continued to interject in a hostile manner. He told us he should have spoken to THE WIFE in the first place. He told us we were WAY OVER OUR HEADS with this yard of ours (???). He tried to insinuate a couple more times that P was a big fat liar.
"It sounds to me," I said. "Like P's understanding of what was happening was that you were putting up a line of arbor vitae. We didn't hear that you were expanding your driveway until we saw it happening. Neither of us would have agreed to let you plant anything on our side."
"It's just a FEW FEET either way," the guy said.
"Well, there's a reason the city recognizes property lines," I said. There was NO WAY I was going to walk down that road. What if the arborvitae died? What if she decided that it had become her property since she paid for the upkeep? What if something happened and we had to cut the arborvitae down? (Like, say, an attack of spite.)
"No one, in the time I've lived here, has kept that property of yours up," my neighbor said. "I paid to have a bunch of your bushes cut back this summer. It looks much better now."
"Well, I'm not happy with the work your men did under my daughter's window. I liked those lilacs, and now they will not bloom for several springs. And if we're splitting hairs about the aesthetics of other people's yards, I think arborvitae are hideous, and I would never agree to let you plant them in our yard."
"But your HUSBAND AGREED," the guy said.
"We are saying 'NO' right now," I said to my neighbor. "I'm sorry. This is why you get things in writing."
Later he drove away, his truck full of arborvitae.
We went home and thought about drafting her a letter—formal, written notice that we wished to only speak to her about changes made on our property in the future and that we wished to have no more contact with her prick of a lawn guy. Ultimately we decided that would probably just exacerbate the situation. A week later I came home and noticed that there were surveyors on her property. I went out afterwards and made note of where the little pink flags were left—about two inches past the end of her driveway. So now we know where the property line is.
P.S. I finally got around to asking my delightful Canadian tech elf to fix up TQS. So if you ever wanted to spelunk it, it's back in working order.