Well HEY HO there was a package on my porch last night!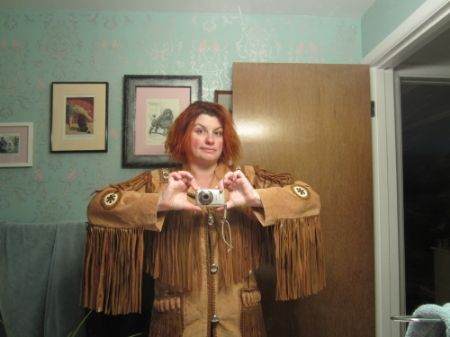 This is called shopping clearance at 3 a.m. on Vicodin and Atavan. And some other stuff, because YOLO. Unlike 98% of the unflattering, bizarre shit I own, this is a New Thing and it's stiff and looks weird (in a new thing way, ok, I recognize the irony of this statement). I don't think I'm going to be allowed to sleep in it until it stains with my body oils and softens, so I had better find a rock pile to roll on. This coat actually looks GREAT on Strudel's dad but he refuses to wear it. I DON'T GET HIM, I REALLY DON'T. He is in the new shower right now, being commanded to test it out (not pictured).
I would have taken a better picture, but a. this is what my face looks like (HA HA, hashtage "awkward") also b. the carbon monoxide detector started going off because I didn't charge the batteries enough. Also I woke up at 4 a.m. I am pretty okay mostly but still feeling a little weird. This is a record of that weirdness for later, since I can't remember anything.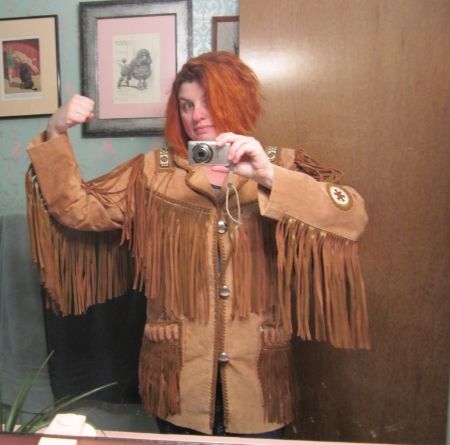 This is currently what it's doing outside (raining):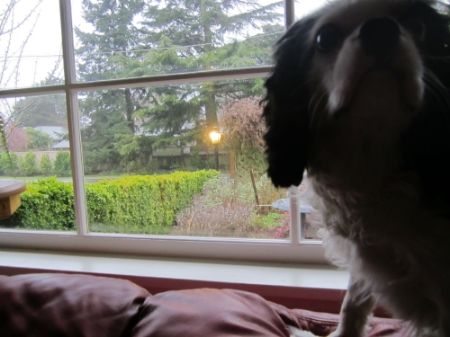 Inside the forecast is, "Every picture is going to be blocked by a Cavalier because then you are looking at and thinking about a Cavalier and perhaps some cheese would really work a treat right now."
Great weather for suede coats. Looking for backalley B-12 shot today, but will settle for Dick's cheeseburger.