I know you woke up this morning and were like, "SJ, I have too many hours in the day. I need a dinner that takes at least 4+ of them." And I'm like, "Yo doggy, I am here for you."
Sometimes I like to make little cooking challenges for myself, and Saturday's was, you know what, I have never had enchiladas with oxtails. Let's makes this happen. I got inspired at the store because I saw one of my favorite things in the world, Hatch chilies. My only bummer is that I feel like oxtails are more expensive in the past couple of years. NUTS. I'm writing this down because I'm sure I will not remember what I did by, like, Tuesday.
So here is what I did, without a million pictures, because I am not Pioneer Woman and I trust you have not been sucking on a tailpipe. However I do like to roll like Chris KimBOLL so let me tell you a wacky story. Oxtail soup is one of the first things I made in my Victorian year. The recipe was so greasy and awful that to this day majorly shitting yourself in this house is called "making oxtails." Bon apetit and wacky Vermont local color in the hizzle.
OXTAIL ENCHILADAS
Ingredients:
3 lbs oxtails
2 yellow onions
4 oregano sprigs
6 Hatch chilis
2 bell peppers, anything but green
28 oz. can ground peeled tomatoes
garlic paste or 6 garlic cloves, chopped
ground cumin
paprika
8 oz. feta or queso fresco, crumbled or shredded
bunch of cilantro
10 corn tortillas (6-inch size)
olive oil, salt and pepper
1. Set oven to 500. Place oxtails upright in a heavy pan with a lid (like a dutch oven), if possible, or something that foil can be wrapped over tightly. Set oxtails in pan–it helps to have a pan that the oxtails fit in pretty well, since you're about to make a meat/veg parfait, and you're going to want to separate part of it later. Slice one onion and scatter over oxtails, then sprinkle half the chopped garlic or about a tablespoon of garlic paste over the onions. Set oregano over the top of the mixture. Pour pureed tomatoes over the top. Even if there is a lid, I recommend a tight foil layer to keep in moisture. Cover and place in oven and immediately turn down to 325. Cook for 3.5 hours.
2. When oxtails come out, let it cool without a lid for a few minutes. Steam is not your friend. Pick off oregano stems and using a slotted spoon, scoop out as much tomato and onion as possible into a bowl or blender (avoid oxtail grease at the bottom if possible, but don't go crazy). Use tongs to pull oxtails out onto a plate, spread out to cool slightly.
3. In the meantime, set oven to broil and halve 4 Hatch peppers and quarter one bell pepper. Toss them in olive oil on a cookie sheet, and place them skin side up. Broil for 5-6 minutes 4″ from heat or until they are pleasingly charred. When they are finished, drop them in with the tomato mixture that was spooned off the oxtails. Set the oven to 375. Add about 1/2 c water, 1-2 tsp salt, and some black pepper to this pepper, onion, and tomato mixture and then blend into a sauce (I like an immersion blender for this, but a regular blender or small food processor would be fine). You should have between 2-3 cups of sauce. It should be fairly thick. Eyeball it, don't panic.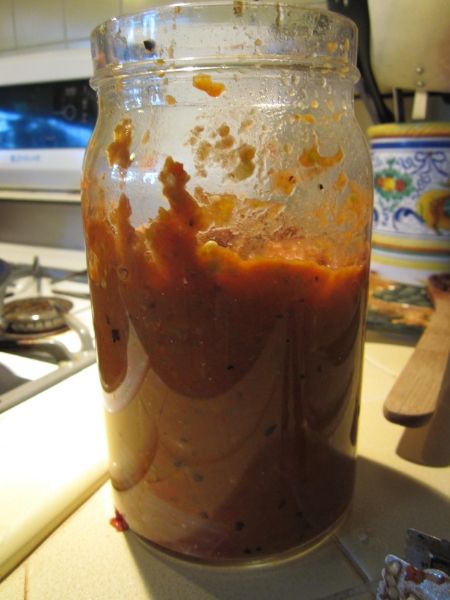 Fire roasted!
4. Wrap the tortillas up in a sheet of foil and put in the oven for about 5-10 minutes. The goal is to make them a bit more flexible.
5. The oxtails should now be cool enough to handle. Separate the meat from the fat and bone to the best of your ability. If you have never worked with oxtails, you should know they are slimy, treacherous, delicious bitches. Shred up larger chunks of tail meat.
6. Chop remaining onion, Hatch chilies, and bell pepper. Saute onions in olive oil on medium heat for about 5 minutes, until they get semi-translucent. Then add peppers and the rest of the garlic (three cloves, chopped, or another T garlic paste). Saute for another 3 minutes or so. Toss in oxtail meat, 2 tsp cumin, and 1 T paprika, and cook for another 3-5 minutes. Turn off heat and mix in half of the cheese. Salt and pepper this mixture to taste.
7. Spread about 1/2 c. sauce in the bottom of a 5.5 qt rectangular dish. (This is like the baby cousin of the 13 x 9 casserole. If you don't have this size, you can go larger and leave some room or you might be able to squinch this into a 9 x 9, the world will not end.) Load this filling into the shells, fold up, and place in pan seam side down. I ended up with 2 rows of five. Cover with the rest of the sauce.
8. Cover the pan tightly with foil and bake for 20 minutes. Uncover and sprinkle the rest of the cheese on top, and bake for 10 more minutes to brown the top slightly and crisp up the exposed edges of the shells (so good). Let set up for 5 minutes and then serve with Uncle Tapa, cilantro, and sour cream if desired.