A quick note to say I have a page up now with movies and recipes for my mini-noir fest. I will expand on it this week until it's done, but this week's is up. I will link this in my sidebar for easy access as well.
It was, I have to say, a pretty good weekend for me. I managed to get downtown and go spelunking through old copies of Gourmet as planned, as well as pick up an old cookbook (Mrs. Rorer's New Cook Book, 1898), which includes regional American food such as Hawaiian, Creole, and Mexican. There is a recipe for alligator pear! I had to look that one up (avocado). I also got some new cookbooks, such as Simply Gluten Free Desserts, which looks like one of the best ones I have found, and is a relief with all the October birthdays coming up. It's kind of like a Moosewood dessert book in its scope and range.
A bit of a mixed bag for the girls, since they are having ongoing digestive problems and Franny is having weird muscle spasms. I am encouraging them to stick with their diet while I am trying to get to the bottom of what is setting them off.
I got a call from Franny's doctor this morning, who said her "thyroid looked good" with no real explanation of what that meant and I didn't bother. She tested negative for "everything" so that is that with that doctor I suppose. I don't believe I can work with her to get to the bottom of this. I feel like I am in reverse Back to the Future where I am playing my guitar at the Enchantment Under the Sea dance but instead of me and my siblings disappearing, I see years of misery in a futuristic photo of my children stuck in my guitar neck! I HAVE TO HURRY. TORTURED METAPHOR. Ummm…line please! Hello?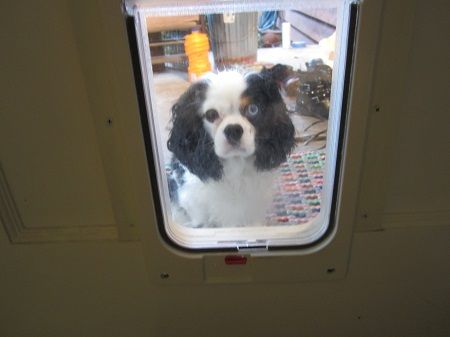 Day 38: the humans still won't let me in.
I took Franny to a homecoming football game so she could watch her BFF who goes to a "normal" high school cheer. Afterwards we were to bring her home so she could spend the night. Franny and Strudel spent a lot of time going up and down the stands and I sat with my tablet, reading in the visitor's section since the home section was packed. The visiting team was from one of the islands and was very, very white. Every cheerleader was wearing a Northface jacket, I kid you not.
On the way home the BFF lamented the fact that all of their middle school cohorts no longer seem to talk or hang out. I feel kind of bad because she is a lovely, funny girl and she is quite lonely right now as the only freshman on the cheer squad. Most of her time is spent cheering so she doesn't have much of a social life. I know things will change for her, but I remember the suckiness of being new. Franny already has a handful of friends at her new school, which is completely unsurprising.
I fed them fancy brunch the next morning with sweet potato fries, bacon, a scramble, fruit, and various pickles and hot sauces. I seem to have attracted some stray cats in the form of some neighborhood foster kids who tell Strudel they sometimes get cut out of meals at home, and one of them who was over was VERY eager to join our brunch. They are quite skinny. I know that's not always an indicator that one is underfed, but the way they hoover up all my snacks I tend to believe it. Underfed foster children! :((( There is so much banal heartbreak in this world. I want to adopt all the strays.
The girls went off to a neighborhood fair with rides on Sunday so I am assured that they have caught up and rebonded. I was afraid Franny would lose touch with her busy BFF but they still seem tight. "My mom says she will work to make sure we see each other," I overheard Franny say. Hee.
It's fun to see exactly how embarrassing I am when Franny has friends over. I was in the middle of writing and said something about "fashioning a cover" for my oil rain lamp since I don't turn it on in the summer. Was that a smurfy thing to say? Yes, it was. It just slipped out.
"Fashioning! Oh MOTHER you talk so funny!" Franny said. To be fair she says this even when friends aren't over. But I do feel her distancing herself from me when we have guests. I think it's normal.