My first week at work was uneventful, EXCEPT! On Thursday I managed to pull a boner and completely mangle myself. I once had a conversation with someone about how you know you're not a little kid anymore when you can unknowingly cut yourself and find the blood all scabbed up much later with a, "Huh, how did that happen?" I thought of that conversation on Thursday.
I had one of those mystery cuts on the tip of my right pointer finger, I noticed, as I stood waiting for my evening bus. "Weird," I thought. "I must have dragged it across something sharp." It was pretty shallow and obviously hadn't bled much. My bus came and I forgot about it. I felt my bag vibrate and fished around in my pockets for my phone–it was probably the big kid saying she had gotten on her bus as well.
I felt something on my middle finger of my right hand that felt like an itchy shock. Another tiny slice! It was bleeding a little as well. I began gingerly feeling around the new bag The Man had issued me to hold my laptop. My phone buzzed again and I went for it: ZAP! I fully gashed open my left middle finger.
I stupidly watched blood drip down my middle finger and begin pooling in my left palm. I had–nothing. Not a tissue, napkin, sock, or even a sweater. I was contemplating using my coat when the lady across the aisle handed me a big wad of tissues.
"Thanks!" I said. "I think there's a sharp zipper or something…"
"There's a knife sticking out of your pocket," she said.
Oh god. I brought a paring knife in my bag on Wednesday and completely forgot about it, and it came loose from the pocket it was in, or maybe cut through the pocket, and I was repeatedly cutting myself with it. I was officially the dumbest person on the bus, and a creep to boot, because only creeps bleed profusely on the bus without even realizing it. Was I on the PCP? Did my elevator not go all the way to the penthouse? I imagined people were edging away from me.
I applied pressure by clenching a fist and noticed that I had blood between every single one of my fingers of my left hand, as if I had just ripped out my enemy's still-beating heart and was about to take a juicy bite out of it. A lady in the back corner told me to apply pressure to my wrist.
My face was hot and I tried to make myself invisible. I accidentally made eye contact with the teenaged boy sitting across from me who finally looked up from his phone. He took one look at me and went right back to his phone. "Crazy old lady on the bus bleeding from hand" I imagined him snappchatting at his friends. I had to stifle the urge to flee the bus and get out into the cold air and cry a little, because your first week is always a long week and I was tired as well as embarrassed.
I could have a fresh start on a new bus, the next bus, I reasoned. But then it would take me much longer to get home because it wouldn't be an express bus and what if I needed stitches or something? Or a brain transplant, at least.
So I got home and sat on the couch and felt sorry for myself. Nothing tires me out like embarrassment, I think. And now I have a Zorro "z" on my middle finger and something to cringe about when I remember it.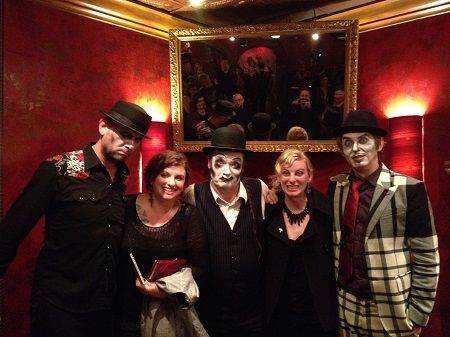 Here's me and my sister with The Tigerlillies from last Wednesday. She got the DJ Morgan discount. It is fun to go out with my sister, especially when it involves an early evening!