I got a call from the hospital yesterday evening saying they finally found my food, and do I want these bowls or what. They didn't say where they called FROM specifically so I just called the switchboard. I guess I wouldn't want to identify myself if I worked for them either.
I got bounced to security after getting looped back to the switchboard four times because there was a "code grey." I had to look this up: Combative Person. I'm guessing it was a patient, and I feel you, girl.
Security did not know where my bowls are. "Did you try registration? Try registration." Click. Ok.
I was just thinking about The Olde Thymes when you would have to call a large institution using a list of numbers in a book, which you would keep open in front of you, because you knew your first few tries would be unsuccessful. Sometimes a nice person would give you a secret number that was not in the book. Now people just ring off because you can just incorrectly guess the next number yourself using the internet.
I tried registration. "Not here…what room were you in?"
"I have no idea, but it was the 11th floor."
"Ok, I'll transfer you."
Well, there they were, sitting in a sink I guess. It was nice of them not to find my soup and then to pour it out.
"It did not look so fresh," the lady said. I imagine not. So now I come get my bowls or they will get rid of them, like tomorrow.
My sister has gone back to work and I'm rolling solo today. Yesterday we went to see the cherry blossoms at UW, which I haven't done in eons because I've been so wrapped up in working my way through my apprenticeship. She said she gets really rocked a few days after the drive ends and she was really feeling it. We've been hanging out watching movies and eating our weight in mochi and muscats, but I just wanted to lay in bed after walking around campus and so did she. So I sent her home at noon.
I wanted to do a cute picture of the dogs among the trees but I couldn't summon the energy to bend down, since they are short and the trees are tall. You'll have to believe me that they were there. We met a couple of cute two-year-olds and one could say "Cavalier" as clear as day because she has one in her life named Simon. It was pretty impressive. Lots of people were pointing at the dogs and talking to us, as people in public do.
"I don't think I could have a dog!" my sister said. "Too much attention!"
"You get used to it," I said. "It's mostly when they're puppies."
I worry about my sister, sometimes, because she reminds me of myself ten years ago. When she's on, she's social, and when she's not working, she's not interested. I thought it was a family trait because I got increasingly unsocial to the point of somewhat phobic as time went on. My grandmother was isolated because of her health and attitude about the world, and had no friends for years at a time. My mother seemed to be an extrovert, liked people and was attracted to them, but had some truly antisocial behaviors. She had severe misophonia, which would trigger behavior like mocking people in public, which was excruciating. Especially if you were trapped in a restaurant booth with her and the people she was mocking were across the way. And there were no other diners!
I've got a long way to go in general, both mentally and physically. I know I'm severely kneecapped in some areas of my life, and doing ok in others. I know I've said this so many times, but the thing that has helped about a billion percent is nutrition. All those little tics, the impatience, the anxiety, are almost down to nothing. Insomnia is over unless I truly do something stupid like take a massive nap or drink too much wine for restful sleep. I'm more mentally resilient–less of a hair-trigger temper (which usually didn't come out, so the rage was just inside me bouncing around), less likely to take offense at anything anyone says offhandedly or not. I can tell myself that people mean well, and if they don't, it doesn't matter. I didn't realize that muting all the little microaggressions that were mostly self-inflicted would positively impact my relationships.
I know when you have a hammer everything looks like a nail, but I wish I could time travel and find my grandparents in the 40s and say, "Hey, you know this better living through science shit? It's not for us. Have some veggies and a multivitamin." Ha ha, if only.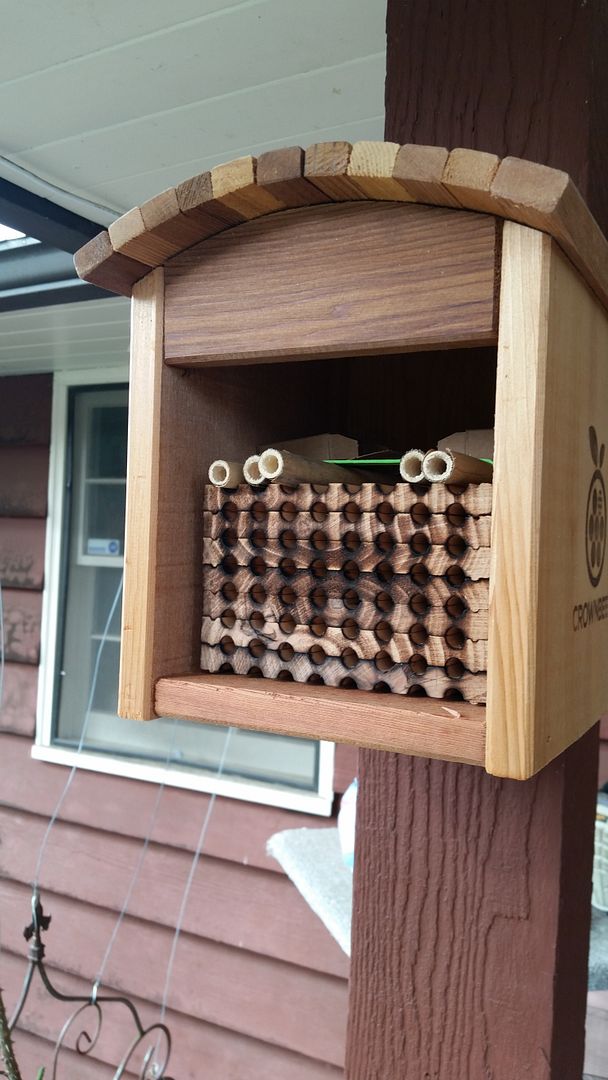 Today I hung my mason bee house on the back porch, facing the morning sun. It is very small and light. It felt great to swing a hammer! Sometimes I have a little disconnect between my actual skills now and what I can do at home. I looked at the nail and the porch post, and said, "Ok, self, don't fuck this up." I used to hammer nails in crookedly in all damn time.
I used to hit my thumb: OW OW OW fifteen minute break followed by a snack and a nap! Now I still hit myself, and give myself blood blisters, but I just tell myself it doesn't bother me and I move on, because I realized it doesn't actually hurt that bad if you think about pain in a certain way, as just a sensation or feedback from your body. If the feeling doesn't come back in fifteen minutes or I feel blood pooling I will take my glove off and look. It turns out I was born to be an oaf, but you knew that already, didn't you?
I took the cocoons out of my fridge where they've been residing for the past few weeks.

Bee cocoons come in a little box and look kind of like bees that have been wrapped up by a spider. You put them on top of the inside of the bee house in their box.

The kit also came with clay that you turn into mud and leave nearby so they can seal their tubes after laying eggs. I'm leaving it out now in case some native bees show up and want to get in on this hotel action. Now I just have to wait 2-4 weeks for the cocoons to open. THAT'S FOREVER.
I'll post more pictures when they're flying and when they make more cocoons midsummer. I read that ten mason bees can pollinate one fruit tree, and they like hazelnuts, which we have three of. Yeah!
A little health update: everything is feeling better daily. I'm six days out and sleeping on both of my sides. A weird thing is waking up with Death Flavor in my mouth, which I'm told is anesthesia working its way out, still. How about it works its way out of my elbows or something instead of my mouth? It is also making me want to eat what I want to eat, and not reasonable homecooked meals. So there's a lot of juice and cheese happening, because nothing else tastes good.
Peeing is a magical experience now. I go, and then I have the sensation of not having to go anymore. I had the feeling of constantly low-grade (or high-grade) having to go for years. What is kind of odd now is how my bladder feels. I was at the blossoms yesterday and just sort of felt vaguely uncomfortable and off, and then I was like…you know what…I better see if I have to pee. I did. What? I don't know either.
I took a shower yesterday and had another new feeling: a normal vulva instead of one with a uterus that was trying to later days out of it. Have you had a baby come out of your business? Do you remember that feeling of pressure? Every time I stood up I was basically crowning, ahaHAHAHAHAHA *uncontrollable sobbing*. There is so much less pressure on my pelvic floor I just feel light now. Next time someone takes me out, I'm going to get thank you cards and write my surgeons. I knew this would be life-changing, but I didn't know it would be like, 96 pt font flashing LIFE-CHANGING.
I'm a little achy around where my uterus was (kind of like negative space menstrual cramps) and definitely super tired. Also sad that my medical glue is coming off my incisions already because it's kind of this gross blue which is neat because I'm glued together! and I figure it's good to have them covered. I had a dream that tea was coming out of my incision holes like I was a cartoon. My brain also keeps reminding me, "There's nothing but a vagina now, ISN'T THAT A KICK IN THE HEAD?" Go be amazed somewhere else, brain.