Oh a twist–Monkey #10, who successfully traded hats on stage with eleven monkeys for two matinees and an evening performance last week, not to mention all the practicing, has suddenly come down with lice. What a crazy random happenstance. I dropped a dime on her with the school, because I am also hearing that there is a full-on outbreak and girls are "hiding" lice so they won't need haircuts.
Things kind of festered because Strudel has not really been having me braid her hair at night for the past week or so, and I was just suggesting a Nice Bob to resolve her tangling and pain issues.
"NO!" she said last night, as her dad picked her nits.
Franny, meanwhile, has not had a haircut since September, and her ends and layers were getting a little tired. She asked me to give it a blunt trim across her shoulders, which was easy to do once I had gotten laundry load #4000 in and dishes were done.
"Oh that looks nice, Mom." She thought for a minute. "Should I have…BANGS?" She started pushing little wispy bits down to preview what it might look like.
"I think you should, but I'm going to tell you what my hair stylist tells me: commit fully. No wimpy little bangs that you will have to style endlessly and they will still kind of look crooked and weird and not behave. You should make it a hairstyle." I pulled a chunk of her hair forward to show her how it would look full and frame her face.
She went for it.
I like it. It's very hipster anime Cleopatra. I showed her about a little heat, and a little style product, and BANG (no pun intended, but there you go).
THEN, not to be left out, Strudel clamored for a bob. I JUMPED! This is probably the quickest haircut I have ever given and she said the same thing she ALWAYS says every single time.
"I HATE THIS. Wait. This is actually okay. This is pretty good." Sigh. "I think I like this. Thanks, Mom!"
And then after I was done, P. swooped and picked even more nits. This was after a round of smothering with tea tree oil and almond oil, too, of course, since I was out of Listerine (note to self). It will probably need a wee bit of clean up when she wakes up.
I tried to take a picture, but she turns into a blur. I get that she doesn't love the camera, or holding still, and a lot of times I just leave her be and "miss" stuff. It's okay, some of it stays in my head. I really wanted to snap the bob though and I was a little disappointed in myself for pressing it.
"Can you just…hold still?" I asked.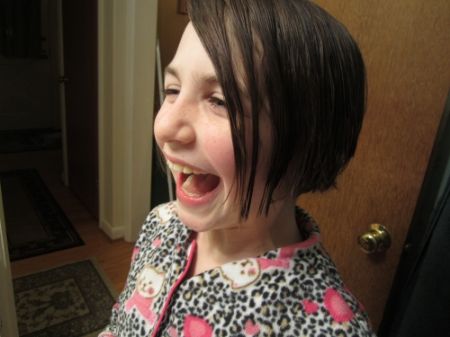 "Not really!"
"I want to see your hair in this, can you just, like…act normal?"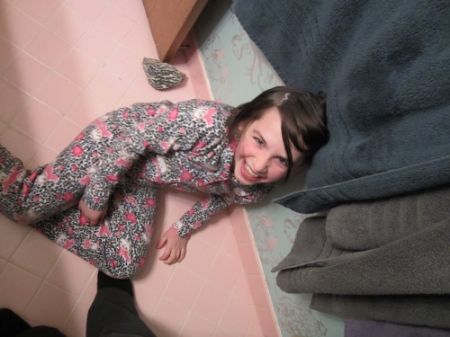 "I AM ACTING NORMAL!!" Hmm. Touche, there, Calvin.
Lady Lice-a-lot is coming to the rheumatologist with me this morning. Guess what? I "have something" now, I think. Parvovirus B19 came back positive, finally. I will let you know more when I know what the heck this means, overall.
Also I am burning with desire to show you my bathroom, but I am missing VANITY LEGS. OH GOOD GOD. SJ problems. I am going to shoot it later anyway, because there is an inspection today and tomorrow and then it is DONE, vanity legs or not (legs are backordered til next week).
ETA: Okay, it's NOT parvo. It was just showing that I have had it. Dammit. Still, I'm getting better.