I wanted to show you my bathroom today, since it was supposed to be finished, but the plumbing inspection failed on Thursday. My least favorite plumber, aka Jackass Plumber, forgot to install a mixing valve on top of the hot water heater. Or perhaps he was not aware he needed to. It's unclear.
The same inspector who approved the rough plumbing returned.
"Oh I see you went for the FANCY toilet," he editorialized. There are way too many men in my house lately.
"Mmm hmm," I said.
"Looks like this shower isn't done."
"It's an open shower."
"No door?" he asked.
"No door."
He ran it.
"I guess the water's staying in…"
And then a tick next to the word "failed."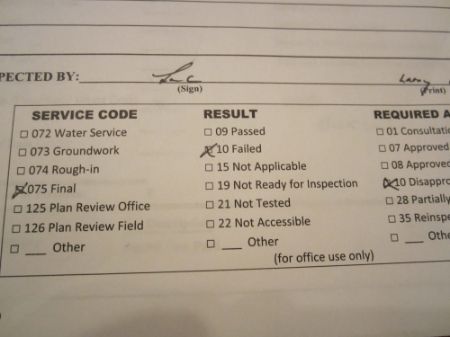 We get to try again next week. Also my vanity legs should be here by then. I bought vanity legs via my cabinet company. The legs–really more an idea of legs–were a very small black-and-white picture in the catalog that promised to be good metal companions to go with my retconned faux-nostalgic midcentury vanity that looks like something James Bond could have thrown up into, had vanities like this existed in the 1950's. They did not. I'm enjoying this trend of thinking about what a credenza looks like and putting plumbing in.
But this isn't Sears and Roebuck times. It is really bullshit to show me small black and white pictures at all. Sure enough, they arrived, and they are hideous. I didn't really know what I was getting, which is not a defense. I asked for a picture or an internet link or a sample, but it didn't really come to pass. First they sent two separate sets of black plastic legs, which was not what I ordered at all–so there was that delay.
Then what I did order showed up.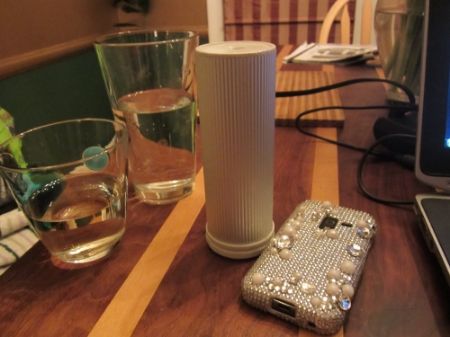 For size comparison, it cavorts among sauv blanc, water, and someone's jank ass phone what needs a new case like whoa.
They were also kind of scratched or at least unevenly painted, and didn't work at all with the actual vanity.
"Sooo the legs finally came," I said, proffering them to my contractor. "Yay." I was making bargains with myself at this point, just wanting to finish. I can do something else with the legs at some point, I told myself. He pulled one out.
"Do you like these legs?" he asked me, giving me a hard look.
"Well. Um. Maybe I can paint them, though?" He waited. "No. I don't like them. And they're kind of scratched up. I'll go find some legs I actually like and have them sent immediately." He nodded.
So I ordered legs from a site that does…midcentury legs. I figure they have ONE JOB, and they can do it well. RIGHT? Knock on knock-off legs.
It turns out the legs that we waited so long for and that I hated don't even fit properly. So it was all moot.
We were hoping to start demoing the other half of the basement today, but it really needs to wait until the inspectors are done. One project at a time, please. So I have been futzing around the house today doing little odds and ends like painting a pillar on my porch that was getting very weather-ravaged, and test driving the DJ Roomba I bought with my tax refund. (R.I.P. Neato.)
Also I have been thinking about my kitchen today. There's a couple of issues with it. It's on the north side of the house, and gets a wee bit of sunlight in morning. It's a candidate around here for a couple of those tubular skylights.
So this is what it looks like around 2 p.m. on an average April day. Dimmer than this picture makes it seem.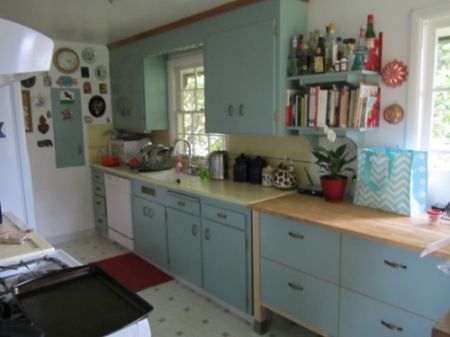 I decided to play up the primary colors feel between the yellow tile with the burgundy sizzle stripe and the teal-ish cabinets by adding a lot of primary red. The peace lily and the chevron bag is my sister's for the little housewarming visit I made to her today. I had a squee. Among other things, I made her bacon peanut brittle and pickled eggs. I moved into that exact neighborhood when I was exactly her age, except her life is way less fucked up than mine was at 26. Yeh.
Also it's L-shaped. Not much to be done about that. I like that it's a one- or two-person kitchen and it's pretty easy to convince people to beat it during parties so I can do my thing and get out.
Here it is with the lights on:
DEATH TO BOOB LIGHTS.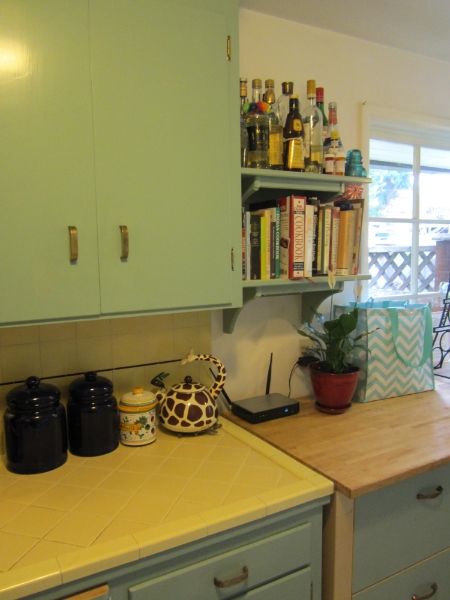 So here's the tentative plan, but not for a while. Get ready for 50's house heresy: I am taking out the countertops. I just cannot with the tiles any longer. Crud gets stuck in them constantly, liquid pools, and they always look dirty. I am thinking about doing wood but am not sure. I am keeping all the yellow backsplash, though. The cabinets are getting a new color scheme, and we have to redo the floors. The dishwasher leaked in January and it fucked up some of the underlayment. I feel lumps when I walk now. And the vinyl is going, of course. I am leaving the OG lights alone and the configuration, basically. It's a nice cubey kitchen that is very 50's sensible–no need to rip out the cabinets or anything. And it's almost impossible to reconfigure an l-shaped kitchen so I am calling it good.
So now the question is how to work with yellow with a burgundy sizzle. I am thinking about doing something Frenchy Provencally after stumbling on a bathroom that is just like my kitchen, really (thank you, comments section).
Grey? Blue? Both? Cannot decide.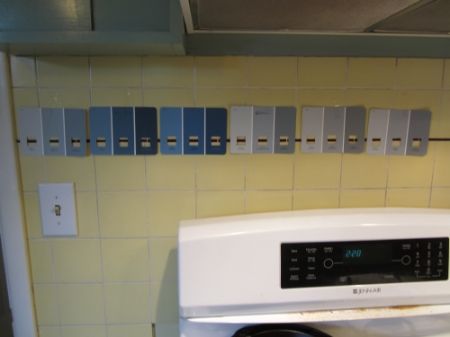 I am in the germinating phase now, since it's far off.
This week was my last week of working part time. I've tapered down on Prednisone again today and it was a zap on my brain again. I dropped a bottle of rice vinegar on the back porch today–it was like it just left my hand somehow and shattered. I think I may actually sleep well tonight instead of my heart hammering at 2 a.m though. I've been sleeping 2-4 hours a night for several nights in a row and then I have a massive crash and sleep 12-14 hours and have a "good" day.
"How are you doing?" my contractor asked. It was before the plumbing inspector came, and we both thought we would pass with flying colors, and I would not see him again until maybe I asked him back to put in a gas insert in the basement fireplace.
"I'm okay," I said. "The steroids are worse than the disease at this point."
"Ah, I hear that," he said. "I've been dealing with steroids for the last 25 years or so. I'm on my third heart."
"Wow," I said.
"And I'm a cancer survivor."
"Holy cats, I'm glad you're here." We always say dumb things in the face of surprising information like this, right? Maybe just me, though.
"Me, too." He said he owed it all to qigong and energy practice. I was not going to argue with that. I pretty much owe everything to obsessive attention to masturbation and the idea that tea tree oil can cure anything, including late-stage capitalism and jungle rot.
However. Cooking doesn't require much thought at this point, which is pretty comforting. I can kind of just feel my way around. How many thousands of times have I sweated an onion? It sounds stupid but it really is so grounding to me. I had a little moment when I wasn't able to walk or stand much where I was asking myself why I ever cooked, as we were hauling giant piles of frozen Trader Joe's loot into the house that cost less than food that required marketing, planning, and chopping.
But now I've been doing a lot of cooking after work. On Thursday I made an asparagus and gruyere tart and then made Moroccan lamb shanks because why not? I've been cooking for so many years now that I think it's keeping me from coming unhinged a little. Here is a normal thing. I was so anxious on Thursday afternoon I felt like I was going to have a panic attack, could not answer the phone, so I just focused on cooking. I had an alarm guy coming over and I felt like I was going to throw up, and made myself take an Atavan. It kind of freaks me out how I went from fish oil and an occasional Tylenol eight weeks ago to Valley of the Dolls so quickly. I hate this. I know it's temporary, but I feel so trapped inside pointless, needless side-effectsy anxiety. I just kept rolling puff pastry dough and chopping garlic while he chit chatted at me about losing a cat from a hotel room during a cross country move.
I decided to see if I could bang together a Moroccan dish that tasted like Moroccan food with what I had in the cupboard and from memory. It was okay, really. I'd write it down, but I didn't take a picture, so that would be kind of boring. It turned out. But here's the tart: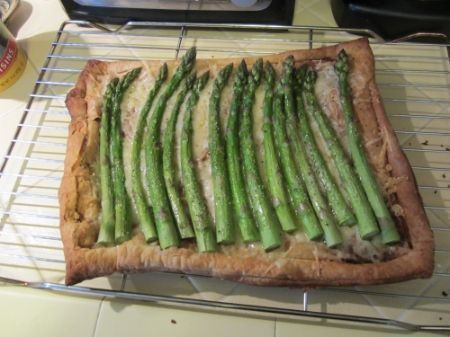 Alien wiener tart.
I have been junking/thrift scoring plant stands for the house and bathroom. I liked my new snake plants but I thought they needed some levels to be finished. Behold my whirlwind life.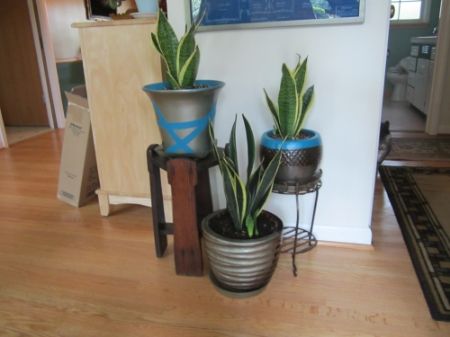 Now I'm happy with it.
Any thoughts about my kitchen are A. optional and B. would be welcomed.