UP BETIMES and writing for an hour. ~860 words. When I am at my peak I can crank out about 1,000 words an hour, preferably to the accompaniment of my 90's R&B station on Pandora. Bel Biv Devoe really sautés my scallions at 6 a.m., YAKNOWWHATIMEAN? When I was really pushing it I could barf out about 2,500 words a day in addition to working 40 hours and being generally awesome. I am writing under a new pseudonym since this is a new genre I'm writing in. This is how I want you to think of me, up at dawn listening to Color Me Badd and writing terrible fetish porn for money.
I almost feel like this should be my last entry ever ending with that sentence. BUT NO. Sorry. What is the end like? I think it's death. I should probably do like the NYT and put my obituary in a drawer.
I'm morbid on this beautiful, sunny day. I think it's because I was sifting through the long ago, trying to sort my way into the future. Now that the bathroom is done, P. is chomping at the bit to demo the other half of the basement.
"Do you have ALL MORNING?" I asked.
"What!" he said, innocently. "We just need to move some furniture."
False. I knew there was sorting to do, and a Goodwill pile, and more things to go in boxes. It would require THINKING. That's the worst kind of cleaning, isn't it?
We spelunked into the file cabinet. Here is the Jacob Marley part, showing you his cobwebby scrabblebag:
Why, it's my court paperwork! Most of it, anyway. This is all from the first action (divorce). I saved all this because I did not think the bullshit was over. I was right, because then he moved, and then child support, and THEN 2.5 years to settle the parenting plan, and FML. That's the synopsis.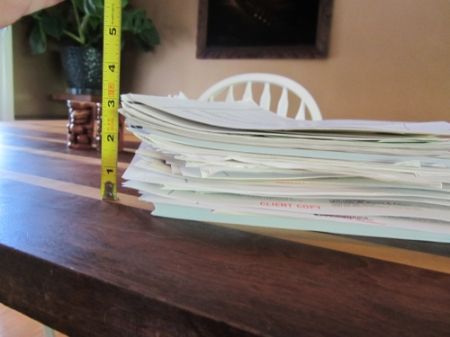 I had a friend who was considering her own divorce from her husband, about a year after mine was finalized in 2005. I remember pulling this stack out and saying, "Look, this is a physical representation of the shitstorm that's coming." Hers was worse than mine in some ways, though I don't think her husband claimed she was a Satanist. (Hail Vigoda.)
So today all of this went into the recycling bin. Fuck it. It's done. Things are so nailed down now there's no reason to refer to this stuff. Any action going forward will be a new action. I think there was a point to keeping it all at one time. How much have I spent on lawyers…maybe $25k in the past ten years? That might be low. My advice is to stay in your house as much as possible and wear your helmet when you go out. There is no birth control like an ever-present helmet, plus safety.
Of course P. had to rip at some of the walls after most of the stuff was moved out.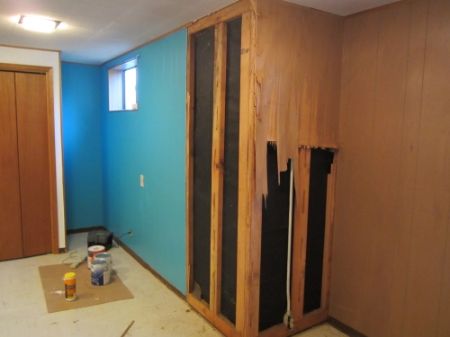 It turns out the studs are laid flat side down, so there's no room for modern insulation at a proper thickness. The idea is that the walls, which are just studs and this terrible cheap paneling (a pale shadow of the nice fir stuff that's on the upstairs walls) will go. The ceiling is panels, but after some research and due diligence none of it seems to be asbestos. I am fond of the lights, but they're just not very functional in a low-ceilinged space that is meant to be a bedroom. I'm thinking about kicking some of them upstairs to the kitchen to replace the dire boob lights.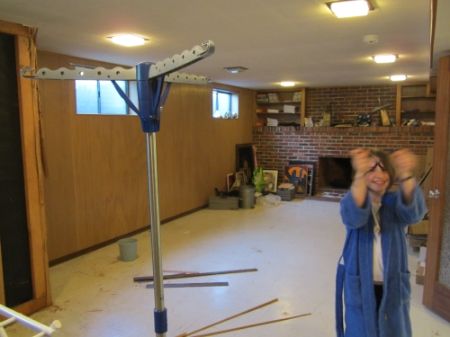 The window to the right will become an up to code egress. I am thinking about lightly limewashing the fireplace, since that is reversible, and will lighten up the room. I'm really okay with a dim bedroom, since the living areas of the house are so bright.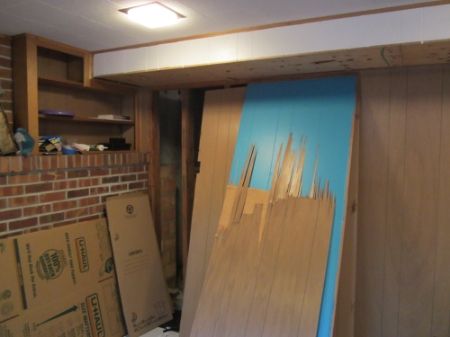 He pulled some paneling on the east side of the room, where there is (was) a wall between the living room and the furnace room, but now there's nothing!
Here's a view into a finished bathroom. YAHOOEY! The closet will go on this side, and it's going to have to do double duty as a linen closet for the basement. It should be fine.
I want to hang a couple more things in the bathroom and then I will snap it….probably tomorrow, fingers crossed.