We're going to start with eggs and end with a BEEYOOTIFUL swan.
Recently I read that double yolkers are the results of first-year hens trying to get their albumens together. I think this must be one of Fruit Loops's, who is around a year old. The eggs are big this year.
I ordered duck eggs recently, because they were on mega-sale through my CSA, and if you know duck eggs you know they are large.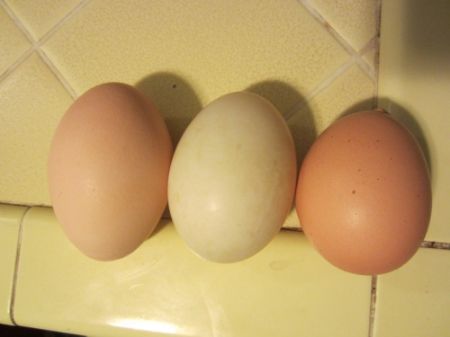 The duck egg is in the middle and mine are flanking it. The biggest one on the left, which ended up being the double yolker.
Last weekend we popped out and picked up three more pullets, since I recently lost a couple of chickens again. We're back up to eight again.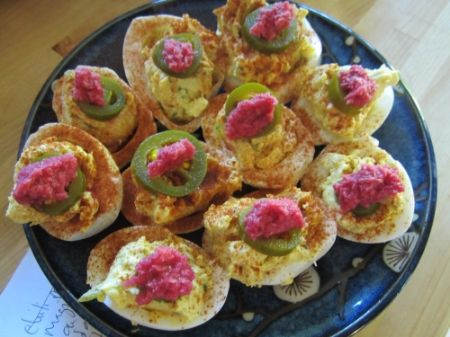 These are kind of my garden variety deviled eggs, except with some goddess dressing in place of lots of mayo, and with some beet horseradish and a pickled jalapeno on top. I found the horseradish at some random store called…The Europe Store (?), in Mill Creek, maybe, after an unsuccessful mushroom hunting trip in BFE. I am always sad when stores like that don't sell what's in their name. Imagine buckets full of dirt from Belgium or deeds to castles in file cabinets for sale at the Europe Store.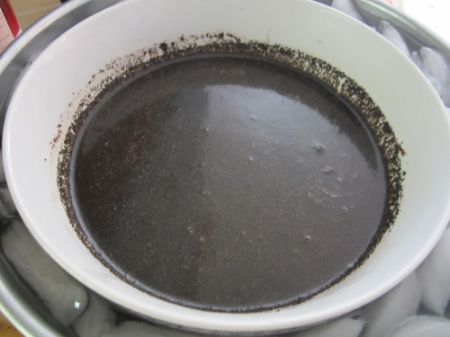 This sinister mess is custard steeping with coffee grounds. Beloved Shan stayed overnight almost a year ago on her way to a vacation elsewhere and she brought a really cool hostess present. I am cooking (ice creaming?) my way through it this summer and the first one is Vietnamese iced coffee ice cream. It is KAPOW. A good start.
It's a pretty nice here, for June. Cloudy today but it's been really sunny and the tomatoes are going crazy.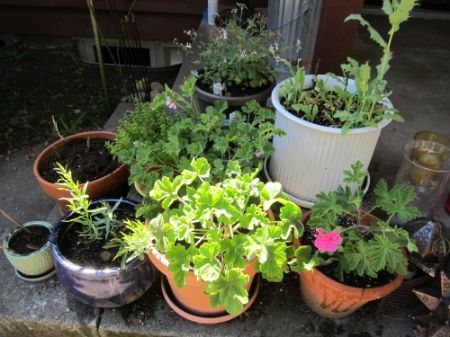 My scented geraniums are going bananas. I have flavors like nutmeg, mimosa, chocolate mint. I am trying to figure out how to overwinter them without bringing them indoors.
I'm also slowly digging up the front yard. This is a weird one, because there's going to be an egress window from the basement happening in this yard, which will make kind of a big covered pit, so the plantings need to move out from the perimeters of the house.
So other than the quince tree behind the birdbath, and the boxwood hedge, I am not sure what's going to stay. When we moved in, it was four square raised beds with pebbles between, centered with the birdbath, but the bed frames were rotting and it needs to be shifted. I want something kind of more organic and less formal, but I really don't know what I'm doing here. I stopped digging it up, because I could feel the bees frowning at me. P. wants to transplant some of the herbs in the fall as well. So I am leaving it bee for now. GET IT BECAUSE "BEES."
Finally, since it is early summer, they actually let my kid graduate. I got her report card and she mostly recovered from her disaster, EXCEPT her Japanese grade got WORSE. A complete flunk out there!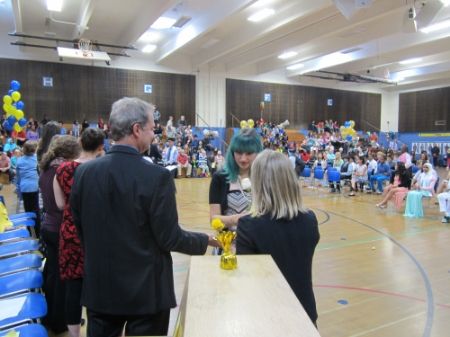 I have been wondering if she sabotaged her own trip, honestly. She was becoming increasingly anxious about going. I'm still sad, I really wish she would have pulled it off.
She's been really clinging lately–to childhood, I guess. She's been mad at me for lots of things, including insisting that she check her email once a week and suggesting that she start a book of faces account to keep track of her middle school friends. I want to hand her a crow feather and say, "Beat it to the mall like a normal kid and come back before dinner, ok."
Her father, the notorious SeaFed, was there, which was a nice surprise. He was trailed by his three youngest daughters. Two of them look like toilet paper commercial angels and the other one looks like his wife. Strudel met them for the first time.
After graduation we were invited to the cafeteria to have cake and punch, but SeaFed fled to the parking lot, where he waited for Franny to come out so he could take her to ice cream. Franny ran back and forth between the cafeteria and the parking lot until I told her to STOP IT ALREADY, I would just come out and see her off with her father. She was obviously anxious about her worlds colliding and tried to slip off, to just leave, but I kept up.
I offered to take a picture of all of the SeaFederales, and he said, "You might be surprised to learn I remembered my camera."
There was so much in that single sentence, it was kind of stunning. It was sort of a dig at me, because I used to have to keep on top of him about the tiniest shit (until I stopped and found that the world didn't end, not even close). It was a dig at himself as well, famously forgetful and on Planet Mars half the time.
"Oh no, I meant all of you together," I said.
"Oh!" He handed over the camera and I snapped him and his four girls.
Franny left a couple of days later and has not been in touch as usual. I don't think she knows how to bridge the gap, to stay in touch. Just like her running back and forth between the parking lot and the cafeteria. I should be collecting her from the airport on July 15, but instead I will be meeting her at the ferry terminal as usual.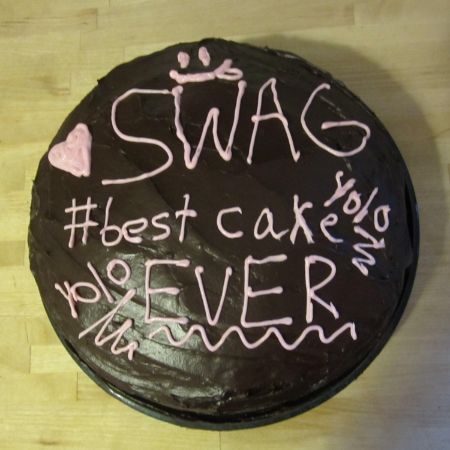 Here is a taco holding an Abe Lincoln.