About to change my Yelp review for my jam service
When we last spoke, I was actually on my second full day of having no hot water. I hit "post" and was like OH YEAH, I knew I forgot something. I brought a basket of laundry downstairs on Wednesday and stepped in a massive puddle that had been sopped up by all my rando IKEA rugs that I keep in the very unfinished furnace room so it's not completely dire to walk through. They also keep the kitty litter contained to that one room. My first thought was that the terrible plumber had done something stupid (again) a year ago during the basement bathroom remodel. I saw that water was dripping out of the bottom of the heater, so that answered the question of where the water was coming from.
I shut off the water supply to the water heater, and then shut off the breaker. Then there was the fun process of pulling up the rugs and mopping, and I set up a fan to finish drying the floor.
P. came home about an hour later. "Hey homeowner who doesn't have to pay excessive rent or deal with landlords or anything," I said by way of greeting.
"What happened?" he asked.
We set up a new water heater delivery and install that night, but they couldn't come until Saturday. I knew my interview was on Friday, and I needed to be clean and presentable then. I took a cold shower on Thursday night and it was fine. My hair actually looked better than usual.
Here I am gussied up and spackled (pre-lip gloss and HIRE ME face). My "style" "inspirations" for the past year have been Jane Fonda in 9 to 5 and Lydia Rodate-Quayle from Breaking Bad. So, a lot of jackets with pussy bows and vintage brooches. Bonkers patterns. I really gave up on my hair on Friday. It's a pretty decent length bob now, which wear loose pretty often, but the front still has a lot of damaged hair from when I was going red all the time a year ago, and that's the first thing people see. I have the twitching hands of wanting to cut it so badly, but I want to grow it out. So, that thing.
The interview itself was kind of terrible. I think I was in denial about what I was in for. I had a phone screen, fine, normal for a contract. Then they asked to do a second screen with a second person. THEN they asked me to come in for a two-hour loop with four people. If there is a way to tell your interviewers that their process is above your pay grade and position as a feckless contractor, I have not discovered it. I got the full-court press as if I was interviewing for an FTE postion. One person looked over my resume and expressed confusion about my "career." He read off it: "Uhhh, marketing, taxonomist, content analyst/xquery, writing, editing…" He did not know what to do with it. I refused to explain myself. I have learned to say, "I like a fast pace and the challenge of a variety of tasks" rather than "I get bored easily behind a desk and corporate life in particular bores the shit out of me. May I have a job at your Business Factory?" They are doing this to two other poor contractors so I won't hear until the end of the week. I got this exact same job in the same department five years ago with a 40 minute phone screen and a writing sample. ANYWAY.
But enough about my TERRIBLE ATTITUDE. We had hot water again by Saturday night, which was great. Then I woke up a 2 a.m. on Sunday morning to the sound of really loud pops, like fireworks, amidst the sounds of a heavy windstorm. It turns out it was transformers blowing and the power in my house was dead. I got out of bed and threw on my coat and boots and went out the front door and I could see downed power lines leading straight to the ground. I called the po-pos and reported it, and a fire truck came out. Two guys jumped out and one said "Hi" to me as I stood on the edge of the lawn with a flashlight. Then they left. A couple of cars came and went down my street, trying to get through, and in their headlights I could see that a tree was completely blocking the road.
I pulled P. out of bed to come look as well. There wasn't much to see other than a giant tree in the dark. The sky was beautiful and for once you could see every star. Orion was on his side, which is the best, because then he turns into Burt Reynolds. Another neighbor was out and he said "watch out for the low wires." We ducked under and got close to the tree. I could see that most of my street had power except our end.
That giant Narnia-looking hedge motherfucker is actually the tree and is where cars are supposed to go. The police closed my street and they left when the power company came. For hours it was just guard trucks on either end of the street. I got a message on my dying phone that power would be restored by 1 p.m. so we went for a huge walk because we were bored and kind of weirdly anxious about first having no hot water and then no power. It made for a crap weekend.
We had the neighborhood to ourselves since apparently a football game was happening. I love walking on football days. We encountered some people getting into a car and they declared, "Wow, the only people in the city not watching the Seahawks!"
"Our power's out," we explained, so we would not be shot on sight or citizens' arrested.
Taking the dogs out to a nearby park and back was a bit of a mistake since they were caked in mud when we came home. I washed them with some of the hot water we had left, but couldn't blow dry them as usual. Horace followed me around with his confused face on until I bundled them up in the living room, where we had a fire going most of the day. They shivered a little and fell asleep. Later Horace spent a lot of time staring at the kitchen vent, which was not giving up the warm blowy goods at all.
I should say that overall this was a very minor inconvenience. It has been reaching almost 50F here during the day, and is sunny as hell today (I went out hiking for two hours earlier, listening to the newest Extra Hot Great). We still had the stove top, which could be lit with a match, so I kept mint tea going all day. After our walk we sat by the fire and read.
The sun started setting before five and a bucket truck appeared on our street. Strudel and I cheered and jumped around. I busted out all my candles and started making dinner. Chicken, veg, and yellow split pea soup.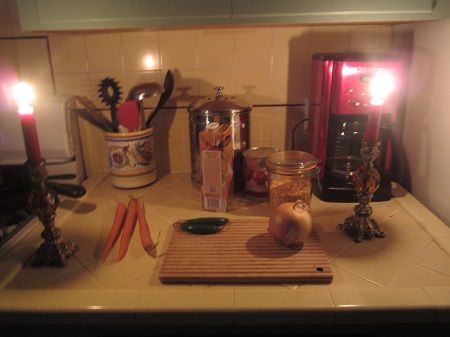 "I can't believe you're doing this. This is awesome," P. said. We talked about going to dinner, but knew we would just have to come back to our sad cold dark house. I carried a taper around with me to the pantry and to look in the fridge, and even knocked it over and spilt wax on my pants and floor. What a clumsy early Victorian I would have been. While I cooked, Strudel put on her boots and went out and spied on the grownup talk on the street. She came back in triumphant: "They say two more hours!"
It was less time than that. About three minutes before my soup was ready, the microwave and various other devices awakened with beeps and boops. I blew out my candles and cursed the darkness.
Other business:
I lost access to my old Twitter account (long story involving me being stupid) so I started a new one a couple of months ago at @theiasshole. I wanted to give it some time to see if I would get back into it, and I have been wading back in slowly after being a heavy user a few years ago. And then I got sick and went into Greta Garbo hermit mode, but I am climbing out again. I am even getting used to socializing a little again. I don't have palpitations every time some emails me anymore. Sigh. Anyway follow along if you are a twitter type person or not. I am trying to refollow people I used to follow as they pop up and whatnot.