"But Sidley Park is already a picture, and a most amiable picture too. The slopes are green and gentle. The trees are companionably grouped at intervals that show them to advantage. The rill is a serpentine ribbon unwound from the lake peaceably contained by meadows on which the right amount of sheep are tastefully arranged – in short, it is nature as God intended, and I can say with the painter, 'Et in Arcadia ego 'Here I am in Arcadia,' Thomasina."
–Tom Stoppard, Arcadia
Like 99 percent of the Northern hemisphere, as I mentioned I had a couple of colds during November and December. My lingering cough stopped sometimes after New Year's, and loosey goose that I am right now, I realized I could take some of the pot if I wanted to. Ever since it was legalized here I've been mentally bemoaning my lack of time and energy for it. Not a huge thing, but I was like, wow, I am now such a boring adult I am too busy and tired to do this thing that was once (briefly) a pretty major part of my life.
I was making pot brownies for a hot minute in the spring just to get to sleep, and would sleep through most of the experience. I would take a little chunk before bed and it seemed to help put me to sleep and keep me that way. If I did wake up to pee at 2 a.m. I would realize I was high as a kite, stumble to the bathroom, and then put myself back to bed quickly. I woke up refreshed and not groggy or spacey. I abandoned this as soon as I found out that making up for missing vitamins and minerals in my diet would do the same thing and even better.
Recently I decided it might be fun to spend part of the afternoon stoned. I had maybe two hits and went back indoors, and I felt it coming on. Well. I had kind of a terrible afternoon. I was high for a while and felt okay. I don't smoke myself to puddle-on-the-floor incapacitation levels anymore–again with the lack of time and energy and really, interest.
When I was a kid all that was available was weak ditchweed. I'm sure they were already doing interesting things with cross-breeding for potency in California, but not with the scrag I was getting in the Midwest. You could maybe bet that you'd be kind of giggly for about a half hour, and then would be kind of tired and would need a bottle of mango Snapple, STAT. It's a commitment now. As a friend of mine once said, "new" pot is like a couple of steps away from acid. So I stop with a small hit or two.
I had a realization the other day, though, and I felt kind of silly about it. Once the high had kind of died down, what I was left with was mental fuzziness. The "brain fog" that I had been experiencing from food on a regular basis for the past five years or so. I never minded it before, because I was always fuzzy, and didn't notice additional fuzz. But since I am clear most of the time now, this was intrusive and unwanted. I felt like the stereotype of the dumb cartoon giant or troll. Mad, but confused, and not sure where the arrows are coming from. I kind of stomped around my house for a while, crushing villagers in my mind, and then had a lie down.
So I think I am done with jazz cigarettes, at least for now. Maybe at some point the memories of the brain fog will fade, and I will want to be altered like that, but for now I am enjoying the clarity I have most of the time. Now that I feel this chapter closing, I am inspired to write another of my pointless series on my history with pot and some things that happened when I was stoned or trying to get there.
IN OTHER NEWS
I had my camera on some weird setting that made everything a little blurry in the dim lights of my living room last night…

Twelve down, eight more to go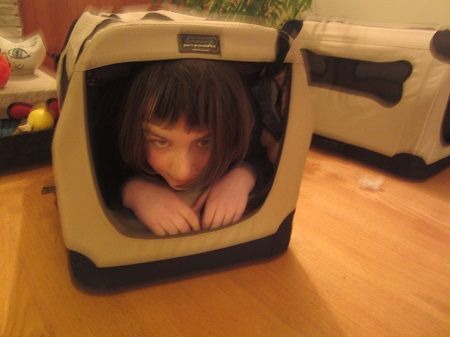 Kennel up!
About a week ago, Death Ray the silkie discovered that she could squeeze herself through the gap in the chicken fence. The other girls are too fatty von fat fat hens to fit, which was the point of the design. Death Ray is now about 6 years old and has survived many chicken incidents and a small handful of drive by raccoonings.
She has greatly outlived all of her peers that I purchased with her and at this point she doesn't really fit into the pecking order at all. She completely stays away from the other hens, which started about three years ago. I have wondered if she would develop more homies if I got some more silkie chicks, but I am currently at the legal limit of hens. Also, every winter now we assume it's her last…but nope. She lives through everything somehow. She sleeps in the egg laying box presumably since she is so old and creaky, and even survived when Strudel left the egg-retrieving flap open a couple of years ago. That really should not have happened since the flap opens into her bed directly.
Anyway, I figure she has earned her retirement and a respite away from the other hens, who often peck her if they remember she exists. Poor little pariah. I like to look up and see her noodling around on the lawn all day though.