Funny day–I'm supposed to be at work right now, but I'm not in the system yet. The woman at badging said she saw all my other previous logins, but of course she could not reactivate those. This is my fifth go-round at this company, which I kind of cannot believe. I was sent home without being able to bill for any time. It took a while for my contact to collect me from the lobby where I waited, badgeless, and I had a moment where I wondered if there had been some big misunderstanding and I thought I had a job, but I actually didn't?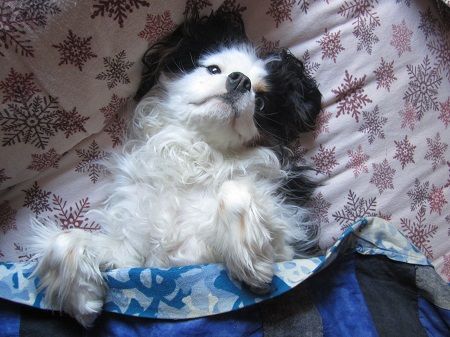 Horace abed Saturday
I know this is a crazy thing to think, but I had those kind of nightmares all night where I was fighting with friends for no apparent reason, embarrassing myself with foot-in-mouth disease, and was many places I shouldn't have been. P. had nightmares all night too–said he was stressed out by the time change.
I kind of hate waiting in the lobbies of these buildings because pretty much the only people who use them are people waiting to be interviewed, so there's this thick tension-funk in the air and everyone is sitting up too straight. Then someone comes into the lobby, scanning the hopeful faces and calling out a name. Everyone slumps a little when it is not them. You will not be adopted today, eager puppy. The person who is plucked out of the riff raff immediately goes into showtime mode; they are on and will be for the next 4-5 hours in their bid to become an FTE. "I'M SUPER, HOW ARE YOU DOING TODAY? TRAFFIC WAS FINE!!!" I do like criticizing sartorial choices and seeing who is rude to the front desk admins, though.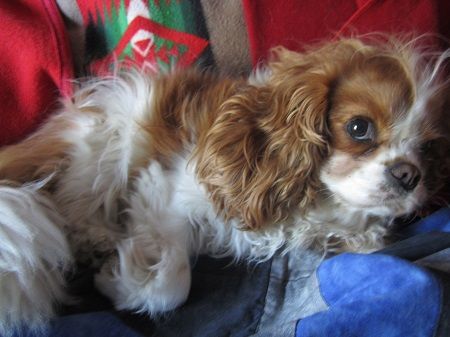 Normal dog for comparison
So I woke up after sleeping fitfully, discovered my period had started, and then was sent home. I have a slow cooker on the counter making ropa vieja right now, which is kind of awesome. I didn't want to cancel Monday night dinner with my sister even though it's my first day back, so I decided to make it easy.
Did I build a beehive this weekend? No I did not. I forgot to have the plans printed out. Ha! I ended up walking about 3 hours around and near Greenlake, and did some gardening. I took the dogs to the local nursery and bought some decorative plant things. I am the houseplant/flower person around here, and P. usually does more practical things like mows and grows food. My department is aesthetics.
I have killed some more house plants (sigh) and wanted to replace them. My next victim is club moss, which is supposed to be fairly hearty. I predict it will have a nice summer and then commit suicide in February or so. Who could blame it? This house can feel dark. P. reassures me that a thing on his list after the bedroom creation/remodel is those little tube skylights.
It was a nice mound when I bought it, but I split it up after being instructed to by the nice lady in the houseplant section. She said some stress to the roots will make it denser and mound better and faster than waiting for it to spread and fill the pot on its own.
It looks a little better from farther away, but I never mind some wabi-sabi. I also got something I had researched called a ZZ plant, which apparently tolerates low light well, and then I couldn't bring myself to sentence it to my bathroom after the lady said it would "get leggy." It's so nice looking as it is. I love soaking down there, but I don't think I would want to live in that room with the lights off. I got a pothos that I will have no such compunctions about. They are the pigeons of the houseplants world.
I got a flat of alyssum relatives/lookalikes from the clearance rack. I always like to plant sweet little flowers like this beneath roses. I bought one of those flower mixes that you sprinkle everywhere. I planted some giant sunflowers as well. I bought a couple of odd pansies and a ranunculus to spruce up my pots that were all scented geraniums last year. I am still way into scented geraniums but I need some variety this time out. I cut back the roses in the front that were a disaster when we bought the place. We are chipping away at the benign neglect that has been inflicted on this yard. It was nice to wander around and see the changes. The quince is leafing out and the leaves are so velvety, just like the fruit. Maybe this will be the year we get a couple of blooms. We walked around and looked at everything–the cherries, hazelnuts, and kiwis are budding, and someday we will be able to gorge ourselves out of the yard.
I had the yard all to myself yesterday and was puttering to my heart's content, which is rare, because usually P. is out doing something on a nice weekend. He has been tiring himself out framing on the evenings and weekends, so he decided to give himself the day off yesterday now that the framing is done.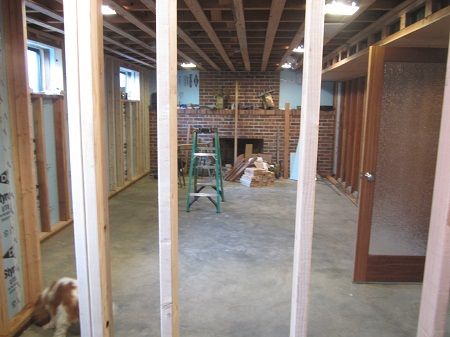 He's been going slooooowly but it's not laziness at all. When we got back from HI last year, the bathroom was being wrapped up for another month, and then I was ill all summer. He's really only been hitting it hard recently, now that I am predictable and reliable again.
It was exciting to see the walk-in closet framed out. When the drywall's up, I'm going to start looking for a chevron rug and a small Venus de Milo statue. I may have mentioned that I am turning my closet into The Black Lodge.
I'd like to get paid today and rip off the first day Bandaid, but I also feel like I've been given some kind of temporary reprieve. Maybe this makes up for the time change on Sunday? As soon as I got to work I saw an email that said my medlar tree was being delivered today, from a nursery that is located on a Butts Road (enjoyable) so I will be here to greet the tree, I suppose.