"How would you know you weren't being a phony? The trouble is you wouldn't."
–JD Salinger, The Catcher in the Rye
Here I am behind a desk again. This is a strange one. No one really seems to know what the temp I'm replacing did, or who supplied her with work, or what I should be doing on a daily basis. I ask questions and my emails go unanswered. There are whole days where I don't really speak to anyone. I am told I will be copywriting "soon" so that should be fun to exercise those muscles again.
I'd probably be panicking if I was trying to seriously get my foot in the door in marketing as an FTE, but. Eh.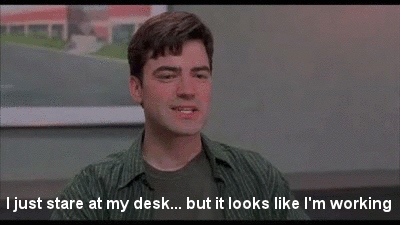 So I have a love-hate relationship with situations like this. On one hand, I am making a paycheck again. On the other hand, it is taking me away from my precious math studies. MATH DELICIOUS MATH. I feel like I am not making progress towards my goals like I was, but it's nice to have less financial pressure. I'm just going to ride this for now.
I know I have 3.5 hours completely alone this morning and no tasks, so it's going to be a review of engineering and scientific notation. I cannot make this stuff up, folks. This is how exciting my life is.
We did St. Pat's early because my sister comes on Mondays for dinner. I don't know what possessed me to buy a lamb shoulder–so bony! But the meat was really nice. I did it pretty easy-style, no bells or whistles. We came home and went for a short jog–me, P., Strudel, the spaniels. I get a little kick out of thinking how ridiculous that little train must look galooping around the neighborhood, but I'm excited to run a 5K with Strudel in April.
When I got home I knocked together an "American" soda bread. Of course I had to add caraway, and I did sultanas and currants, which I think is more like the one in our ancient Joy of Cooking. I threw some fingerling potatoes, chunked carrots and onions, and wedges of cabbage in a roasting pan, and everything went in the oven. I had set the lamb on a delay so when I came home it had already been roasting slow and low. P. made a chocolate cake and frosted it with mint icing, and boom, St. Pat's for people who are utterly mutts but the closest thing they have to a heritage is being told they come from Southern Irish trailer trash.
We did have some good news last night–the school district finally sent a letter saying Strudel was accepted to both tiers of advanced learning. The highest tier would require us switching schools, which we are not keen to have her do, so next year she will be in the rigorous program in her home school for fifth grade.
This is a long time coming–she's been testing almost every year since kindergarten, and she had often fallen just one point short percentile-wise. We didn't have her test last year because she was falling behind. Her terrible third grade teacher gave them ten minutes of math a day when she felt like it, and usually didn't bother photocopying any homework for them. Strudel was put into a rigorous supplemental class this year and has caught up. I think she's also doing so well in large part because of her diet. She has focus, energy, and is calm. (Like her mother, who can also math now.) I remember being her age and how hard it was to focus and take a test, even if I knew the material.
When we opened the letter I think we all expected disappointment again, secretly, but she SMASHED it. She was in the top percentiles and we did a happy screamy dance in the dining room. The only downside, and it's a small price, is that she will have to retest every year to stay in the program. But she's used to the testing and I hope she finds the challenge to be worthwhile.
Morgan was rather fried last night since she's doing the morning shift of the pledge drive again at KEXP. She talks on the air for four hours and goes to her other job, and by the time I get to her she is pretty tired. I offered to let her run away after dinner and save more Twin Peaksin' for next week, but we managed to fit in one episode anyway, before she had to run home and sleep.
Me being kind of fried and Morgan being VERY fried worked out, though, because Franny had a lot to say last night. She had another strange weekend at her father's house. I feel funny about her weekend stories because it seems like she's a terror over there, in part from how angry she feels about the situation. I was telling P. this weekend that I kind of feel for her stepmother but my loyalty is with Franny, of course.
"I feel like, 'How can you not like and pet my flatulent, venomous snake?" I said to him, by way of explaining my attitude about it.
She was a little manic when she came back. She got into the bookshelves over there due to boredom and is cracking into Carl Sagan and John McPhee. Her father was always Mr. Popular Science guy, when I first met him, but after a few years the books weren't read, they were just displayed. But she was full of ideas. It was very cute.
"I had no filter this weekend," she declared. "My sister asked me if I like our room and I said 'NO' because I just feel like a guest and there's always crap piled on my bed. And the kids just scream at the table through every meal."
"You are sowing dissent," I warned her, which of course fell on deaf ears.
"I was mean to my stepmother too. She buys all these dumb face creams and I walked in and she was piling some on, and I told her, 'You know that stuff doesn't work, right? You just get wrinkles anyway. She took a deep breath and she said, 'Go. Away."
OUCH. I am pretty sure that karmically, Franny just earned herself a face that will look like one of those dried apple dolls by the time she's 32.
"AND SATURDAY," she went on, "was kind of worse because they had dinner guests and right before they came my dad insisted on getting out a board game and setting it up so it would LOOK like we were doing something. I called him out on it. I said, 'Dad, we never play board games' and he said 'So?" and I said, 'It looks like you're just doing this because company's coming over and he said, 'Ha ha ha' like I said something funny!"
It got a little dark, then. She told us her stepmother asked her to fetch some pills out of her nightstand.
"There are prescription pill bottles EVERYWHERE–in the kitchen, the bedroom," she told us. "Pills for anxiety, pills for depression, pain pills…she takes so many pills." Her mother just had back surgery, and I think this is after knee and hip surgery a few years ago, and is laid up right now. Franny said there was some yelling from her stepmother about not being able to take care of one more person. And I knew from experience that SeaFed was numbered among those she is taking care of.
Strudel turned TEN last week and I was already feeling so grateful to have my youngest in the double digits. So grateful to have dug myself out of the health pit I had fallen into. And then to hear about how things are going at his house…I'm sure they will all muddle through, or they won't, that's life. But last night I had that "someone has walked over my grave" feeling, but not my grave. The grave I would have had, had I zigged and not zagged.