WELL. Yesterday I went to my awesome dentist of a dozen years for the old semi-annual cleaning. I expected someone new because my hygienist of many years got promoted to more of a management position at the office and is now doing advanced dental work. She filled some of my teeth a few months ago. She was THE best and dealt with years of my sad bloody-as-a-stuck-pig mouth, which has since toughened up post-proper nutrition. She promised she would hand me off to someone who was a good fit.
So I showed up yesterday and my appointment started 20 minutes late, which is unusual for this office, but shit happens and I didn't have anywhere to be. A hygienist emerged who kind of looked like Angela Merkel, but with worse highlight work, and said, "Alexander?" I get that all the time and kind of shrugged it off. Most people apologize once I correct them, but not this lady. "Well that can be a first name, though, right?"
She seemed kind of awkward and out of it at the same time. I had this funny feeling like she was really ill at ease and her sentences would start out kind of quiet and hesitant and increase in volume and certainty by the end, like she was at a terrifying interview and giving herself little pep talks every 10 seconds.
I mentioned my allergies, because I could see some of the products out on the table that I knew had corn in them, like the tooth polish. "Oh, I didn't see that. I'll make a note in your chart about those," she said. I thought this was weird because I knew my old hygienist had taken extensive notes last time I was in.
I'll skip past the rest of the weirdness, like her way of questioning me about what corn actually does not me (not a weird question–she just phrased it oddly like everything) and then her telling me all about how she went vegan five years ago and all about vegan cheese. I had to tell her like three times that yes, I have made cashew cheese. I felt like she didn't believe me because she started quizzing me about the ingredients, which I knew and was able to tell her. And did I know about almond and coconut milk? What.
There was some folderol with the water pik thing, which is so painful it makes me twitch involuntarily.
"Are you okay?" she asked.
"Well, no. I forgot how painful that thing is. It's not been used on me for at least five years, thank god." I didn't want to explain to her that I thought I'd try it, since my teeth are overall less sensitive now. STILL PAINFUL.
She switched to the old school metal picks, which is great with me. My previous lady did a great job with them, even when my mouth looked like the elevator in The Shining. Now I barely bleed. I noticed she was skipping around a bit, and being fairly perfunctory with some teeth when she stopped abruptly and I heard a "ting!"
The pick had hit the ground. She bent over, retrieved it. I did not hear it being placed on the tray or put aside. Did the floor pick…go back in my mouth? It couldn't be. I felt myself tensing up a little. She was letting the sucky tube hang on the edge of my mouth, like it was a hanger and I was that dry cleaning flippy in the backseat of a car. I started really tensing up.
Okay, this is very pathetic but I got really anxious then. She was reminding me of the dentist who did my first filling when I was six, who had me hold my own Novocaine shot still inserted in my gums when he went out of the room to get something. I was very scared about the shot anyway, but to have to hold the needle in my head and be alone in the room was a bridge too far. I felt like I was right on the verge of being a little teary.
I told myself to GET A FUCKING GRIP; it was just a terrible cleaning. Then the sucky thing fell out of my mouth and landed on the floor. I listened for a sign that she was changing the plastic, or the straw itself…nothing. It went back into my mouth. Something flipped in my head then, weirdly. I began to find the situation humorous somehow. "Just get through this," I told myself. I think she dropped a pick twice more. When she finished my teeth weren't clean. I was a tiny bit heartbroken my old hygienist had seen fit to pair me with this person.
I asked myself in the car why I didn't confront her right then and jump out of the chair. That was an extremely valid question to be asking. I think I still have this habit of shutting down sometimes when shit gets weird or off script. It's a bad "habit," and an old one. Shit got weird a lot when I was growing up, and there was absolutely nothing I could do to change or control it, so I always got pretty poker face. My sister had the opposite reaction. When she got pushed too far she would scream! I remember thinking to myself, "I did not know that was possible." Part of me admired it, in a way, even though ideally she wouldn't have had to repeatedly react to trauma with earshattering screams.
It's funny how you can step on an old rake, isn't it?
My dentist was also new, since I had to reschedule my appointment due to Lady Hammer Club. The dentist seemed very young and was wearing red Converse and sitting on a yoga ball. I felt about 90 then. Then he told me my teeth were "cute" and there was marveling over my intact, straight wisdom teeth. WHAT. (Again.)
At the front desk on the way out I was scheduling my next appointment with the office manager, whom I have known from that office for many years.
"Sooo is Angela Merkel new?" I asked.
"Why, what happened," I got from the manager, deadly serious.
I told her about the dropped tools and she blanched and apologized. I told her my teeth didn't feel clean. I told her that she was generally clumsy and kind of mashing my nose and face. I skipped the part about veganism because I wouldn't say she was proselytizing or being mean really.
"I'm not going to lie to you," I told the office manager. "I eat food off the floor. I'm an animal. But I like to choose what comes off the floor and into my mouth."
I was given a free reclean for next week. Then something good happened. The office manager said, "Angela Merkel is covering for your new hygienist, who is visiting her family in Europe for a month." She was just a sub! Whew. Anyway, that is enough about my trip to Spain, my childhood pain.
Lady Hammer Club Update
The apprentice wrangler at the carpenter's shop was upset we're spending time in shop class building birdhouses and not cement forms. Also we are not carrying enough plywood or driving enough nails. We're being timed on 3 at various angles and I came in under a minute and was proud of myself. HA. Apparently the test at the carpenters' is 21 nails in two minutes. NO FUCKING WAY. I do not want to be a carpenter. My sad hand got bruised just doing a total of 21 over the course of an afternoon.
We have also been to see the glaziers' (glass splinters, horrifying) and have had mock interviews. I showed up after being in bed for two days with my coffee glutening, thinking I was rolling into a math class. NOPE. Schedule change. I sat in front of a panel consisting of a cement mason (who I already knew), a machine operator, and a brick mason, and got highest marks. I wore my Adblock hoodie zipped up all the way since I was also wearing a shirt with a swear on it, genius. I think I brushed my hair.
Then I got dinged for my absence. ARGH. "We want to see you at 90% attendance, or we won't be able to give you letters of recommendation." They also don't release any of your certifications until and if you finish the program in September. They really have me by the short and curlies here, but the good news is I think they will be able to stuff me into an apprenticeship pretty quickly as long as I do the cha cha with them. Ironworkers is on Monday–very excited.

It's pouring today and Goethe is hiding under the eave. Stretching, not being furce. Horace is medicated due to thunder today.
Let me take a page out of Pop Culture Happy Hour and say what is making me happy this week.
1. Todd
I've been buying 17-cent feeder goldfish to keep in my wee ceramic pond, which is a thing by itself I really enjoy, and waters my bees and wasps, but draws mosquito larvae. Drop some goldfish in there, and BOOM, no more larva in about half a day. The first batch croaked, and I went back for three more. Two of those croaked, and then Todd was The Fish Who Lived. I started feeding him, and the pond was looking like murky nitrogen city, so I brought him indoors to live in a pickle crock with the world's ugliest mug that I got contracting at Amazon six years ago (we were near Kitchen). He can go back outside when the larvae come back.
I forgot how much I like keeping a goldfish! I used to keep one for Franny when she was going through an intense Elmo thing at two.
2. Vacation week
P. took the week off last week and I wanted to hang with him, but I was sick for part of it and in class. But he had a nice time, and finished the electrical and did some insulating in the basement. When I had days off we did things, like renting a canoe.

Look, he's even happy trapped in some bitchass lilypads.
We went downtown to the piers and ordered NOTHING BUT HAPPY HOUR OYSTERS and some neat vodka (me) with a lime and scotch for him and did not get ill. I had a feeling about going to a place with a dedicated oyster bar and I was right! We haven't been out to eat anything since May.
3. Camp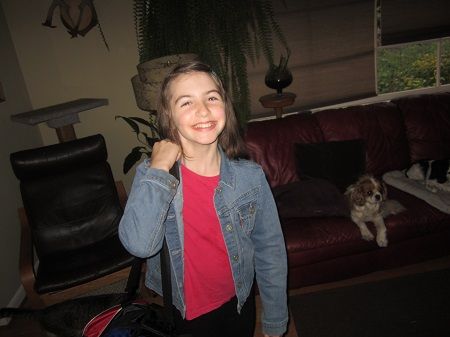 During that week, Strudel had a MARVELOUS time at Celiac camp and did not get ill once! They were so good. She made a bunch of friends and I got her a photo album to put her pictures in. One of the first things she said when we picked her up was, "CAN I GO AGAIN?" Hell yes. Next year we might even go out of town during, but stay close enough in case she breaks a leg or something.
How's your summer??