I got up on the roof on Saturday, ostensibly to install gutter guards. We have a pretty serious pine needle/fir bud clog issue here, to the point where the gutters want to overflow if it does more than mist.
Got up, looked around, doot doot. Could not get near the edge of the roof. I'm okay at heights, scaffolding, but sloped roofs always made me freeze. This has not changed, apparently. In fact, OSHA videos may have made things worse. I did manage to talk P. into buying an extension ladder, so he could do all parts safely, including the driveway where there is a 2-storey drop.
"This project is going to double in cost if I buy this ladder," he said.
"Your life…is worth a $250 ladder to me," I replied. ~DRAMATIC ORGAN MUSIC~
He was like "oh ok" after that.
Instead I went off and got some new chicks, since my numbers have naturally dwindled again.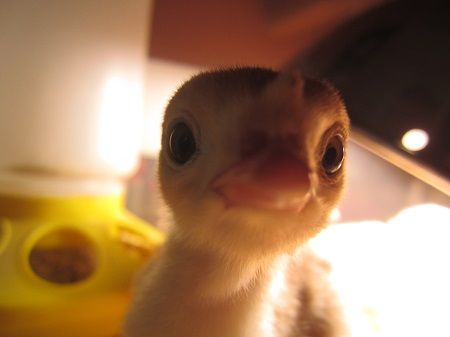 I was looking for pullets at Portage Bay Grange (provisioning everything for the urban hipster hobbyist, thank god I don't have to drive out to the hinterlands for the privilege of buying unsexed chicks anymore), but all the breeds I was interested in were snapped up. Plus I've learned at this place the clerks will guess at pullet breeds and then you'll bring something else home. Last time I got a pullet I was told "Easter Egger" but I think she's a welsummer. Gingersnap is a fine bird, though, whatever. She does not lay green eggs however.
Franny was oohing over the beeps and I asked her if she was staying put here for the rest of the summer so she could help supervise when I am gone all day. When they're new they need a light bulb for warmth and someone to make sure they stay out of trouble. Of course I had all the supplies except for chick waterers, which have been repurposed to feed the bees syrup. Also chick crumble, which I don't keep around. They tried to sell me antibiotics and probiotics, which was new. I've never fussed with them so I passed. If this was my livelihood and I was raising hundreds, and not a hobby, I would probably go for it. In my experience chicks drop dead right away or you will probably get 3-4 years out of them.
The dogs are losing their minds about the fact that there is a small aquarium-sized bin in Franny's room full of delicious bird-snacks. When they get a bit bigger in a couple of weeks I told her they have to move to the basement since they get so dusty as they feather out.

No Name Manson (waiting for a name from P.)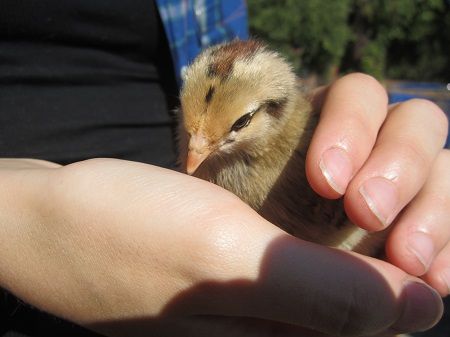 Audrey Horne chicken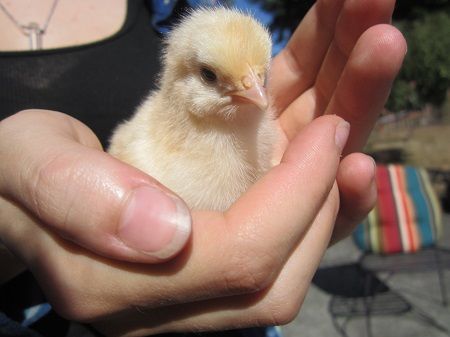 Clementine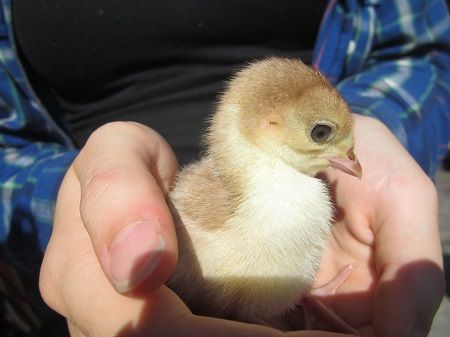 Laura Palmer
Should be a busy week–heading to the Ironworkers today and then speed mentoring with tradeswomen tonight. This was announced at the last minute, but the consolation prize for staying late is that I get to watch everyone eat pizza. Ha ha. Then plasterers tomorrow, and brick masons on Wednesday. I will be tired by Thursday!