"There's only one thing more boring than listening to other people's dreams, and that's listening to their problems."
Sue Townsend/Adrian Mole
Ok remember last time on I, Asshole when there was little bitch whining? What, that was ALL the posts? Wow, you are cheeky, aren't you? WHAT IS THE POINT IF NO DRAMZ?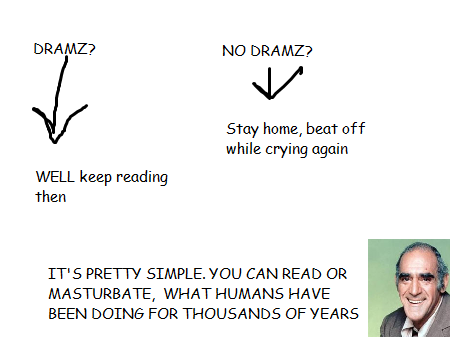 Here is a thing that happened. I walked into work on Tuesday expecting a normal day, and got a fuckton of work piled on. "This is going to take all day," I told my co-temp. How wrong I was; it was much more than a normal day. My boss left us, without clear instructions on how to finish. Over thirteen hours later, after helping my co-temp, I left, and left my badge on my boss's desk, after cleaning the scant belongings out of my own desk.
The next day I talked to my recruiter, whom I've known since '09, since I like to do-si-do between FTE work and contracts. "Well, it's too bad you didn't give notice," he said. "You're blacklisted with Amazon now." I was worked over thirteen hours and have a black mark now for walking out. "Are you interested in X Other Company?" he asked. "Everything pays more than Amazon."
NEAT. So I slept in after my walk off, and prepped some fangsgiving.
WHAT HAPPENED THO? The usual, a motherfucking car wreck.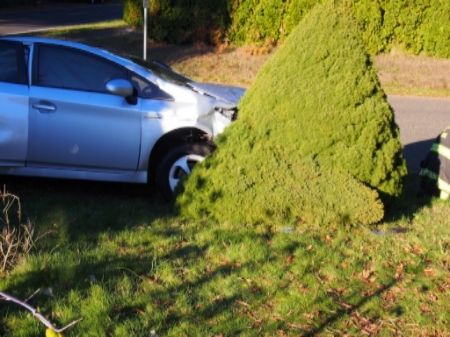 "MA'AM were you involved in this accident?"
"No, I just live here. I heard the crash but I didn't see anything."
"Okay."
PRIUS SHEARED OFF MY ICE CREAM BUSH. FUCK.
I have to say, learn to take a left across my street. Any street. It's the same thing, over and over. I hear the crunch crash and I think to myself "Christ I hope I won't have to see PETE performing CPR on someone's lifeless body again. The son of a physician with a conscience…yes, he is going to run out and deal with someone's ragdoll body. The die is cast once the crash happens. Apparently the neighbors have a first aid kit for this street. FUCK.
I heard the crash so loudly because we were in the backyard preparing to walk the dogs, since my food was prepped and it was very sunny. We left the scene and the dogs flushed a really beautiful speckled, but mostly white, pigeon from the bushes. When we came back I saw a hawk on the ground where it was with what looked like insulation or something…it was the pigeon exploded. Dreams of getting shot in the chest on my birthday and then death pigeons on Thanksgiving. I am getting weird(er).
I spatchcocked the turkey. Franny said, let's give it a bikini tanline.
This means…wow…I cooked it for 80 minutes. So nice. I'm not sure about the tan lines. Franny said I should tell everyone it was a FAIL since I posted the pre-cooked turkey on Twitter. I think there's no failures on the internet, only "so, that happened"s.
Anyway, we had a nice time.
I made my special dairy-free potatoes, which involves nutritional yeast, broth, and a lot of salt and pepper. I made "stuffing" out of rice and quinoa, and a lot of spices. I made two types of cranberry sauce. The turkey was VERY juicy.
Pete made a weird fruitcake that was "Jamaican" out of Moosewood. Rum, pineapples, molasses. I'm not going to explain this shit to you.
We're watching Jessica Jones now, and I'm really excited to see some Marvel repulp that actually applies to me. I mean I will watch angsty dudes but I like to see women too. I love Krysten Ritter and I love hard-boiled, so it's working for me. I too had SPECIAL ISSUES and used to be a peeping tom. The road not taken.
Waiting to hear on work tomorrow or Monday. What's it like to be having the longest midlife crisis ever? What's it like to feel like a crashing failure at this point? Line up and I will give interviews for a donkey ride or a coffee.
I know you're hanging on tittyhooks but since I have souped out of my job like a little bitch I have time to finish getting the first podcast up tomorrow and apparently we are recording #2 as well. So. Stay tuned. Thanks for glancing awkwardly and acting like this is working.