A wild Frannie welcomes you in to CHRISTMAS 2015: THE CHRISTMASNING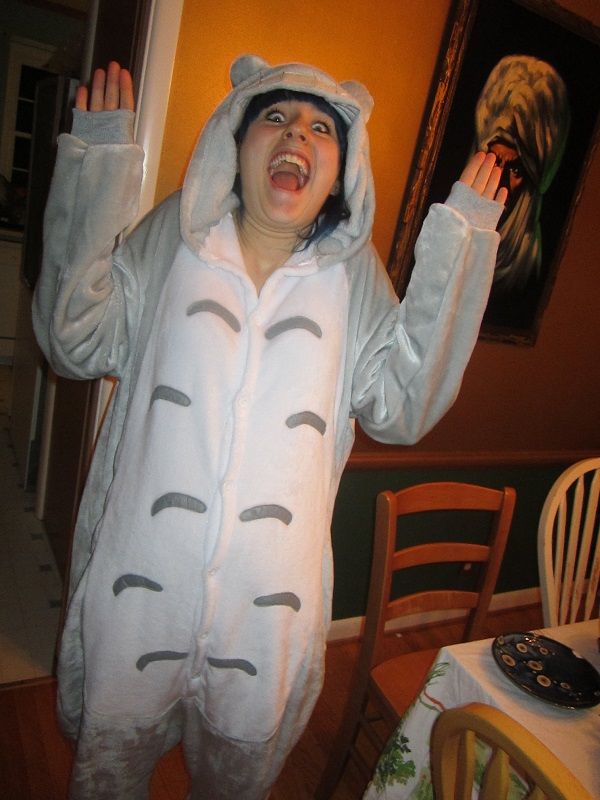 CAN I JUST SAY I am well tired of xmas at this point? I'm glad that Strudel is still into it, and she gets super excited about it. We're going to ride that wave for a while. Franny is getting a wee bit indifferent to it. I can smell my freedom. I want to go someplace warm and sunny but NOT make anyone wait on me who might like having a day off as well. I am thinking a condo near a beach and do the shopping early and then spend xmas on the beach.
One of the times when my mother ran away from home we had xmas in Florida, and my uncle grilled shark, and played one of Elvis's holiday albums. That was really okay.
I admire people who like Xmas, I really do. Especially those of you who engineer it and cook it and execute it. If you do all that and still love it, I tip my Grinch fedora to you. But, it's OVER. Let's review the highlights.
Pete and I spent most of the 24th cleaning, and didn't lean on the girls too much, since we were doing really deep cleaning. They did the bathrooms, yay. So on the day of, Franny volunteered to bathe the dogs, who weren't really dirty, but were getting pretty aromatic.

Horace likes to bundle up in a blanket after his bath.

Edith does not have the patience for that shit, but appreciates the fire.
A fun thing about this xmas was candymaking. I started making candy when I was about nine–toffee, peanut brittle, and popcorn balls. I've left off it in the past couple of years, because we eat less sugar than we used to, and a lot of the classic recipes call for corn syrup or dairy. I did a little research and discovered that a reason to use corn syrup is because it will help prevent crystallization during cooking, but it's not strictly necessary.
As I also mentioned I thought I would make the girls candy this year, since candy in stockings is one of our traditions. (Pretty typical, I'm sure.) When I was a kid I would get mini peanut butter cups in my stocking, and candy canes. I used to get the girls a big mix of stuff like fun Japanese candy from the 100 yen store and nice chocolate. In the past couple of years I had moved increasingly to "safer" candy like Surf Sweets. They are wonderful in that they're made of cane sugar, but we found that we were reacting to the citric acid in them (probably that, but maybe something else, who knows). Citric acid is in everything.
I looked around with the purpose of finding candy recipes that I could make with real actual honey or cane sugar. I look at a lot of Paleo blogs since that lines up nicely with what I need for sauces, etc. As a sidebar, the trendlet of "healthy" Paleo desserts is fucking bullshit, but as long as I'm not trying to fool myself it's fine. I guess my point being is that this sort of fantasy health bullshit is a nice aid to the allergic.
ANYWAY, what I settled on was gummy bears and peanut butter cups for stockings:
I told the girls that those two things was all I'd gotten to by the morning of xmas, but that I would be making candy all day and they could eat some as it came out. They munched on this candy as they opened presents, and I put some congee and coffee on immediately so we would have food sooner rather than later.
I decided on turrón, which I'd never had, but I know I love nougat. I couldn't get marcona almonds that weren't fried in mystery oil ("vegetable oil" is a no-go for us because it can easily be corn oil), so I went with plain ol' roasted California almonds. I made homemade marshmallows, honeycomb, and my favorite thing that came out of this experiment, meringue mushrooms. I did not make the Yule log to go with it.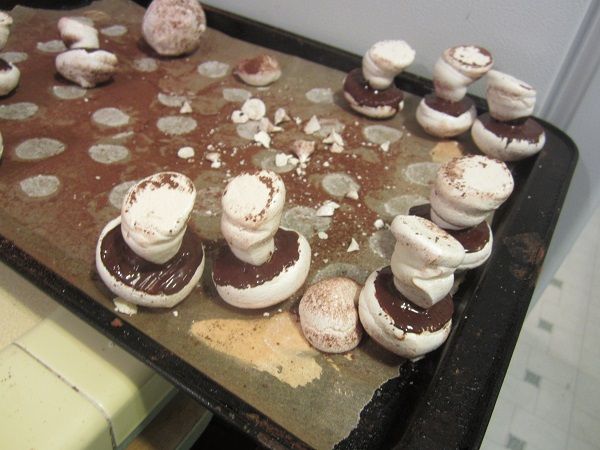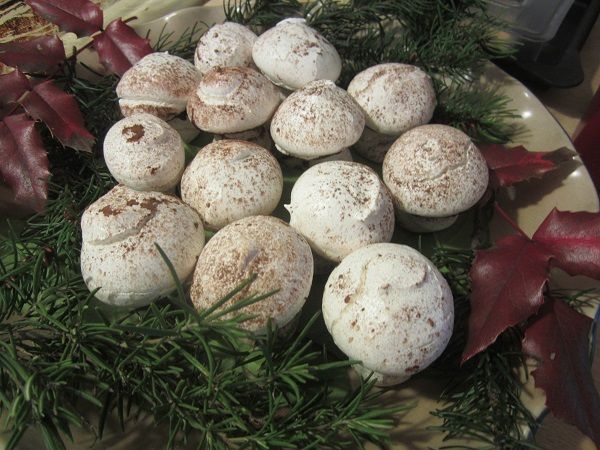 Meringue is my jam now! I've missed whipped cream sometimes and it's a pretty substitute. I bought too many apples and so I made a simple apple cake from the Joy of Cooking last night that was tasty but didn't turn out of the pan at all like it was supposed to. I put meringue topping on it, as the recipe called for, spiked it, and popped it back in the oven. Crimes concealed! I remember hating lemon meringue pie as a kid but now I love it!

Honeycomb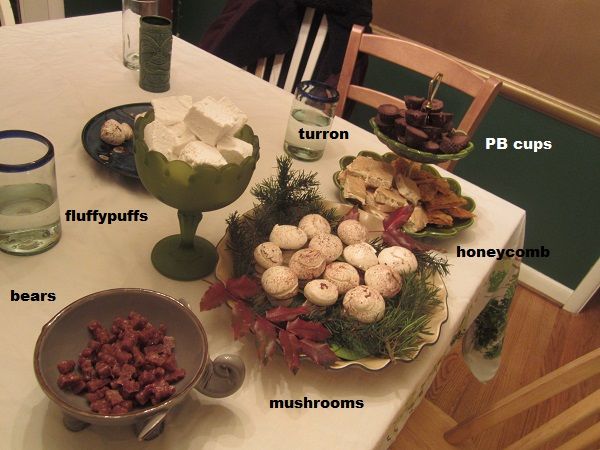 For dinner I made "sous vide" rack of lamb in my cooler, and Pete finished it on the grill, some squash, roasted potatoes, and a mint sauce that was more like chimichurri than the sweet jelly ones. It turned out.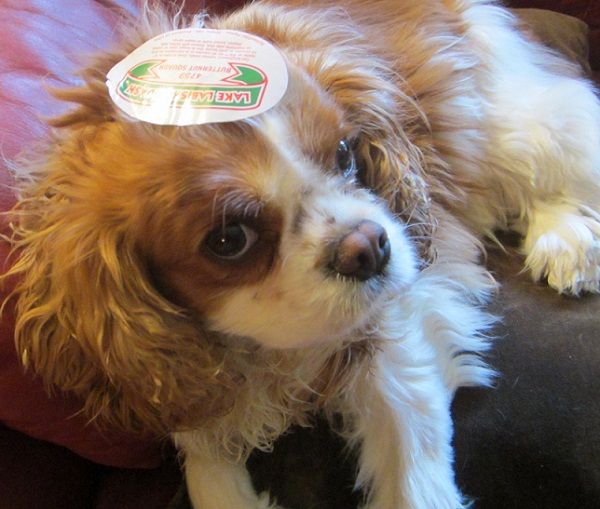 Lil Squash sticker dog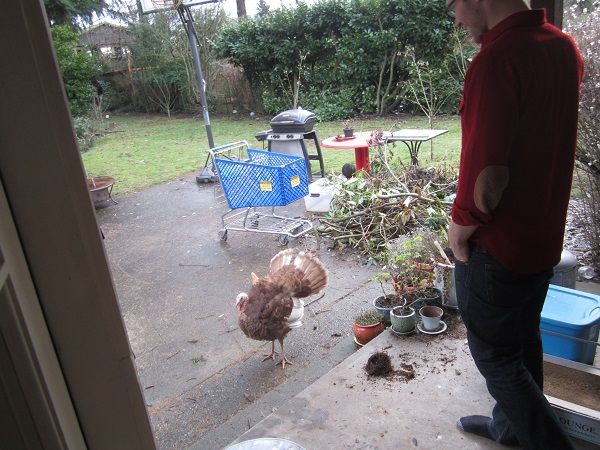 Laura Floofs at Morgan's boyfriend, who has committed the twin offenses of being in the backyard, and wearing red. He has no idea what kind of danger he's in as he chats away on his phone. Does anyone want a perfectly nice heirloom turkey? I'm serious, hit me up. A special price of Free-ninty-nine for I, Asshole readers.
In Other News: Giving the Piss
Yesterday I went to a clinic to get a sports physical, which I've never had before, and an agility test. I was almost as nervous about the agility test as I was about the math test and interview. Using a combination of real actual muscles that remained after being lazy and tired in my office job this fall, plus adrenaline from really wanting this, I was able to pull of the qualifying deadlifts and such with no problem.
My tester was a woman physical therapist and I was alone in a warehouse, which I was kind of glad of. I'll be messing up in front of others soon enough. She held her stopwatch while I did things like remove and replace screws from a metal plate, held a light fixture over my head while on a ladder, and carried 60 pounds of conduit up and down stairs.
"Can I come visit you and do this every day?" I asked. She laughed. I have to start doing it myself again!
Then I had to get a short physical.
"We're going to test your urine again, but not for drugs this time. For things like sugar and blood," the nurse told me.
Crap! I had come down early to beat traffic (turns out there wasn't much, because holiday week) so I noodled around Walmart for a while and peed there. AS AN ASIDE, as I was wandering around I saw Pioneer Woman's busted mug on a set of pots and pans. WHAT UNHOLY WALMART WAREZ IS THIS.
As an aside to this aside, I would license my name to:
ferret tutus
Victorian anti-masturbation shackles
toddler monocle
a special boot for stamping on mustard packets is that satisfying or what
Moving on. Then I peed again at the clinic and felt very ready to lift things without weeing myself. I was not prepared to give of the more pee. I drank 12 small cups of water at the fountain and sat with my book. I'm on a serial killer kick after seeing Zodiac recently with my sister and Franny, so currently I'm reading about Ted Bundy.
"You ready?" the nurse asked as he cruised by the waiting area.
"Almost," I said. I wanted to be sure (and also finish my chapter–Ted was really ramping things up). "I don't want to waste your time."
Finally I was ready to embrace the cup. I remembered what they said about blood so I told the nurse after I came out, "You mentioned you're testing for blood, so I wonder if I should disclose that I'm menstruating."
"Disclose." "Menstruating." Am idiot.
The other nurse there who had done my drug test on Monday chimed in. "Oh, are you complaining again?"
"Yes!" I said, laughing. "Do you have a half hour or so?" She laughed.
"Wait two minutes," my nurse said, and I went back to the waiting area.
"There was a little bit of blood, but I'm not concerned about it since you are having your monthly." He brought a copy of the form out saying that I had passed everything very well and was fit for work, and handed it to me. Free to go and very sore today, urgh.
I'm trying to jump into a yoga immersion next month like I used to do all the time, until my everything hurt so much I couldn't even rest on my hands in downward dog without them tingling and being on fire and I dislocated my shoulder slightly.
MAN I WAS A BROKEN-ASS MOTHERFUCKER THEN. The only pain I have now is "immediate" injuries, like knife cuts or grease burns (Chef Clumsy at your service) and muscle soreness. HOW DID I LIVE WITH CONSTANT PAIN FOR SO LONG? All scars are now psychic *BROODS*
I also need to run and lift things. I have about a month to get into better shape during bootcamp, which I am taking full advantage of. Pete and I are also doing a Whole30 for January, which will really help as well. HAPPY NEW YEAR! See you soon.