On Thursday night we were poised to see the last episode of The Office. I threw on some first season episodes around Xmastime when I was cooking and the girls got sucked in. Five months later, we watched all nine seasons. I was very disloyal when it was airing and would dip in and out, only to binge watch a season at a time. I think it was a lot more enjoyable pacing ourselves like this and getting all the way through.
So I popped out into the yard after dinner to water the garden, which is growing well after the little cold period we had recently. We have some volunteer cilantro and tomatoes in my lettuce bed, which I will roll with. I have to take pictures soon. It is awesome. Anyway, I watered and came in and the girls were watching something short and I put my hand on my hip…and…BZZT! Stung in the middle finger.
I brought in a hitchhiker. I scraped out the venom sac right away. Friday was kind of miserable at work, with my hand steadily swelling and the site around the sting turning purple. I thought that would be the end of it, but my hand got enormous. It looked like the hand of an obese toddler by Saturday, throbbed, and hurt all the way down to the tendons.
Normally I have knuckle dents and visible veins and whatnot, especially now that I'm not kind of swollen all the time like I was when I was sick. There were some bony-ass fingers hidden under my bloatpaws and I love them. They look like the hands of a 38-year-old, instead of a pile of dough.
This afternoon I was marinating some chicken thighs to grill later when I saw it: a black dot in the middle of the angry, red sting site, raised past the rest of the raised skin. I knew I would have to operate. I scraped the skin off and there was hardly any blood, to my surprise, and then I found the stinger! No bigger than a hair, of course, but causing a lot of trouble. Damn.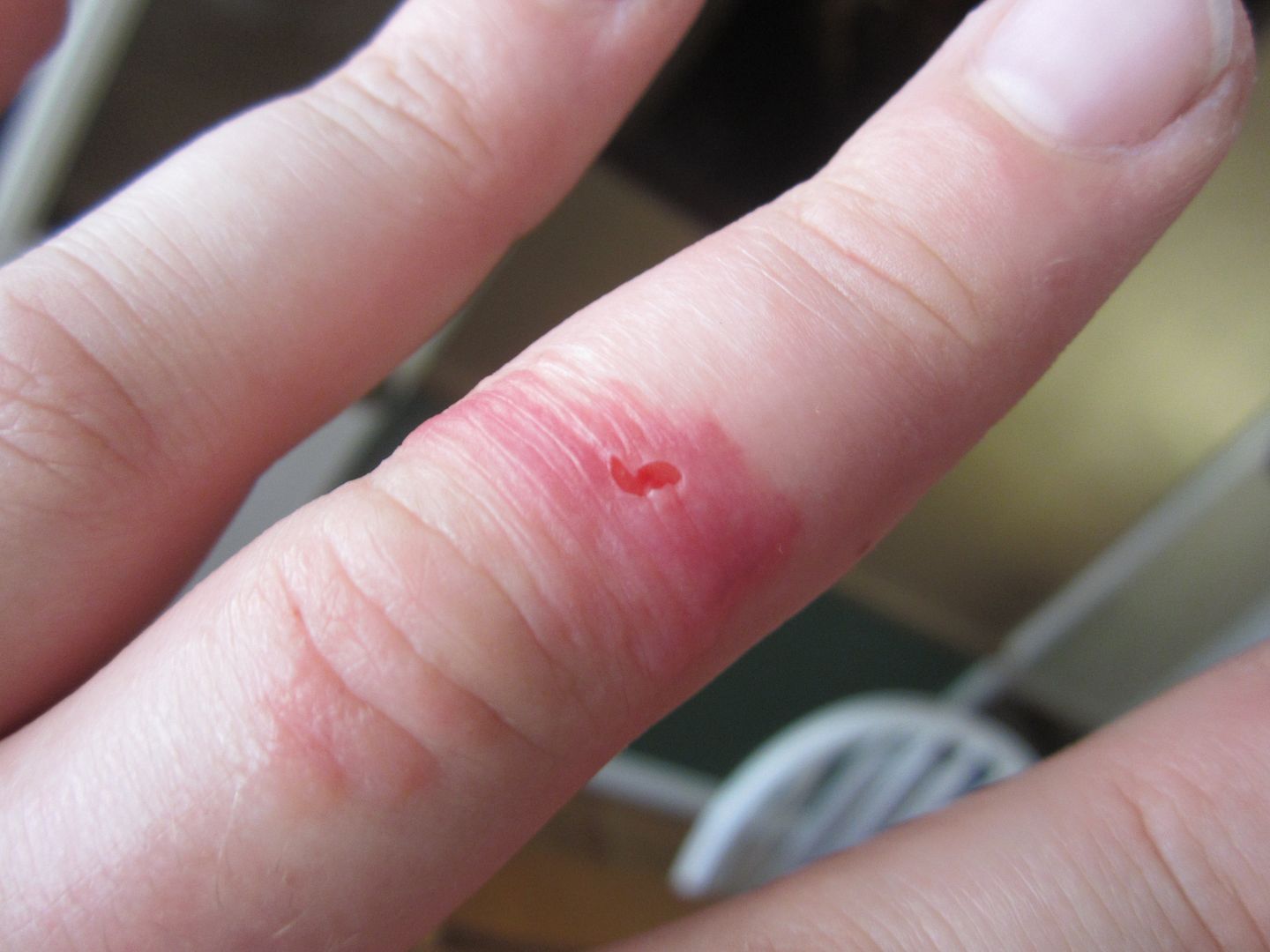 Isn't it amazing that most of the time when you get something foreign in your body, your skin either eats it or serves it back up to you like some kind of gross offering? Feels better already.