The Twin Peaks festival has become a delineation for me. Leave for the festival in late July, and summer feels full of potential and as if we're at the top of the hill, with endless fruit-gorging and hammock-laying ahead of us. The Monday I go back to work, the light looks different. The sun is already hanging lower and the day is shorter. People say (and it's true) that Seattle summer starts July 5, and we often get beautiful days into October, but by early August something about the light reminds you that fall is coming.
Since the whole point of the festival is to discuss and celebrate a 25-year-old show that is partly about murder and is set in February, it serves as another reminder that the dark is always coming back. Weirdly, it ends up being a really comforting way to reflect on the seasons here and what makes this area special.
I don't have pictures to post because I admit I have finally emerged into the present and was popping out pictures as we went. I did not pull out my trusty camera once. Franny dressed as the Log Lady, in part because Catherine E. Coulson died shortly after last year's festival and she was a little sad. This year she didn't place but she had a nice time being part of the contest.
With another year of living with food allergies under our belt, I think I did a little better at the food part of our trip. Staying at the festival is a little bit of a fox/corn/chicken/farmer problem since lodgings are limited. There's cheap hotels with nothing around them and no amenities. B&Bs are pointless because we can't eat there. There's a hotel with a kitchenette but the festival takes it over and people party there all night. There's the Salish, which is incredible, and where the "cool people" stay, but expensive and has nothing within walking distance.
Our compromise is a boutique inn that was a filming site in Fall City. I used to enjoy staying there because the restaurant and bar was good, it is a quiet area, and the inn and town is extremely cute. As I started to realize I had to make like Persephone everywhere I went, I still enjoyed the inn and its proximity to a small grocery store with a fruit stand full of Eastern Washington peaches and plums.
I was looking at feeding myself and Franny for three days in a room without a fridge or microwave. I brought our cooler full of hard boiled eggs, chicken breast, baked tofu, and sauces: Seattle-style teriyaki joint salad dressing, honey mustard, and a vinaigrette. I was looking for mayo- or oil-based sauces to make salads filling.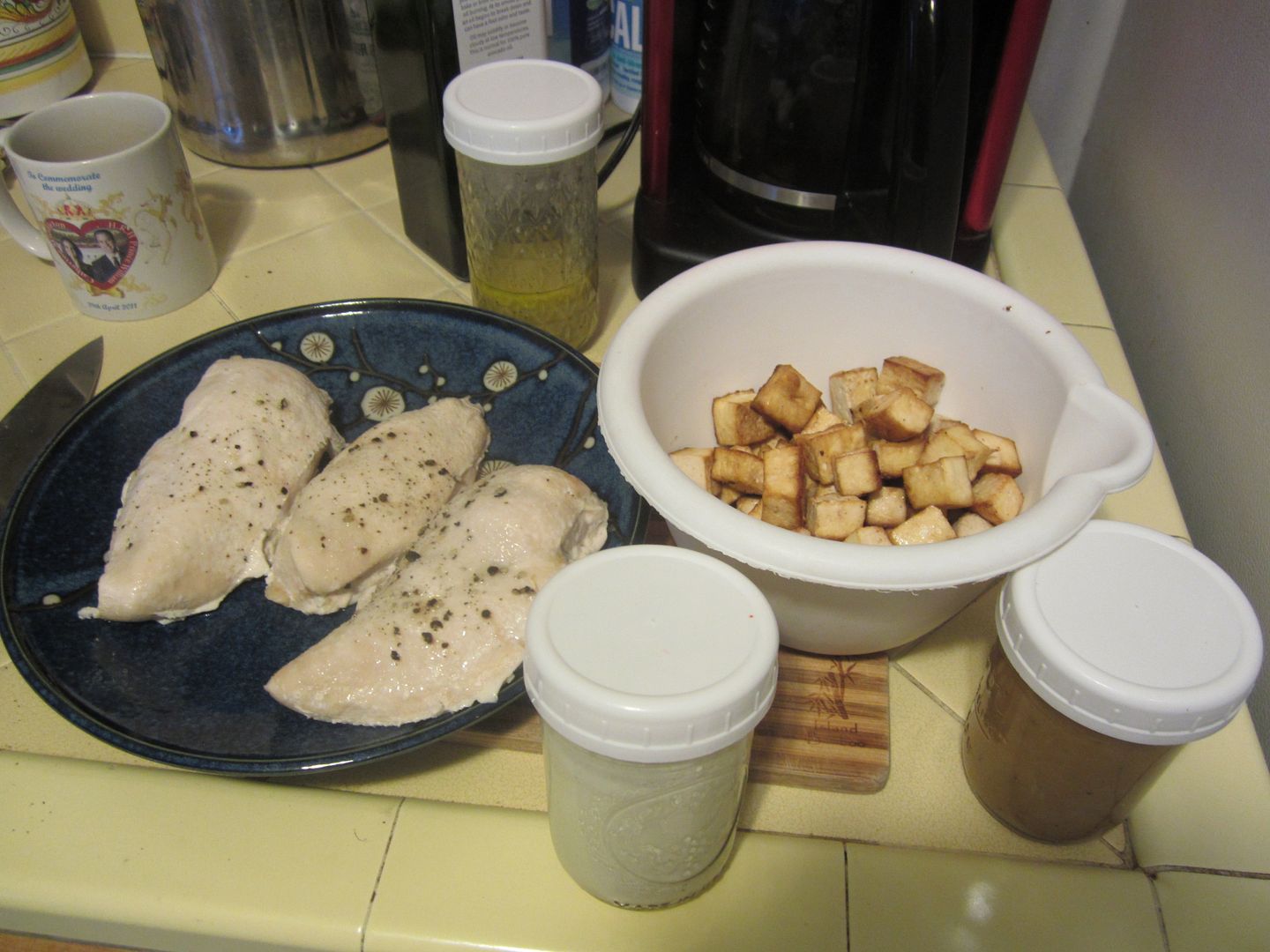 Yes, I hammered my protein by overbaking it. It was fine once it was cubed.
I also brought a ton of processed snack foods that we can eat: chips, dried fruit, nuts, and jerky.
We also brought dry goods like utensils and paper plates. I brought a french press and coffee I could drink for myself, since I don't trust Keurig machines. I could run to the market up the street, buy fruit, buy a ready-made prewashed salad, and make a plate with lettuce, a protein, nuts, and dressing. Or we could just graze on fruits and jerky. Every time we left the room I cleaned up and "packed out," throwing the remnants of our meal into the Dumpster rather than leaving a mess for the maid in the tiny trash cans.
With all of our care, gluten really isn't the enemy anymore. The biggest obstacle is corn, and it was everywhere that weekend. I am lucky in that sometimes I can forget about our allergies for days at a time now that I work outside. Twin Peaks is fun but being in close proximity to people all weekend is hard. I greatly underestimated how much it would affect us.
First, the room of the inn had very strongly-scented sheets from detergent and fabric softener, so we were breathing that all night as we slept. Every time we gathered in a crowd people were covered in perfumes, fabric softeners, vaping, smoking. The movie night is held in a movie theatre in North Bend, lasts 4-plus hours, and the popcorn is flowing. We were getting achy legs and shoulders, it was hard to sleep well, and Franny was using her inhaler.
It's very hard to motivate her to do much about halfway through the weekend because she gets run down and doesn't combat it by drinking copious amounts of coffee like I do. Next year Morgan and I are talking about splitting a small house/cabin/condo thing that should have some kind of outdoor space to recharge in, as well as a kitchen for me to cook in. I think this will be nicer…it's time to say goodbye to the inn since we can't really use it properly and Morgan found herself eating meals alone some of the time since Franny was getting very sick in the dining room downstairs.
If you have read all this you may be asking yourself, why bother going? Our lives have changed so much in the last three years and everyday life now involves never eating out, or sitting in bars or coffee shops. Every time I go out I ask myself if it's worth it to be in this particular crowd for this particular event…so many times the answer is "no." So for now this is a thing that is really special and we rally and go.
I like that I can take a small trip alone with Franny every year too. We enjoy spending time together. We spent a lot of time between events in bed watching Forensic Files. Franny is obsessed with anything that involves modern crime solving.
The trip also reminded me of what Franny goes through every time she visits her dad now. I was feeling a little worried because she is spending less time over there, since she often gets glutened, always gets corned, and comes back with a cold, achy, tired, and in a terrible mood. I still don't feel great about how she's somewhat barred from spending time with that side of her family now, but it would be very hard for me to drag myself out to do the equivalent exposure of a festival weekend twice a month.
It's further complicated by the fact that Franny has accepted a volunteer position as a DJ assistant for Morgan's show on KEXP on Saturdays. This is great news for Franny, since she gets to do a cool gig, gets some aunt time, and gets the volunteer hours she needs to graduate, but it was supposed to be when she saw her dad. Franny's also on a teen committee at the library this summer (at my insistence that she get some kind of job). She told me last night she's happy I "made her" do something this summer and is meeting people outside of her high school.
I will say in brief that I am working my ass off this summer. Five tens and then eight hours on Saturday (Saturdays are somewhat optional but I try to work if I don't have serious plans). I was a steadfast defender of the forty-hour workweek and am protective of my time and health, so I am actually surprising myself with what I'm capable of this summer. I'm in architectural sheet metal right now, which is basically installer work–get panels onto building.
I'm working on schools and am on roofs much of the time in a harness with a rope tail. I like the crew and get along with them well. I got "the talk" from the superintendent last Saturday. I swear there is some bylaw that says supers have to be assholes. "So, I was looking forward to firing you, but the guys like you and they say you're doing a good job." Um, thanks. Again I have lucked out and landed with a really nice foreman who is driven but does not verbally abuse people, use slurs, and can communicate. The age thing seems to make a difference. Anyone under about 45 is going to be more professional, generally.
I'm about to get my school schedule for the next year and am really excited about that as well. I'll probably do a six month rotation with this company unless they lay me off when fall comes and school starts.
I shaved the dogs down again in anticipation of the hot month of August and it is gloomy and misty today!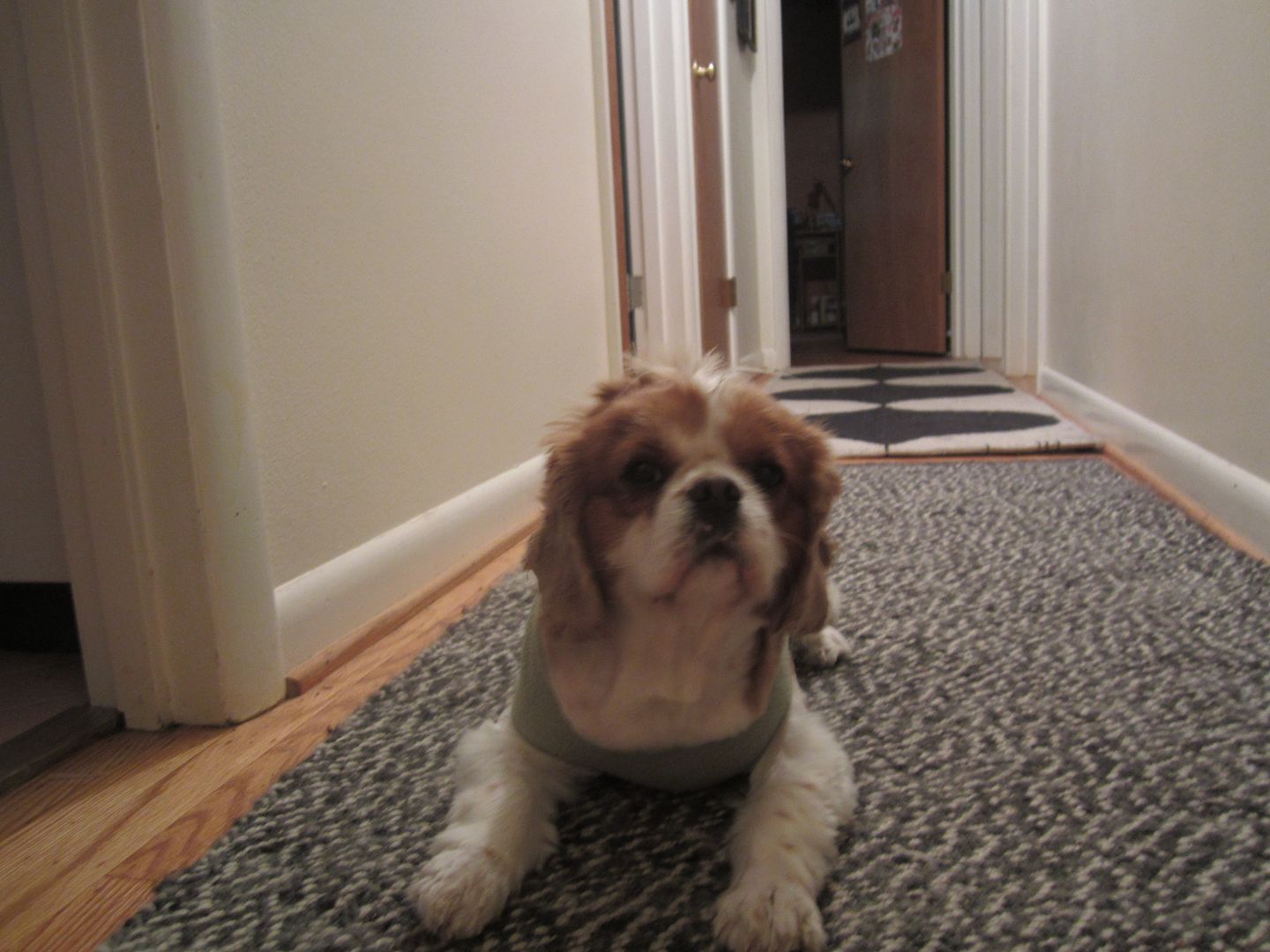 So Edith dons her small sweater.