Not always, but glass measuring cups sometimes make me think of my mother. I'm sure she used it pretty often since she seemed to enjoy baking, but I don't really remember washing them. What I remember is it coming to the table during Thanksgiving, full of giblet gravy, because my mother didn't own a gravy boat. I own an insulated one and use it weekly in the winter. I am a hardcore believer in gravy.
I got frustrated with gravy for a while, because I was accustomed to making it with wheat flour. I tried adding the various starches like tapioca and arrowroot, but I never liked starchy gravy. Plus, these starches have a tendency to go to snot really fast, or overheat and "relax" again. Finally, I cracked the code and have been happily making rice flour gravy.
My mother's version of giblet gravy included not only the turkey offal but chopped hard boiled eggs for extra stink. We didn't eat organs at any other time of year, and I saw this as some of her vestigial southern-ness, which would rear its head at unexpected moments. I couldn't get the liver and gizzard bits down and would try to navigate around the chunks as I spooned it onto my potatoes. Somehow my sister, who had as little culinary organ exposure as I did, emerged into adulthood liking it.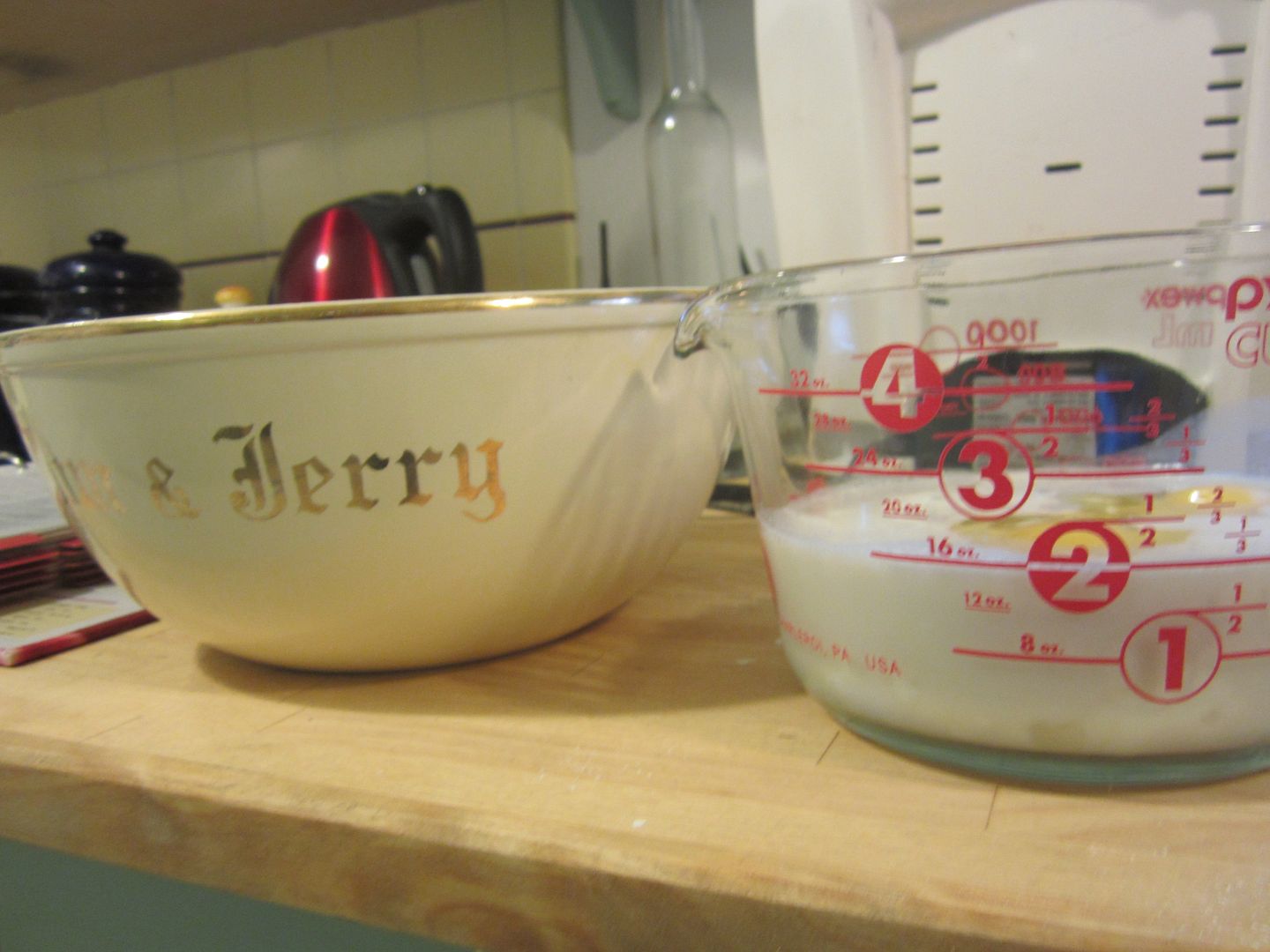 This is a silly thing. I thought for years about getting a 4-cup measuring cup. O FRIVOLITY, I thought. What would I do with FOUR CUPS? Finally my ye olde 1 cupper lost all its measuring lines and every time I sent it through the dishwasher my sad Sharpie marks would wipe off again. I had to let it go, and I bought a SET! One cup! Two cups! FOUR CUPS! Sometimes I serve gravy in it, because my gravy boat often runneth over and it saves well.
You may have guessed I'm thinking of Thanksgiving. I was casting about for different ideas. What if…I used recipes from 1916? Hmm, pretty boring and standard and similar to what people do now. The only difference is that apparently it was like Halloween part two. I'm trying to find Thanksgiving recipes online from circa the birth of this house, and Gourmet is not really coughing up the goods. I loved all the weird racist/sexist/whatever shit I found in the old issues a couple of years ago, but I'm not sure I'm up for spelunking through all that at the reference section of the Giant Robot Poop again. So I don't know what I'll do yet.
I'm back to work now, which is great. I like money but I miss crocheting every day.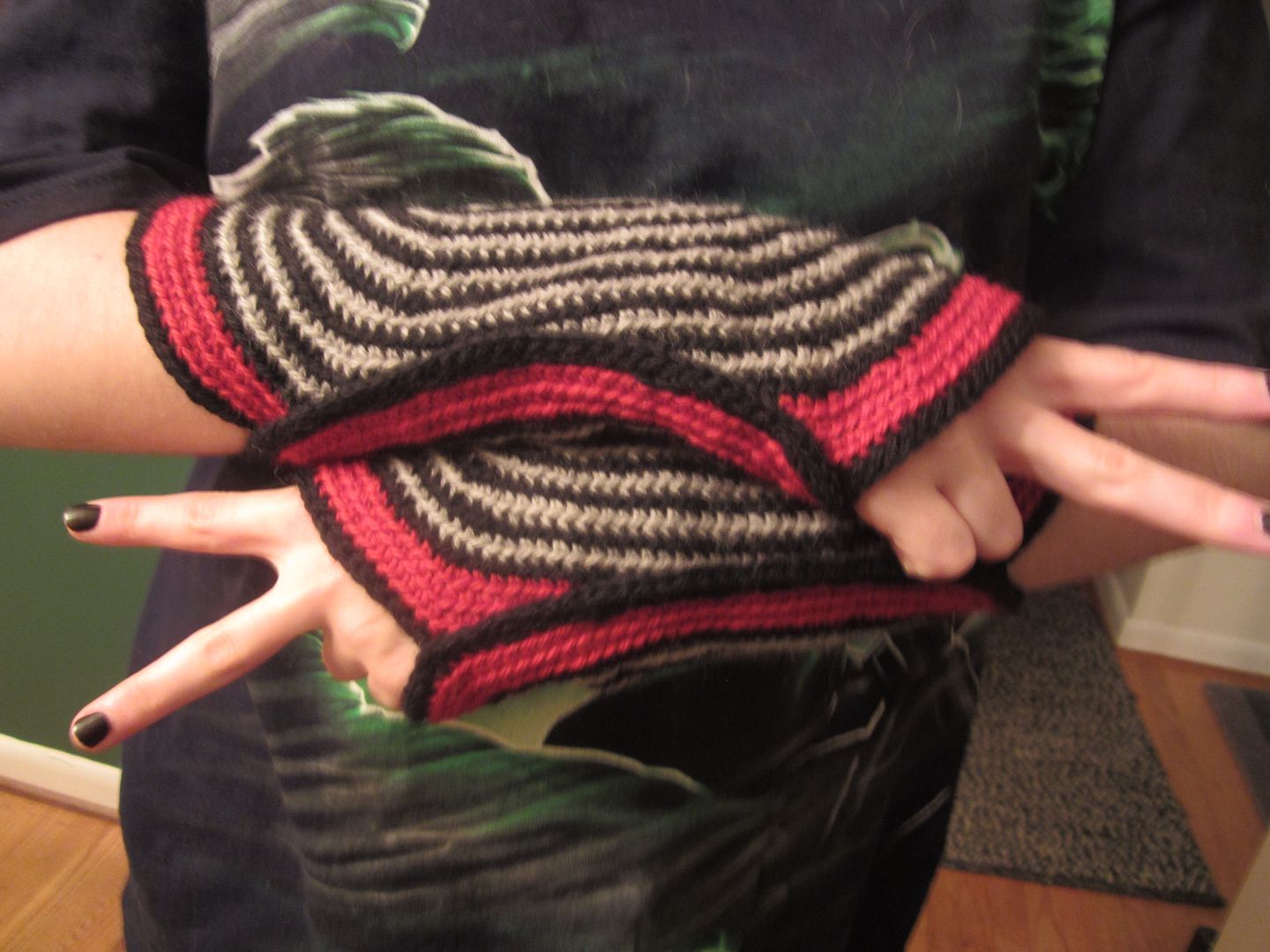 I'm plugging along on a little granny square throw for Strudel right now. I got an old picnic basket from my local junk shop that seems to have been for a promotion by Chiquita bananas in 1968. I asked them to keep the plastic ware inside, and they cut me a little deal. Now my yarn lives in it.
I'm working in HVAC right now and I like my journeyman. I'll probably be on the jobsite until Xmas. This job is VERY cozy. There's a roof, windows, and I'm working for a company that supplies safety equipment. I didn't know until I started with them that grinders were supposed to have guards. Seriously. This is also my first job where I've had an official break. It's pretty common practice to skip break and leave a little early among companies, I'm finding, which can find you working in 5-6 hour chunks. Sitting down for a few minutes and having a snack after a few hours of work really makes a difference.
My journeyman is sneaky watching me. I thought he was teaching me and then letting me go on autopilot, but he called me out. "I saw you fix what could have been a mistake earlier, glad you're listening." Listening has always been okay for me, it's the boredom that was killer and distracting. I'm pretty happy just plugging along with my (quieter, more linear) thoughts and not messing anything up.
The only thing that's a little wonky is that my body chews through amphetamines pretty fast, so a pill that is supposed to last about 12 hours lasts for 6, tops. I get up, take a pill at 4, and it's all gone by lunchtime. I can get along (albeit more slowly) but after lunch the white noise in my head that makes it harder to figure things out comes back. I tried taking it later, like before I get on the road around 5, but then I'm anxious on the highway, or I miss a turn, or it takes me longer to find all of my stuff.

need oil
Another thing that's new is my time sense. I'm not a chronically late person, but if I'm home with no schedule it feels like I suddenly lose two hours, and dinner gets on the table later, or shops close and I can't run errands. If I was at work, the last 45 minutes could feel like an eternity. Now it feels like time passes steadily. IT'S REALLY NICE TO FEEL LEGIT HIGH-FUNCTIONING instead of just coping.
Speaking of distractions…right before school started, we got Franny a pretty basic laptop, and as I mentioned she recently got herself a smartphone. It's helpful for her to have research and writing tools for school when she needs them, but she is super goofing off on them now, which I expected. I was surprised how much time she spends on Youtube. She watches music videos with her sister, which is cool, because it's kind of like a choose your own adventure version of the MTV of my youth. I introduced Franny to /r/youtubehaiku, and this is her jam, since her friends seem to compete to find the weirdest videos with low views.
I don't see her as often as I used to, but she still pops into the kitchen to talk, or I pull her along on a dog walk or errands. It's funny that one definition of successful parenting can be seeing your children less and less and not having to worry that they're making horrible decisions while they're out of sight. I guess even parents with the best intentions can be authors of their own loneliness.