1.
Now that it is winter, a small brown hawk (or hawks) is visiting our yard and scaring the shit out of the chickens. I came home on Wednesday to do a quick Thanksgiving grocery/flowers drop off and bounce back out to a doctor's appointment when I realized there were two chickens hiding under my porch shoe rack (very weird), but none of the other chickens were in evidence.

our lackluster decorating this year
I forgot the girls went downtown to have lunch with Pete, so no one had been home for a couple of hours. I called the chickens how I do when I want to feed them scraps and there was no movement. I have a pariah chicken that hides in the coop most of the time and I found her, so that made three of the eight. Then I saw the girls and Pete walking down the street from the bus stop and I asked them what was up. Nothing, they said, the chickens were there when they left.
I had to go but the girls said they would look around the neighborhood in case they had jumped over the fence. As it turns out, within an hour Franny was able to find them all in the yard, very very silently socked in to small crevices and under thick hedges. The good news is that they are bin Laden-level hide and seek experts, but the bad news is that if they hide like that and we don't find them, they are likely to get picked off by a raccoon that night.
I suspect this is the same kind of hawk that struck Death Ray dead last winter, but Pete and I finally saw it recently. He saw it swooping into the yard and we saw it later being chased by crows. It's too little to actually carry a chicken off.
This is weirdly frustrating. Could you at least eat what you terrify?

2.
We had a very quiet Thanksgiving. I dithered on the menu until I ended up in the realm of completely traditional and boring and I was very okay with that. I butterflied and spatchcocked the turkey again this year. Apparently I did this last year and have ZERO memory of it. I do remember the car crash and that an entertaining was a Herculean effort due to feeling generally shitty and being depressed. Whee.

another year, another turkey. But, it was delicious again.
This year I super enjoyed myself for no real reason. Everything came together very easily and I didn't make a schedule in five minute increments like I usually do, and I didn't forget anything. I think I was also less interested in over-the-top food weirdness like I usually am. I'm starting to feel like I can direct my energy where it counts now, and save it sometimes when it doesn't.
We had garden pumpkins saved from summer and I baked them for pie, like I sometimes do. I'm sure there's a ton of traditional pumpkin pie recipes out there that don't contain evaporated or sweetened milk but I didn't feel like hunting one down. I took a peep in the Joy and found something called Pumpkin Chiffon Pie. It called for a custard, egg whites, and gelatin as a thickener/fluffiner, and it was nice and light without being at all rubbery. I had the last piece for breakfast Friday morning.
What I REALLY was looking forward to was the Gilmore Girls revival that dropped on Friday. I had a little party with the girls, my sister, and a friend, all of whom are superfans. I don't have a ton to say about the show here. I think you have to accept Amy Sherman Paladino products for what they are. As many recappers and reviewers have pointed out when the show was on the air, it had plotholes ahoy as well as time and other logic problems. That pattern wasn't really resolved in the revival. I was happy to spend more time with the characters and we all laughed and cried.
I made a Gilmore-inspired buffet and my guests hung through the first two episodes, which was three hours of viewing. I made pizza, Chinese food, a cake, and Pete made The Rory, which is a very pink cocktail that Emily had concocted for Rory's 21st birthday. I made some deviled eggs benedict, as a nod to Emily's fancy parties but also the episode where Lorelai and Rory devil egged Jess's car. Franny made whoopie pies because they are chocolatey and marshmallowy and good.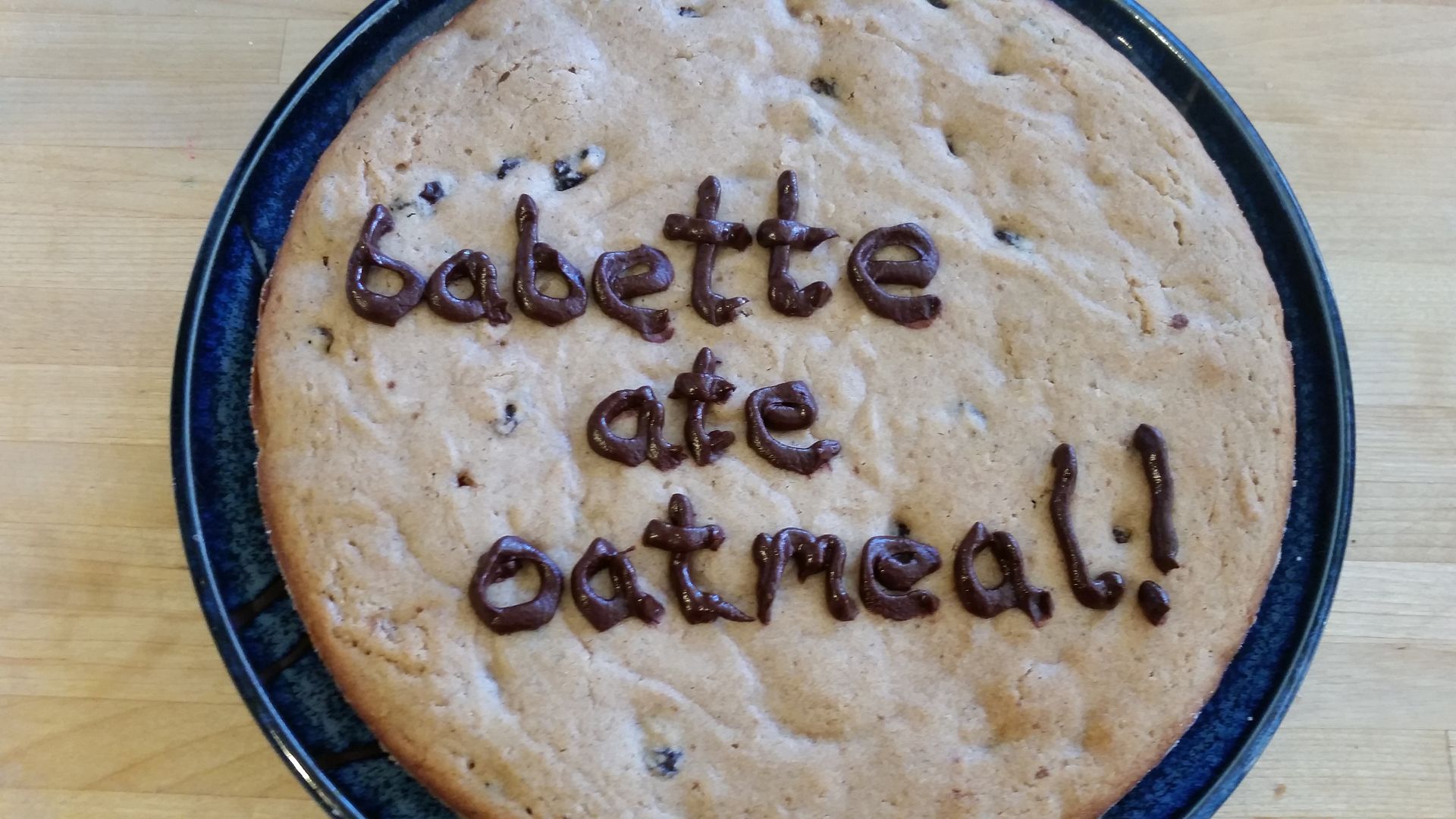 My sister captured the "before" better than I did because I was buzzing around finishing things up, but I did get an after.


3.
For the first time ever, I seem to be able to successfully use list/task software consistently and well. I've always kept a calendar, and I kept a datebook while I was in school so I could turn things in on time, but other than that I was a little random and would struggle.
During my decline and fall in the corporate world, I tried kanban-ing and task listing and bullet diary-ing and anything I could think of to make sure things didn't fall through the cracks. I would also spend time reading the bon mots of productivity gurus and then being annoyed by them and hating them and then hating myself. Then I realized I wasn't always using my apps consistently or even remembering to update or even open them. Pretty disheartening. But now I find that if it goes on my task list, it gets done, if not day of, then the next day.
I'm using Epic Win at the moment. It's simple, but good for me for recurring tasks (monthly dog and cat flea treatment) as well as daily ones like flossing. Yes, my task list includes flossing, something I often forgot or put off. Some day I hope it will be so ingrained I can take it off again.
I include one-offs on my task list as well. I decided today would be the day I would clean off my rain lamp so I can consign it.
I enjoyed owning a rain lamp for a short time until I realized that oily surface = dust nightmare, and it always smells like a melted crayon when I run it. Also, in the summer when it gets above 80 the oil starts to evaporate and leaves specks on the wall, table, pictures, the statuette in the lamp, and so on.
I told myself that if I cleaned it and made sure it was running well, and consigned it, I could begin the process of looking for a TV lamp. A few months ago I found the book mentioned in this article about the history of TV lamps. I thought it would be fun to replace the rain lamp with one. Just a little spot of tacky decorative light on the credenza and a lot less maintenance.
But anything like this was an uphill battle a couple of months ago. Please excuse this terrible metaphor, but I felt like much of my life was spent paying off blackmailers rather than going to the hideout and kneecapping the source of the problem. I had a lot of inertia going. I was sad my lamp was dusty and partly clogged, and making a mess on the wall in the hot part of the summer, but didn't have the energy or organization to deal with it. My list kept getting longer and longer. Today it rolled up on my to-do list, I found that motivation lever and dealt with it in less than an hour. It's still very weird and something I'm trying to get used to.

4.
Last week I had trade school for the first time. It was a mix of classroom time with basic math review (area, radius, fractions, decimals, etc), OSHA training, and some shop time. I found the shop time the most challenging because I knew what kind of metal bends or folds I wanted to produce, but not always which machines did what and how to use them.
We had to make a useless duct, which was kind of a nightmare on the first go round and turned out very poorly!
My teacher said, "Write your name on your duct!" but I was embarrassed so hedged a little.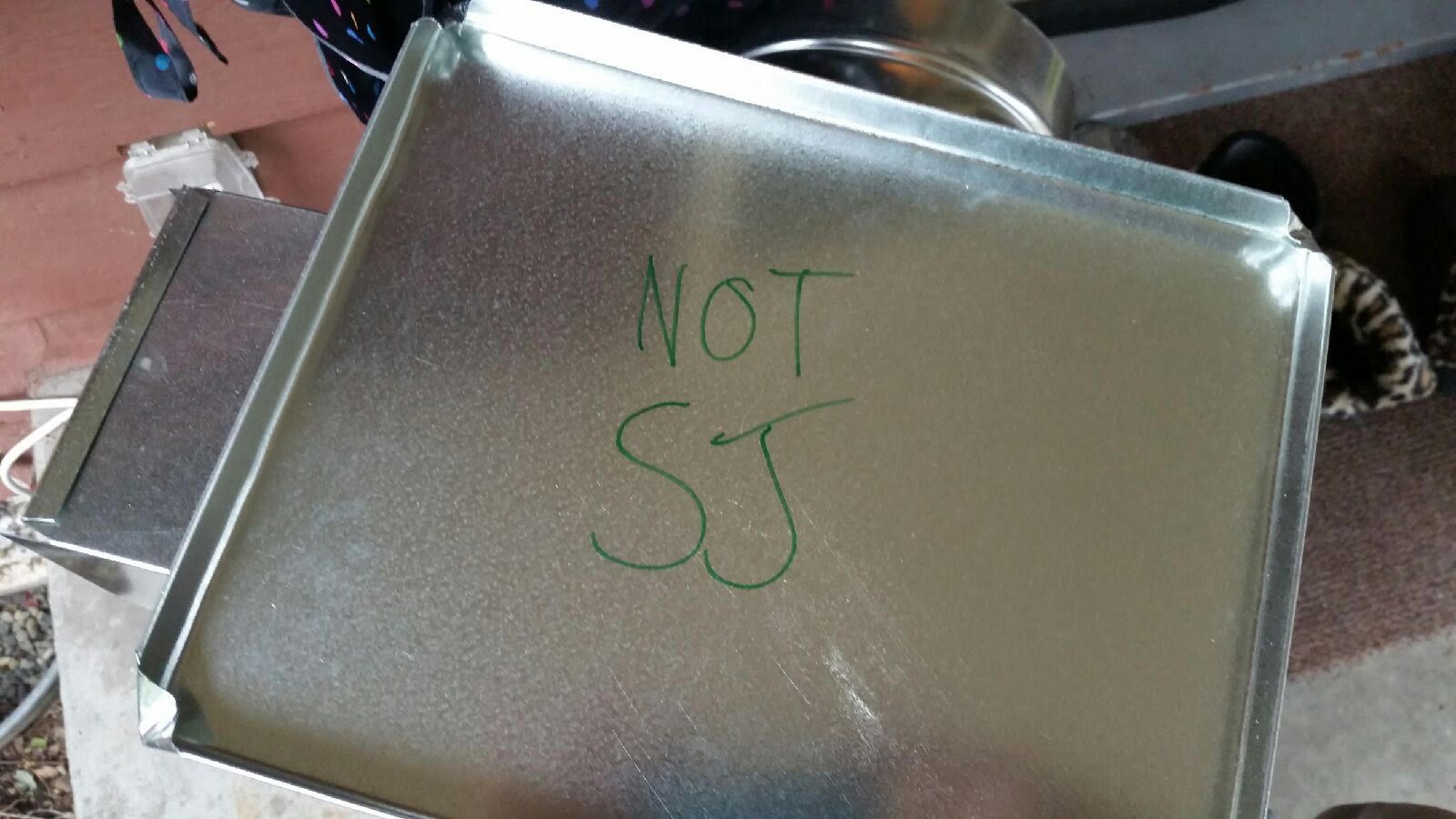 By the time Friday rolled around I passed the written test since math, history, vocab, and so on is not my hurdle. I was nervous about the final shop project since all we had was a spec sheet, but it finally clicked. I finished last, but I did fine and finished well within the time limit.
On one hand school was WAY easier to sit still, pay attention, and focus on, than it was from first grade through grad school. On the other, I was not ready for the feeling of being back to something I haven't done in over ten years. Fortunately it's only a week at a time and they really want you to succeed.
This week I talked to a cool journeywoman who was doing trimble work on my jobsite for a couple of days. She remembered me from the women's meeting in October. I told her about my shop challenges and she said, "Oh yeah, I remember that. I've told them how hard that is for shop newbies!" She said she was organizing some shop time for the women's committee to come in and build small objects like toolboxes for outreach programs in high schools. She told me that is a great time to come into the shop and take pictures of the machines with a note about what they do as reference for later. GREAT IDEA.
Work's going well. Life's going pretty well. Drugs have been like a switch going on in my life. There's a daily "FLICK" when they kick in and my thoughts get orderly and calm, but even when they wear off (by midmorning) my mood still stays pretty good over the course of 24 hours until I take another one. After they wear off, though, I feel my brain getting skippy and sludgy again, which makes me bored and grumpy. I'm working out what a second midday dose will look like.
My doctor wants to put me on something really low dose and reasonable for a second dose so I can get to sleep at night, which I think is a good idea, since I treasure my restful, unanxious sleep now. I have an interesting reaction with these drugs. I've discovered I can take speed and immediately go to sleep if I need or want a nap. WHAT IS WRONG WITH ME. I don't think it's going to interfere with my sleep. What fucks up my sleep is not being on drugs and being out of work. I used to need to be exhausted, like utterly destroyed to stay asleep or fall back to sleep after I'd snapped awake at 2 or 3 a.m. But ideally I do need my brain happy and my body at least tired.

me unmedicated
I'm still not pushing myself super hard to take on big projects or new hobbies or even get back to writing…yet. I want to motor along for a while until being happy and getting things done feels normal and not novel.