Paralysis! I've been wanting to write, or to scream my thoughts into a bucket at least, but I've just been dealing with a lot of changes. Sometimes I miss audioblogging. Previously on I, Asshole: I've been living with assorted aches, pains, and fatigue for most of my life, which seemed to have evolved into extreme and mysterious "allergies" after I got sick and had the attack in Maui in 2014. I kind of hit the wall recently on just putting up with things.
This has all kicked off because I've been attempting to have OTC medications compounded, because many of the useful ones, like cold medication, are filled out with cornstarch. I can take a tiny pill, like a Benadryl, and get immediate allergy relief, but then have days of whatever grab bag of problems my body decides to shit on me.
This spring I hit the limit with what insurance will cover, because of FDA restrictions on compounding and whatnot. We're looking at $135 for a bottle of Tylenol. I asked a well-respected allergy blogger if she knew anything about compounding and workarounds, and she told me that she didn't know much, but that masto/mast cell disease people knew a lot about these things, and I should check out their forums.
Mast cells? Masto? I had never heard of any of this. I had a look to see if I had anything in common with them…uh oh. Oh shit. Ok. Something to look into.
I'd been in this limbo where I've been telling people I have allergies, or at least allergic reactions, and kind of muscling through. I was kind of frankenpatched together with amphetamines. If I didn't take them I would probably be unable to stop myself from sleeping sixteen hours a day.
So I was interested that maybe there is this tribe of people who had the same weird problems we did, and maybe this explained what my grandmother had too. We could work with this.
Of course things got worse. Take me, universe, I say. I am already ruined. The universe is not content with this, and neither is the time bomb that is my family genes. Franny has been getting sicker, exhibiting weird symptoms that I've never had. She had an "attack" in April that was similar to my Maui attack, and spent most of spring break in bed with a fever. In the past year her cousin, who is the infamous Auntie Jaguar's daughter, got very sick too, showing similar symptoms.
Strudel is also having aches, pains, and fatigue, in addition to the allergy problems. Both of the girls are challenged by the fact that they go to school with kids who are covered in perfumes, fabric softeners, carrying energy drinks, cafeteria smells, eating corn chips in class, whatever.
We're working on diagnoses with the girls right now. I'm not quite ready to discuss what it looks like it is for Franny, and what her cousin has already been diagnosed with.
I also had another realization recently, finally, along the theme of me tolerating not-so-great situations for way too long but then being spurred into action when my children are affected (see also: my divorce). We are in the process of separating from my long time doctor as well. I realized I was spinning my wheels with her and she's not really helping us move forward.
I've been complaining about fatigue and joint pain back to 2010 at least, and I get some variation on "Hmm, that's weird," from her, and then get a basic blood panel which shows everything is normal (hooray, but also not helpful). Recently she had me run through a blood panel again, as well as the tests for autoimmune disease, which where all negative/normal. I feel like we've already been down this road in 2014 when I was tested for lupus, etc, so I was unsurprised to see I don't have markers for autoimmune. This is good that my body is not attacking itself, per se.
I asked for an additional test, which is a standard starting point for identifying mast cell problems. There was a lot of dithering from her office about how to bill for it and even if she should order it and that she couldn't interpret it when it came back. Fine, I said. Finally I said I would pay for it out of pocket, and sure enough, the test result was high/abnormal.
I'm kind of glad I lived through the 90s, when no one I knew between the ages of 18 and 35 had health insurance. It makes me a lot more prone to just trying shit when doctors are unhelpful. I started taking antihistamines, and ramping up to pretty high doses, which are recommended for people with mast cell issues. Within a week I started feeling better. I encouraged the girls to up their doses as well. It is hard to overdose or harm yourself with OTC antihistamines.
Franny is connected with a good allergist and immunologist who has recommended the same for her. I'm now taking Zyrtec three times a day, and I notice if I miss a dose. I am taking Zantac twice a day, which has an offlabel use as an antihistamine. I am also taking a supplement called quercetin which is doing wonders for reducing the painful facial flushing I would get several times a day.
A thing I haven't been writing about this winter and spring, because it's been very disheartening, is the doctor-go-round I've been on with Franny. Our doctor did make referrals to a few different places, like a pediatric cardiologist for her palpitations and chest pain. He suggested the rare disease she appears to have, then dismissed it and told us it was anxiety. The good news was her heart has been declared normal. We did see a different allergist who did a scratch test that showed no "true" allergies to food and told her she should start eating dairy, wheat, and corn again and that her problem was anxiety. This "hey, it's all in your head" stuff is kind of a theme with some specialists, I've heard.
At this point we're waiting on some genetic testing for Franny, which I am told might indicate which levers we can pull medically to help. There's some weird stuff in my family history, but it looks like the origin for this was SeaFed's genes (considering Franny's cousin is having similar problems) plus the cool genes of the people they got with. A nice thing is that it seems like SeaFed's family doesn't have mast cell problems, because my very rudimentary understanding of how this can work is that if mast cell people breed you can end up in the land of mastocytosis and not being able to breathe much.
As usual life is a combination of a turd burger with a really bomb side of sweet potato fries. I am finally getting to the bottom of the family curse, and based on testing it looks like I have wacky mast cells that sometimes keep it real…Harold Smith…around here, which I've passed on to the girls.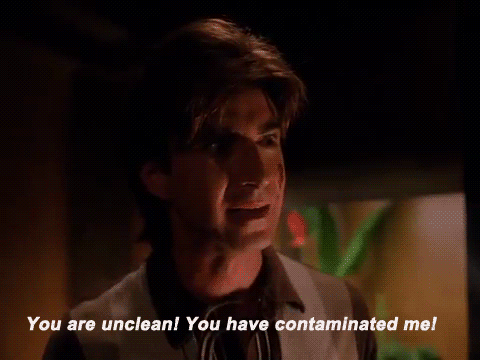 On the other hand, it looks like we're probably not going to flip over to the cancer or anaphylaxis type of mast cell problems. Franny had a little epiphany recently that the sheep cheese we've been eating for over a year now was probably bothering her–her lips were swelling when we were having pizza night. I stopped eating it with her and lo, my joint pain that had come back and not gone away for three months cleared up in a couple of days. And this is after eating cheese and yogurt for over a year and tolerating it fine. So we're all feeling better lately and I've been doing a ton of gardening, which is something I've missed.
Right now I'm taking a ton of pills every day, some of which will probably be with me forever (antihistamines). There's the turd burger. On the other hand, the lower my histamine level seems to be in my body, the sharper my brain and memory is. I'm also dropping about a pound a week without really trying. My appetite is lower and I feel full faster on a reasonable amount of food. Being inflamed seems to make me puffy and hang on to weight, even when counting calories. Ultimately, I'd love it if I could stop taking Adderall and have normal energy levels on my own, and a normal, non-fuzzy brain.
This spring has been a really big deal. After almost 40 years of being sick, I'm starting to get a clue and acknowledge the fact that I'm chronically ill and not going to get over it. I'm also thinking about what this means for my girls for the rest of their lives. But it's starting to feel more manageable now that I know where most of the rakes in the grass are.
I have been emailing with SeaFed a little to keep him up to date on Franny and her symptoms, which I've being doing intermittently for a few years now. He hasn't made much of a response to any of it, at least not to the extent Franny would like (meaning making more of an effort to prevent her from getting ill when she was visiting him and remembering or acknowledging what her issues were). He forwarded me an email from his sister after Franny's cousin got her diagnosis at the Mayo Clinic. It included a list of what was going on with the girl and how they tied to her diagnoses. "This list made me think of Franny and her symptoms," he wrote. "What a coincidence."
It humored me to read that, as SeaFed used to say.