Hey look Dorothea Lange and Mary Ellen Mark had a baby and it started taking selfies. ACK!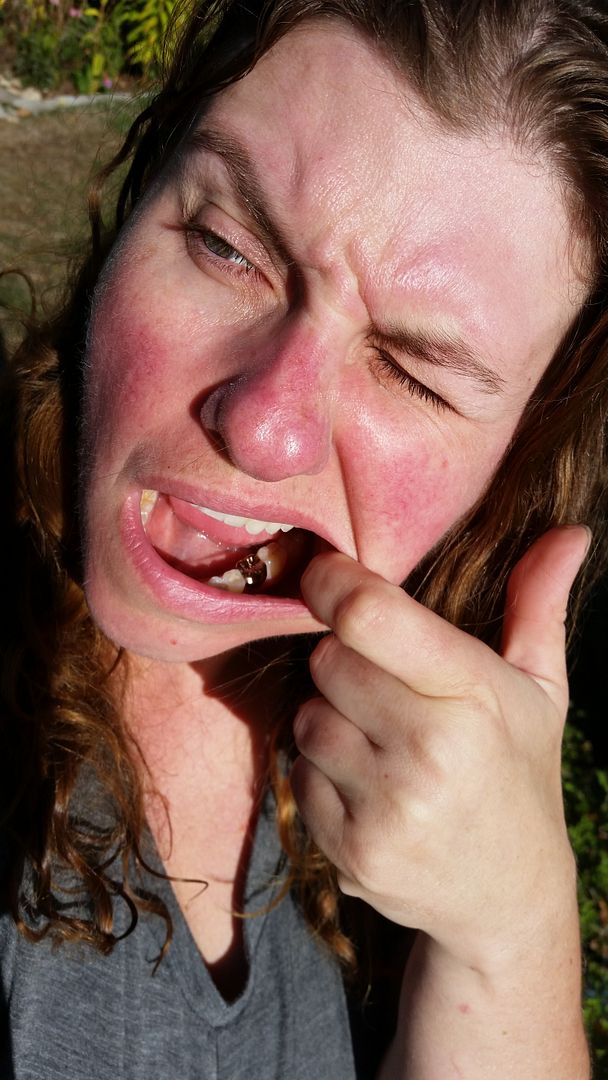 BUT I AM SHOWING YOU MY NEW ROBOT TOOTH THOUGH. Uh, maybe skip this one if you don't like the inside of people's mouths. But this is me, post-dog walking and on a pretty nice day here. Also my showers are way too hot, always. I give myself the red face.
Anyway, my poor old six-year molar that had an ancient filling in it finally gave up the ghost and started cracking around the filling. My dentist has been nagging me about changing it out for a crown for years. I was in a contest with myself to see how long it could last for. Answer: thirty-three years.
That brave molar, when it was brand new and still with new-tooth smell and those little rubber nubbins still on the tires, was declared to be rotting away. This declaration was made by a dentist in the new neighborhood we moved to after I came to live with my mother again when I was six. I presume my mother found him by opening the Yellow Pages, closing her eyes, and plunking her finger down on the page somewhere.
My mother had very bad teeth. She blamed them on busy working parents and indifferent babysitters. Parts of her teeth also had been knocked out by some kind of brother/basketball incident and replaced with a bridge. I remember her teeth looking uneven, yellow, and speckled with silver in the back. There were also weird flossing doodads in her bathroom drawers. From a young age, I assumed I would also have parts of my teeth knocked in and that they would go all cattywampus like hers.
I have very good teeth, for the most part, and have very little trouble. This may be in part because my mother was gone a lot, and maybe not able to pass her bad teeth on to me. Also I was raised in that special time when adults chainsmoked around you until you could barely make out what was happening on Guiding Light, but GOD FORBID you were not given a perfectly sterilized bottle full of science milk instead of having to fight the dogs for a half-chewed floor turkey leg or whatever.
So we rolled up to this new dentist, who told my mother I had a tooth that needed a filling. Later, he told my mother she would need four root canals in one afternoon. I suspect he had a boat that needed marina payments. I remember him calling my mother in and talking to her about it. He asked me, "Why do you think you have a cavity?" "Too much dessert," I shot back. This got a big laugh.
We returned a few days later and I was terrified. I didn't know what to expect from the Novocain, I just knew a needle was going into my mouth. That was the first and last time my mouth had been numbed up until a few days ago.
The dentist got everything ready on a silver tray. I remember he didn't have any kind of assistant, or front desk person. These were the days when you would spit bloody gobs into a nearby sink. Every time I go to the dentist I still yearn for that sink–there is something so much better about spitting everything out that's bothering you. I know the sucky straws are much more hygienic but I hate them.
He prepared the shot. I felt the prick on my gums and I was scared. My good, current dentist paused as he was numbing me up, letting the liquid seep in slowly. The terrible, ancient dentist said, "Hold this for me, will you, I have to get something." I was made to hold the needle in my mouth perfectly still while he left the room for what seemed like ages. I heard my heart in my ears and saw my little hand holding the needle as it stuck out of my mouth. I heard the clock tick. He was gone for a long time. I was scared of being alone. I was scared he would come back.
I don't remember being drilled out. I do remember pain later, when the numbness wore off. I've always had this silver patch in the back, like most people over a certain age.
And then the poor beleaguered tooth, carrying its wide load of oral asphalt, finally quit. I've been grinding my teeth in my sleep a lot lately, which is not helping. I've been waiting for it to crack open, or fall apart on me someplace inconvenient and with many unwilling witnesses. I'm relieved it was just some cracks, which gave me time to schedule the crown appointments and come back, as well as let the office bill it to my insurance.
A crown with a live root means that you chip out the old filling, and grind away part of the tooth. Then what you you have left is a little tooth doot that they can glue something (circus peanut, real peanut, tiny beret) onto shaped like your old tooth.
My sad short tooth, which I should not have a picture of. I'm getting there….
If you are like me and the inside of your head looks like Jayne Mansfield's mansion, you get a gold tooth, which they have to send away for I guess, and you have to wait 2-3 weeks.
"We'll put a temporary on," they told me.
No problem! I thought. I can roll with this. A temporary tooth hat. I told the dental assistant the temp crown she was fitting me with was too high, and she told me if she shaved it down any more, it would probably break. I kind of shrugged and decided to get on with my day, because she didn't seem to believe my bite was off. Oh well, I thought. I have to chew on the right side anyway.
What a fucking mistake that was! I had no idea.
Tooth hat #1. If you squint you can kind of see the little brown spot and that it's kind of already shattering about a day in.
Pain was holding steady through the week, and then at the one week mark my tiny hat popped off as I was watching TV. I had already made an appointment to have it adjusted so I thought I could just cruise through overnight and get there. I ended up calling off work and sleeping most of the day. I had gotten a little cold right after the initial day of drilling, which is my body's angry response to any trauma, like stress or sleep deficits. I was starting to get Messed Up.
I went back and had a second one put on. That dental assistant was competent and patient, and found the right fit.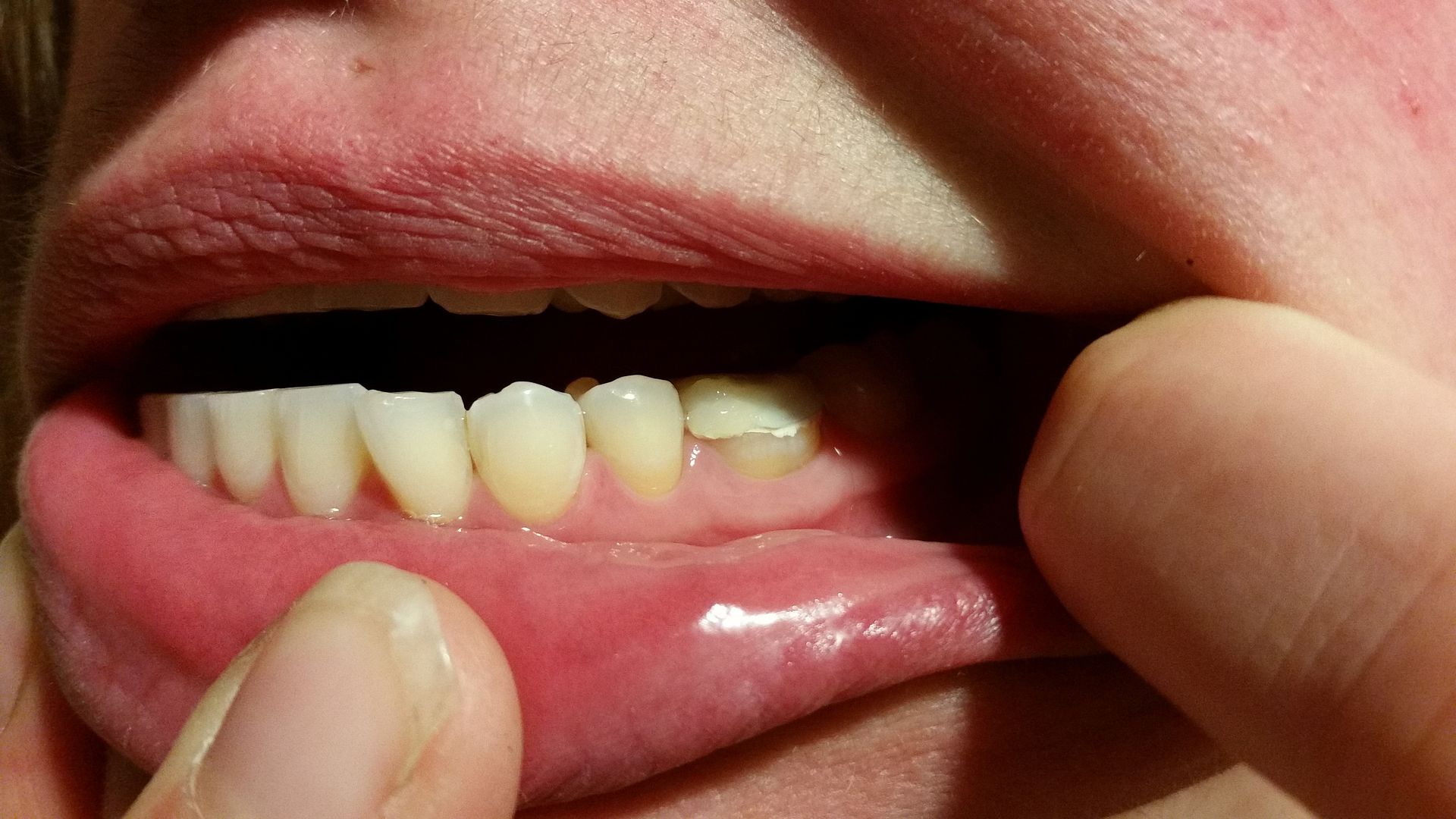 By this point my face (especially my chin) was starting to break out, which never happens anymore, and I was developing ulcers in my mouth, including an inflamed salivary gland. It was getting a little weird.
Finally, yesterday, I had the crown glued on. I was straight up with my dentist about how my three weeks had been, and how much pain I was still in. He was straight up with me and told me he knew a guy who took six months before his dentin calmed down after his crown was placed, but the nerve didn't die.
I had the wretched assistant #1 and I thought, shit, she is going to make a dog's breakfast out of this awesome gold tooth. Sure enough she couldn't get it right with the grinders and my dentist helped her fit it. He numbed me up a little for the fitting but it was still intensely painful and sensitive.
I lay back in the chair, biting the cotton roll as the cement set for five minutes. Tears ran down the side of my face. I think that's the only time I've cried at the dentist. At the end the assistant tried to fetch a mirror for me and I was like, "THAT'S OK. I'M OUT." I just made sure I didn't need to do anything else at the front counter and then fled. I could feel sleep overtaking me but I had to get home first.
So I am wicked sore today in all my joints and muscles, probably from tensing up. My mouth feels a little better though–mouth ulcers have calmed down, and my face hasn't had any new eruptions.
Hard-earned!