I mentioned that when I got my bathroom painted and hung my latest velvet paintings I would publish my catalogue. Well! The bathroom is painted, but I still haven't gotten my lil' ponies up. But as it turns out you can photograph them anyway.
Jimi says it's party time. But he always does. He comes into work every day hung over, but I can't fire him. I know he's got a bunch of bodyless babies to provide for.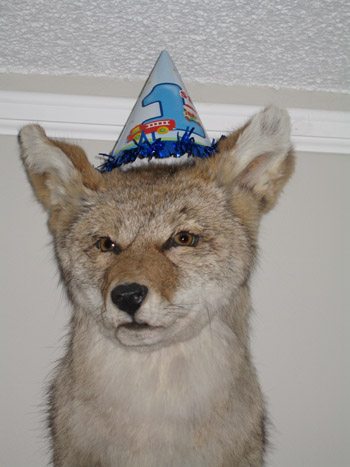 Y U SO SINSUR, Jimi?
The Bullfighter, n/d, unsigned, 14″x16″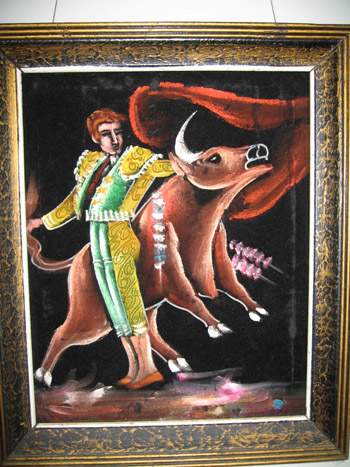 Here is my first velvet painting. I bought it for ten bone at a Salvation Army in Illinoise. I was sixteen. Fortunately, it is pretty wee, so it has made the moves with me throughout the years. But I'll never abandon him now.
El Bandito, 1973, artist illegible, 30″x40″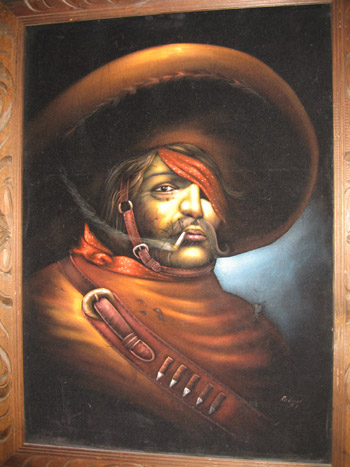 I discovered this handsome fellow languishing in a corner at the thrift store Chic n' Cheap in Phoenix, Arizona. Doesn't he look the tiniest bit like Middle-Aged Brando? I liberated him from his boring prison for twenty dollars. For years he hung in my living room, but when I bounced out of my marriage he moved to a place of honor above my bed. This poor man has witnessed more carnal acts than Caligula and Joe Francis combined. He was almost taken out by his archrival The Poxtator, but it turns out he has +5 against Toddler Damage. ALGEBRAIC!
My Lil' PWNY, n/d, signed "B.", 14″x23″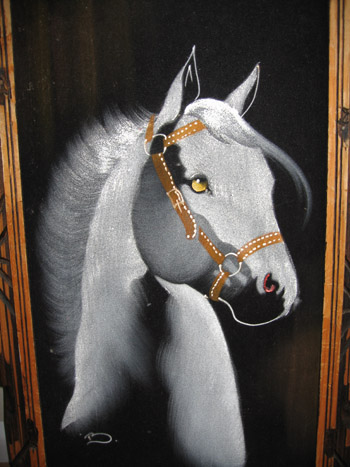 This pony painting was a recent score from Laramie, WY. (Again, why NOT, I say!) I think it was twenty bucks. I couldn't resist it, though it's kind of amateur hour. In case you're wondering, the pony is rolling its eyes in horror because it watches me dress every morning! HAW!
Pony Duo, n/d, signed "Arturo", 18″x23″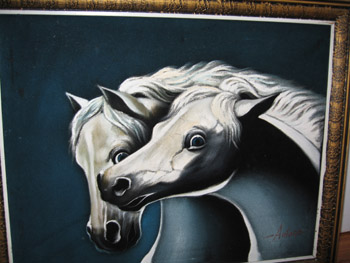 I was attracted to this painting, because like any hot tub full of jiggly bikini girls, each painting is special and beautiful. Plus I liked that the background is lightly painted blue, giving the impression that it's painted on blue velvet. The second score from Laramie.
The Ayatollah of Rockinrolla, n/d, signed "A. Flores", 30″x40″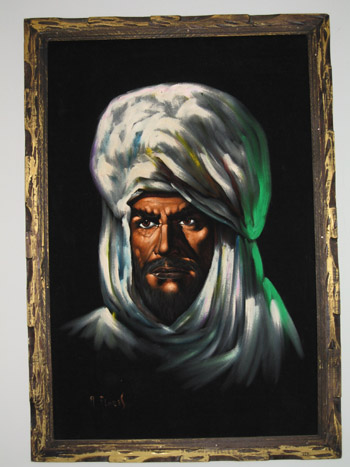 The Ayatollah (or Mr. Rockinrolla, as he prefers to be called) was a score that my helpful sister spotted at the Fremont Sunday Market. Only twenty-five dollars, which is a real shocker in this town, where I often see velvets priced very high. He lives in my stairwell, so guests are treated to his penetrating stare when they dare to use the upstairs loo.
Button Art! One and Two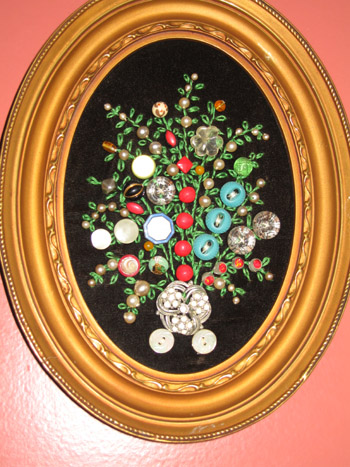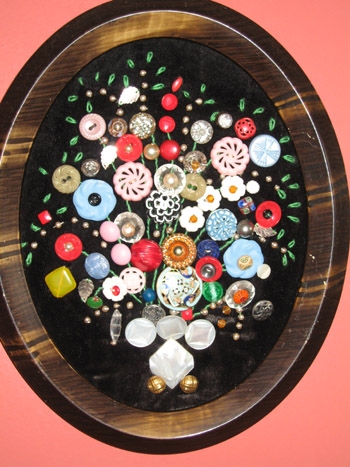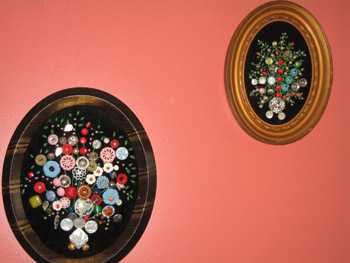 Button art is something new that I've been looking at lately. I knew these would be perfect in my bathroom. You can see that they form two button bouquets on a velvet background. They look homemade to me.
I have no idea what the story is with these. Was this a trend for a while? Were these commercially sold? I'd love to know more.
I am hoping to continue to add new paintings to my collection in the future. I like all subjects (except sad clowns), but I am now on the lookout for Elvis, crying Elvis, nekkid ladies OR dudes, majestic leopards, and sparkle wangs. My dream is to turn my house into a black hole, or a Hollywood version of a Mexican whorehouse. I am on my way!