PHOK YEAH. I made some pho. It wasn't like a pho hut's, which obviously gets a discount on liquid crack. But it was eatable.
It was pretty cool. I had Companion grill the onions and ginger whole on the barbecue first, per the instructions.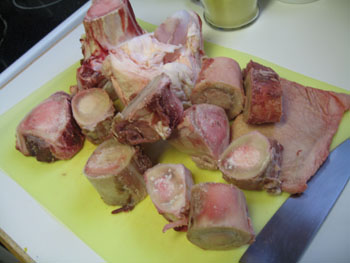 Then it was peanut butter marrowbone time. I didn't know what to expect. I always see these little guys in the store, jolly and glistening, so I didn't expect the smell when I opened the package. I felt dizzy, like I was going to pass out or experience an unholy ascension or something. Marrow is godly cow butter.

For extracurricular meats, I cut up a small roast and got ready to simmer it with everything else for the first half. I was supposed to fish it out again during hour two, so I had the brainstorm of putting it in a cheesecloth.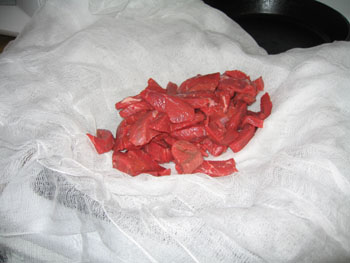 You acquire a new item: 1 meat wad!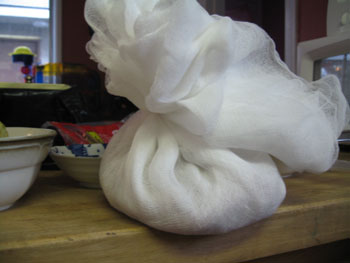 By the time the meatybones and the onions went into the pot, there was absolutely no room for anything else. No way was the manliest bouquet garni known to humankind going to fit in there. Lucky for me, I have not one but TWO pots.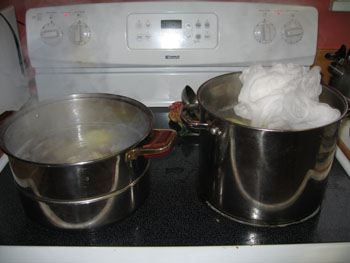 I tried to divide up the star anise, cloves, sugar, and fish sauce as best I could. I figured once I strained it all the pho broth could go back in one pot again. Then it simmered for an hour-and-half. Godspeed, meat wad.
Later I impulsively thought the cheesecloth thing was maybe a bad idea, so I cut it open and the beef exploded out like a bunch of newly-spawned spider babies.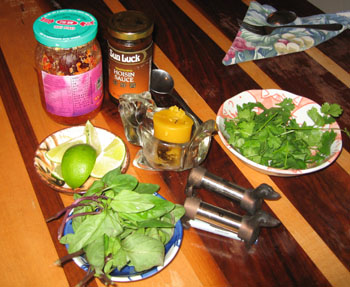 Is it worth it to make pho at home? Well, it was more expensive than five or so bucks a bowl a la a hut, I think. And it takes about three-and-a-half hours. I was also surprised by the crazy amount of mess a "simple" recipe like this one made. I mean, it's a lot of ingredients, but it's simple in the sense that most of it is "chuck in the pot/condiment tray" variety. I would probably make it again. It's certainly a weekend project. This recipe would probably serve about six adults if they were broth pigs.
WOTTA MESS.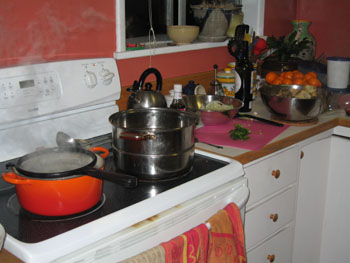 I did not have yellow rock sugar, so I used my regular nice organic non-white death sugar from the orgasmo bins. Next time I'm at the right market I will get some because sometimes recipes call for it and I never have it.

In Other News: All My Xmas is in Texas.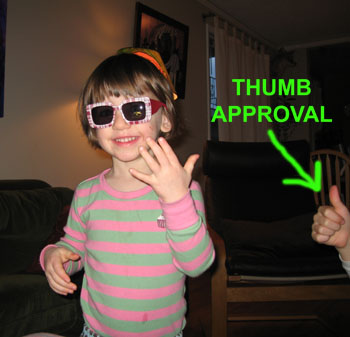 Xmas went okay. I am happy it's over. The children tore through their presents and then pretty much acted like rags for the rest of the day, proving once again that anticipation is often better than Goal. Then my crazy Swedish neighbor left a giant snowglobe toy on our porch that takes batteries and styrofoam snow.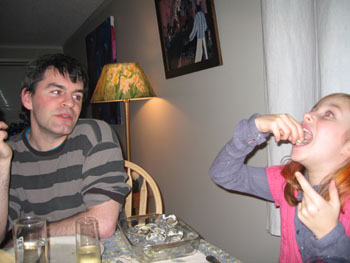 Christmas Steve was better in a lot of ways. At least there was oyster scoffling. But I can't complain. I got the largest Lake Champlain fun pack there is. Watch me convert this caramel to cottage cheese. It's alchemy IRL.