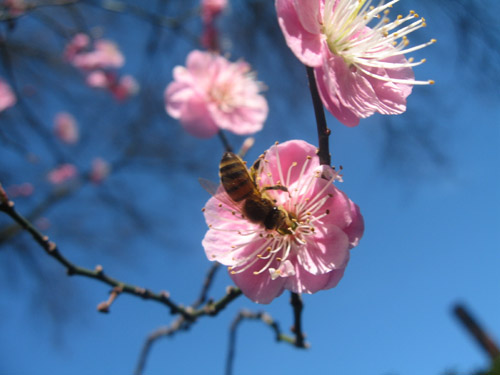 Spring, bitches, or something like it.

We went to Portland this weekend to see the remaining family who is still speaking to us (HUR) and for some relaxation. Sometimes I curse this state, because you have to go so far from it to find anything interesting, which is expensive. But Portland was warm and clear, so I enjoyed that.
We bumbled into The Monkey King and got our dragon lady on.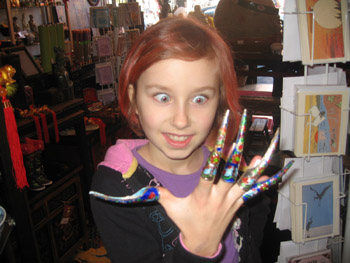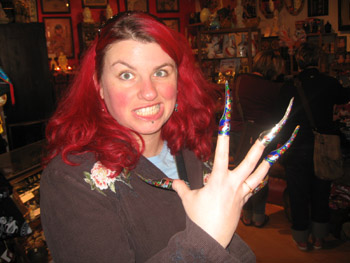 O HAI crazy.
The girls had a nice time on the train, which was all new for them and me. I come from a ruralish car town, so there was no train business before. Someone told me it was cheaper to fly to Portland, but the girls were fifteen bucks a seat, so I don't think so.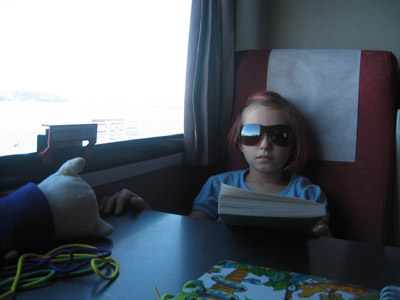 I even let Franny have some gum, which I never do. Turns out she is expert at it anyway.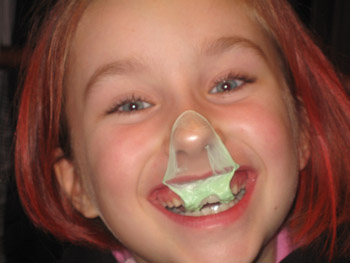 We got a suite at the hotel which was some kind if decrepit 1980s monstrosity, complete with peeling wallpaper beigeness. I felt like a bag of blow should have come free with every room.
There was also a phone by the toilet, and the right side, which I kept reaching for every time I was on the loo. I wanted to make a sign over it that said "PLZ DO NOT WIPE YOUR ASS WITH THE PHONE, RIGHTIES, THANKS, MGMT" but I refrained.
I told the girls that there was an indoor pool, which was a filthy but accidental lie, and so I had them put on their suits and go in the hot tub. It was nice to see the ladies in the tub with the bad lights and random mirror strips. A good time was had by most, except when Companion's brother called us alcoholics again, because we accepted a glass of scotch proffered by Companion's father. Definition of alcoholic: someone who drinks more than you.