Hey! What did you get up to this afternoon? I had a doctor put in an IUD. I always wondered about what getting an IUD is like, so I thought I'd write about it.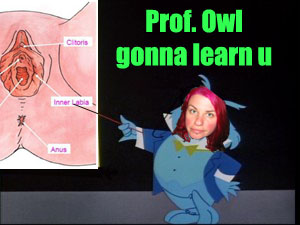 First they made me pee in a cup, of course. You can't do jack without peeing in a cup.
"Okay," the nurse said, checking my blood pressure. "We did that to see if you are pregnant."
"My blood pressure?" Hmm, are you guys Doing it Rong?
"No, the peeing."
"WELL AM I?" Jeez, don't leave a person on tenterhooks here.
"I don't know," she said. "It's not done yet."
"DANG!"
"Do you think you are?" she asked.
Sure I do. Does that make me spazzy that I assume I'm pregnant every month until proven innocent or whatever? I thought every fertile woman thought like this. No? Not so much?
Well, I wasn't. The nurse said that they couldn't put it in if I was.
Then they took me into a room that had big evil lights, that somehow reminded me of ED 3000.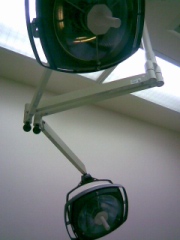 There were mysterious bottles (iodine?) thrown under the sink.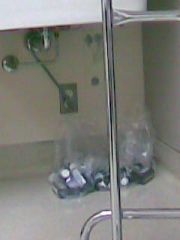 Then I was asked to strip from the waist down, and the doctor scurried back and forth. She brought in another doctor, who was attending. I always love that look, the naked from the waist down look. At least she gave me a big cover, so I could have a fetching skirt.
I was asked to put my feet in the stirrups. The doctor said, "I won't make you use the leg rests, because it reminds some women too much of childbirth." Well, stirrups remind me of all the horrible experiences I've had at the gyno. Where is my consolation prize? Can I get some angels to come and gently hold my knees for me?
Interesting, to me, that some women cannot even put their legs in the leg rests after. Also I was like WTFBBQ women are still laboring on their backs??? She asked me how I did it, and I told her squatting and on my knees, because that's how we peasants roll, and she said, "Oh yeah, I did it like that for someone once. You have to reverse everything in your head."
Then the rootling started. MMMPH JESUS GOD. Uterus does not like to be rootled around in. Is not junkdrawer.
She pushed a plastic straw thingie up there to "get a measurement" of my uterus. I stared at the ceiling, labor breathing instantly kicking in, as my uterus spasmed. Apparently it is curved, so they really had to crank it around. I couldn't get a picture, but I imagine it was something like this.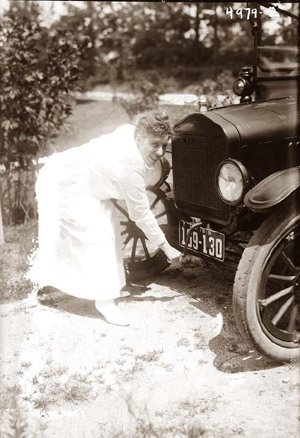 Then it was in, and I was done. It took maybe ten minutes. These were not short minutes, but if it lasts five years it will be worth it. And now I have a cool foreign object in my body. As a consolation prize, Liz sent me a song.
What they don't tell you is that you may possibly bleed like fuck.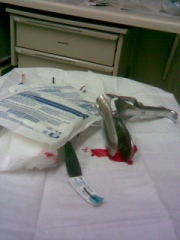 After I was done, I asked her if she would write me a prescription for Viagra. She said she'd check with the pharmacists, and it turns out that it is not approved for women for another 1-2 years, if at all. HELL to the NAW. When it comes out for women, it will probably be recolored PINK and named GENTLE BREEZE instead of "Behold My Rock Hard Clit" ASSHOLES. My words, you must mark them.
Chatz
me: I took a Viagra last night.
Kaijsa: You DID NOT.
me: Oh yers I did.
It was AWESOME
Kaijsa: You are CRAZY
me: Now I cannot rest until I get more.
Kaijsa: Your clit will grow into a tiny penis like Chyna's.
me: NOOO that is an urban legend.
Kaijsa: BEWARE
me: LOL I am cackling
Kaijsa: No, you'll just have blurred vision and heart problems.
me: Oh foo.
DOPE

via feministe