Sometimes I think things deserve a nice, archival-quality frame. Original artwork, duh. When you are giving a framed gift. But sometimes you don't want to drop, what, like $150 to have something framed.
The Northend KMart is closing quite suddenly. Holy cats it is a clusterfuck up there. I stopped in on Friday evening for some slumber party snacks for Number One Daughter and an outlet splitter for Our Lady of Feralness and I ended up coming home with a lot more than I planned. But there were some smokin' deals.
I got this print a few days ago–could not resist it.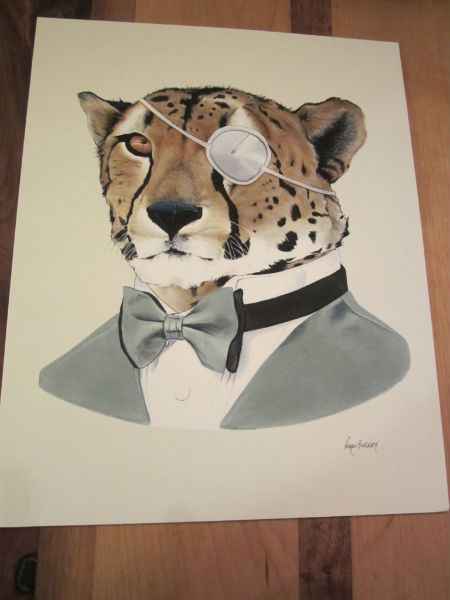 And then I found this boring frame at KMart.
White mat, that kind of silver paint that looks sort of like some unfortunate person spat it onto the frame and then maybe a bird pooed on it and they rinsed it but it was too late. I don't know what's up with that bad gritty-looking low end silver paint that's on everything. Who decided that?
With the theory that I could not make the mat worse, and I could buy a new one if need be, I borrowed some of Franny's crayons to find a close-enough compliment to the cheetah's suit. Bang: wild blue yonder. Then I rub and buffed the frame, not too neatly. The silver comes through in places and it looks old.
It took me fifteen minutes and now I am happy enough. I made a deal with P. that over time I would swap out some of my more horrendous velvets from the big living room wall for a different variety of art. I am keeping my end of the bargain. His end of the deal is that he does not snap and put me and all of my hideous things on the lawn with MAKE OFFER stickers all over us.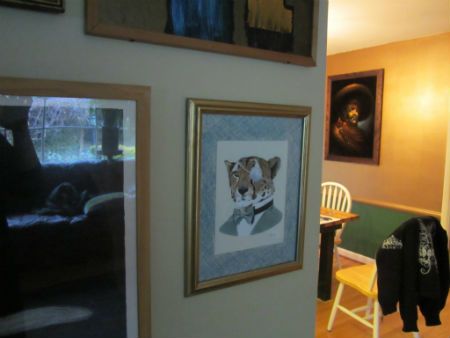 "BONUS"
Matilda likes to sit in front of the projection screen and even watch with us, but sometimes she just likes to be in the way.
DOWN IN FRONT, MATILDA. Hawk will trip over you when he goes to cut Harold Smith down.