Today Morgan and the girls and I went downtown to buy spices. I went a little apeshit (nigella AND sumac) and Morgan went more practical. She's getting into vegetables too, and that means SPICES. I suggested a field trip since we both have the day off. Everywhere we went people talked to us like we were tourists, of course, since it is high tourist season here.
A young guy with those nice evil "v" eyebrows at Pike Place made me feel a mango.
"FEEL this mango."
"Okay," I said, giving it a halfhearted pat like you would to a guinea pig recovering from mange. I was not going to be roped in to his bullshit.
"How was that, EH? EH?"
"It was okay."
"Listen to this one!" he said about me, as if I was being clever.
"I've felt a lot of mangoes." I just wanted to get my lettuce and to GTFO.
Someone else at a pawn shop asked us if we were tourists as well, of course. I am still on my mission to find those rapper name plate necklaces from the 80s. Where did they go?
"Were they melted down or what?" I asked the clerk behind the counter. He was quite rotund and looked sweaty even in the cool AC.
"That's what I would do with them," he said. I didn't expect him to know or anything.
"Remember when we had lunch at that one place with Mom and some sketchy dudes wanted to pay for our lunch and you got mad?" my sister asked me. That sounded like me.
"Man, no," I said. "I am such a jerk."
"Well, it was really shady. Who does that! Mom was all delighted and you were all HELL NO." I have taken the adage about free lunches to heart, I think.
I had to say that I actually had completely forgotten about it, and it only sounded vaguely familiar. I have blocked a lot of stuff that happened with our mother in my 20s out, and I think that might have been the very beginning of my memory really going sideways. I just have no interest in storing those memories I guess. It's funny, though, that it was another time when our mother was taking things one way and I was demonstrating a completely different set of behavior and values. Morgan came down on my side.
I bought the girls slushy apple cider and was assured that it was 100% apple cider before I paid. I helped Strudel get her lid on and some slush dripped onto my fingers, maybe half a teaspoon. I licked it off without thinking about it. Strudel drank the whole thing down happily, as did her sister. I started feeling funny about an hour after we arrived home–what I call "balloon head on a string."
"How are you feeling, Strudel?" I asked.
"Urgh. Bad. My stomach hurts and I'm spacey." Shit. Franny is feeling unwell too. I think corn is the most likely suspect right now. I am sad to be corned this weekend. This is hard to write and I have found countless typos and poor grammar. I am sure I will leave some in.
I quick pickled a bunch of asparagus recently.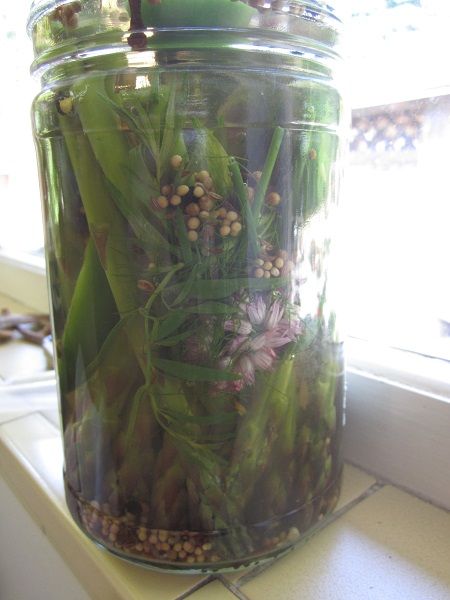 I'm not crazy about it so I haven't tasted it. I am told it is "less Victorian than usual," which probably means I backed off on the allspice a bit.
Edith is on a reducing program on the vet's advice. About six months ago our vet said she was getting into the chubby zone. Not dangerous, but a good time to stop feeding her pecans, her favorite.
It may be hard to see here, but she has a bit of loose skin now.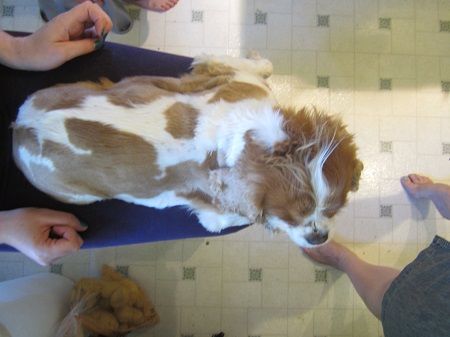 Strudel is having a good summer of mostly boredom, and hanging with a friend who just moved a few blocks closer. She came into my bedroom and told me that she's "a tween now." Followed up with, "I'm going to go paint my toenails." She is off to Celiac sleepaway camp at the beginning of August.
You may ask yourself, "What is this idiotic posing?" I started my class this week (Monday) and today is a holiday, thank god. I got my protective gear and boots right away. I think I am ready to apply for my chosen trade but I am keeping an open mind about the others we're exploring, in case I want to apply for them too. I don't want to be more specific because I am a tiny bit superstitious about counting chickens.
It's nice to be back in class. I don't want to be an eternal student, but I am ready to learn something new, which is what a trade is in the beginning. I am kind of thinking of it as paid collage.

"MOM I'M GOING TO POSE IN YOUR BOOTS KAWAIIIIIII" Ok.
I'm enjoying getting to know the ladies in my group. There's youngsters and I think there's a couple older than me. I don't say much because I mostly just want to listen. They all have incredible stories about what they've done. Women with records (Our teacher: "Trades don't care."), women who are currently in shelters, past homelessness, women who live with their parents with their children, women with past lives in many other careers and jobs. There's stories about dire warehouse jobs, wage theft, being pushed around by corporations, and life-changing motorcycle accidents. There's even a Microsoft refugee with two children close to my age and of course talking to her was very familiar.
During the OSHA class, the teacher started doing some L&I payroll tax shit on the whiteboard that involved simple calculations.
"Who has a calculator?" she asked. I started doing them in my head and calling out the answers before the person with a calculator on her phone could get an answer. "Who's good at math?" the teacher said, turning around to see who was answering. I raised my hand. No one has ever said that to me before.
So far I've gotten an OSHA 10 cert, first aid/CPR, and practice doing mock interviewing. I think I'm the only one who doesn't hate interviewing. I'm just used to 1-5 hour loops, not 15 minutes, which is what I have to make a pitch to the committees I'll be facing this fall when I graduate. There's going to be math, but it's easier than what I've done so far on my own. Some of it's amazing and some of it's kind of time filling. We literally run stairs almost every day, and it's killing me, carrying this twenty-pounds-extra caboose. I'm doing really well, though, and losing at least a pound a week. I'm looking forward to job site visits and shop days (I'm going to build a bench).
Sometimes I want to not pay attention in class and just interview all the women all day, students and the guest teachers, and find out about their histories and lives. We keep being asked "why I'm here" and I want to say "because I got sick and almost died and when I could walk again I found out I could run and do math." This is weird, so instead I say Career Change and I Like Math.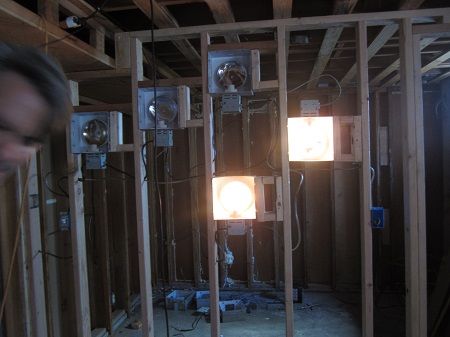 I wired this today and they all work, just some of the bulbs are burned out. These are the original ceiling light fixtures from the rec room downstairs. P. has implanted them into the wall and we will panel around them and put the brass and frosted glass covers back on, and then they will be ~arty vintage mood lighting~. My idea.