Well, that should make the referrers amusing for the next ten years or so.
My chicks came yesterday, WOO! I called the post office when it was getting late, and the clerk told me they put the chicks on the mail truck. Uh…Woo, still? That seemed a little weird, but okay. I knew the truck usually comes between four and five which means they probably spent most of the day on the truck, bump bump peep, assuming my mailman started in the morning. When he saw me on my front lawn waiting like some sad, desperate beagle or something, he honked and I ran over.
"Do you know what this is?" he said, holding a box of PEEP PEEP PEEP WE ARE COLD chicks sideways and waggling them at me.
"Yes!" I said, and thrust out my grabby paw for the box. I got them into the house as quickly as I could…and then… POP.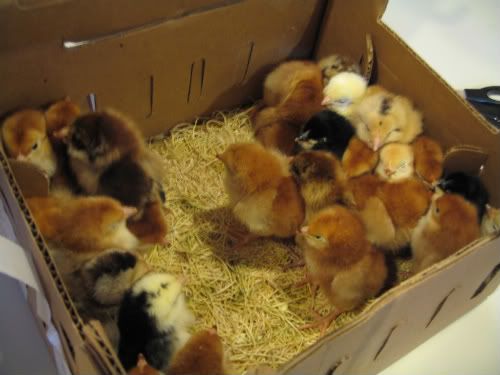 WHAT THE FUCKTACOS there were 25 birds in this box. I ordered ten pullets. I looked at the invoice. There was a menacing notice rubber stamped on it in red ink. "Males included for warmth, Thank you."
Fifteen roosters. Fifteen of these orangey guys. Maybe one or two is mis-sexed and is a pullet by accident, but I very much doubt it. I offered to pay the extra fees to just have ten shipped. I said "PLZ NO ROOSTERS THEY ARE ILLEGALS HERE."
I'm going to need more brooders, more waterers, etc. And there will be lots of boys in the freezer in a few weeks, I think, especially when crowing kicks in. Is ordering exactly the sexed chickens you want such a smokin deal when they send you FIFTEEN BOYS, I ask you.
I have TOO MANY CHICKENS, Y'ALL.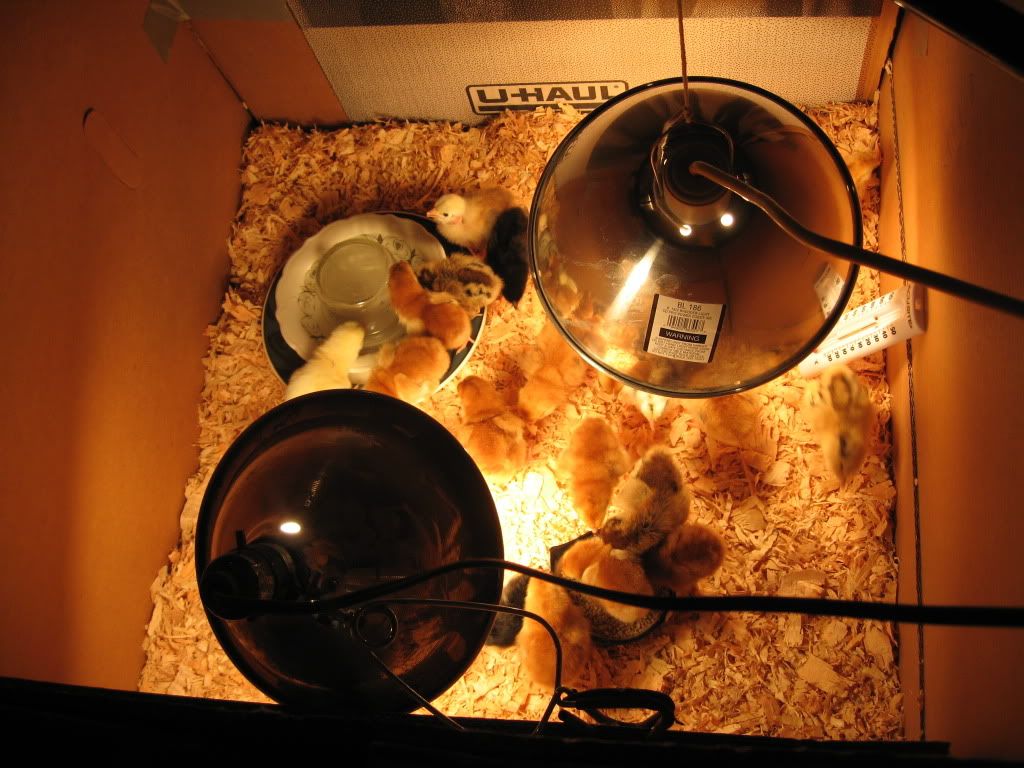 Mère supervises while my sister holds her.
Strudel admires my naked neck pullet.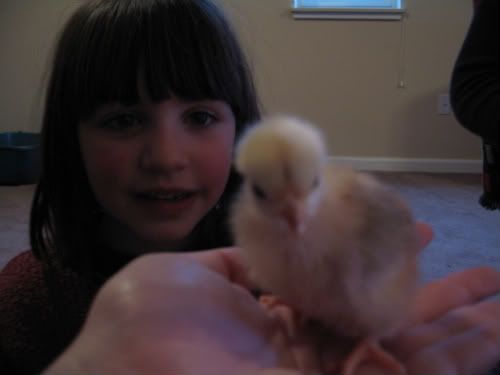 So, for the chickeny people who are interested, I got 4 easter eggers, because we love our Calliope so, a naked neck, a Rhode Island white, a black Jersey giant, an ancona, and a silver Kraienkoppe. You know I like to roll fancy. I also got an Australorp, which I had a couple of 4 million years ago, but you know what, she up and cacked it this morning. She was a weak one. Sad, though.
The girls were slightly appalled I put her in the yard waste bin, but my philosophy is that I had known her for less than a day, and she is made of chicken…which I often put in the yard waste bin. Nature is a cruel mistress and I'm her pimp.