1. Stress
HELLOOOO RACE FANS! I am moving in one (1) week! HNNNGH! My house is all crates and ACK again just like it was two years ago. In my spare time I have been painting and playing phone tag with contractors. If you're extraordinarily bored I just threw up (HARF) a bunch of house pics on le Flickair. Yes, the set is called "Asshole Dream House." Yes, I am properly ashamed of myself.
2. Court boring also stress
As a bonus, I am going back to court on October 1. I met with the GAL for the first time on Thursday. Why so late, you ask, when we've had the better part of a year to get ourselves investigated and shit? Because first I had Seafed insisting that mediation had succeeded (it didn't, we never scheduled the second appointment or finished), and then he told the GAL to go away because we didn't need her. And then he said he did not have money for it, not now, not two years from now, not ever.
My lawyer, who is so awesome I am unfit to touch the hem of her garment, was all, "SOOOO like do you feel like paying for all of the retainer then?" And I was like "UM LIKE TOTALLY NO this guy just got back from a vacation that he flew his wife and four children to, and then there was some bonus vacation on an island. Priorities man etc." And she was all, "Yo this is like deadlocked then dog." And I was like "FINE." That is pretty much verbatim. And then I paid it. DOUBLE HNGGGGH. Yes, my lawyer is Lady Jesse Pinkman.
So last night as a result I had a dream that I was up betimes as usual and bammo, Franny had let all these people into my house and they were kind of noodling around or napping places. I said, "FRANNY WTF!!?" And she said, "Oh, they were at a party next door and needed a place to sleep." Hmm, Franny letting strange people into my house…this is sounding all very metaphorical. Except to be fair I am letting them in.
Am writing the GAL down and will unleash that later. ~cryptic~
3. Workity
Child Labor Rules. That is all.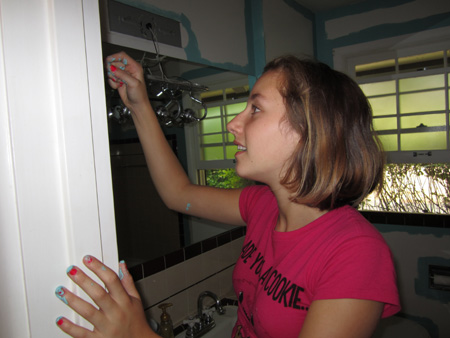 4. Other
Here is a seventh grader and a second grader on the first day (the 5th).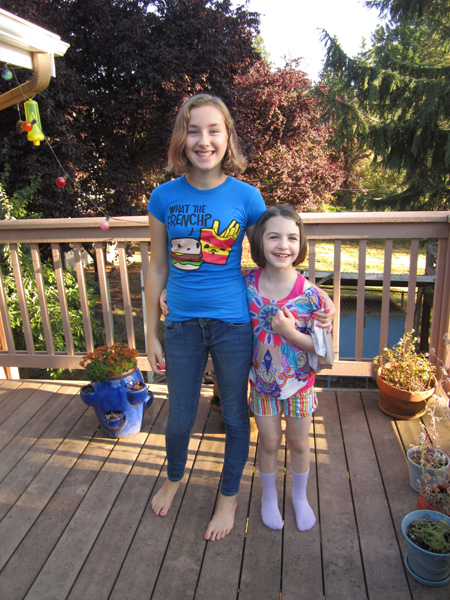 Here is a Strudel in a tree outside the new kitchen. I regret very little, but I do have a twinge that I cannot throw fuds out the kitchen window at my chickens anymore. I will have to get a slop bucket like a civilized wench.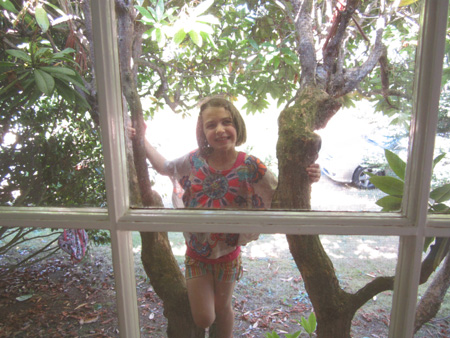 Also, my face…it turns out it was just dirty. HA HA. The tea tree oil is TOTALLY eliminating the pain I was having. Once a day, cut in half with some sweet almond oil (massage type, just plain). I use about a tablespoon and swab it on with a cotton and then let it sit for about ten. Bonus: the cotton goes in my toilet bowl after where it seems to be keeping it cleaner. I got a brain wave and decided to start using Jason brand tea tree oil shampoo and HOLY CATS my head does not itch anymore. Great comments from Team Asshole here as well about the magic properties of tea tree oil. THANKS. DIE BUGS! Or Bug poop! Or WHO CARES, my face doesn't hurt. Non-bonus: now that the inflammation is quelled, you can see all my cool exploded capillaries. CRONE-ESQUE.
Coming soon: post-court new assbanner. Can you incorporate fall and courtgasm? Let's find out.