HEY GATHER ROUND KIDS and hear a boring tale of medical issues. Dig this, I'm about to become as interesting as Obligation Visit Grandma. I'll sweeten the pot with pictures.
You may have heard about this yesterday: rosacea is possibly caused by microscopic mites with no anuses. WHAT. I know! I've always been pink. That pink kid, who does a couple of laps and gets all flamey-red. I shrugged it off since I come from red peoples. I grew up into that lady whose face would itch and burn for no reason.
I think I was about 26 or so when I thought I was running fevers. My face would burn and I would take my temperature and wonder what the hell was happening. Hormones? A virus? I felt fine otherwise. Finally, I figured it out. The big R. I didn't really care about my face except to slap on some moisturizer or sunscreen–it didn't bother me until the pain started. I saw a couple of dermos and was given the usual stuff to quell the symptoms but it wasn't really working, not really. Maybe a 25% improvement. The weak antibiotics did nothing and the strong ones brought morning dry heaves and annoying limits on when I could eat. The creams…eh.
And now with the discovery that I may have an overgrowth of face lice, I take matters into my own hands. I am very excited. I love root causes. I dove back into the remedy rabbit hole to look around. I was never interested in any of the rosacea diets. I remember one dermo asking me what caused flare-ups for me.
"Wine, coffee, being sad, being mad, being happy, not enough sleep, sex, hot weather, cold weather, sun, hot water, cold water…"
"Well, just cut those things out and you'll see improvement," he advised me. Would the pills cut out the burning? No, it was just for the acne. Some message boards say to cut out dairy and fats. Others say gluten. I say I would rather hang myself. If I had a legit allergy and I felt miserable and/or dead eating any of those things, then yes, it would be worth it. Otherwise, no.
I don't shy away from the "unnatural," because I know herbs can kill you dead also, but I am starting with tea tree oil. Also I am all about the cheap and easy. I understand the mites hide in one's pores, but I thought it was worth a try. I followed the information I found on a support group page about cutting tea tree oil by half (I used some sweet almond oil I keep around) and swabbed it on my face and left it for 15 minutes. The oil at this concentration did not irritate me at all (I had heard a lot of advice against using it full strength on your face).
So, the next step is to do some thinking. The mites are on a 10-14 day breeding cycle. I know we're all covered with them constantly, and my aim is to see what beating back an overgrowth does for me, so I'm going to treat daily at first with hopes of catching the population I may be teaming with now and new hatches. And if I am seeing improvement, I will go with a once or twice a week upkeep session. There's one more thing–I'm also trying permethrin. I know it's crap for common head lice, but this isn't head lice. I swabbed some on this morning and let it sit for ten minutes, as the packaging suggested for scalp treatment of lice. I'm going to be very careful with it since it's very toxic for cats.
There was something I stumbled upon accidentally among all the rosacea stuff I read yesterday as well. There seems to be some kind of correlation between people who have rosacea and people who have stomach problems. I frequently suffer from acid stomach and heartburn. I'm going to make an attempt to increase my stomach acid as well, since if it works I should just feel better overall. And this is probably magical thinking, but who knows, maybe having a more acidic system will repel the extra bugs. We'll see. I'm starting with a hyrdochloric acid supplement. Oy with the treating of the symptoms, already.
My face doesn't hurt today. Maybe it's just clean. HA! I'll let you know how it goes.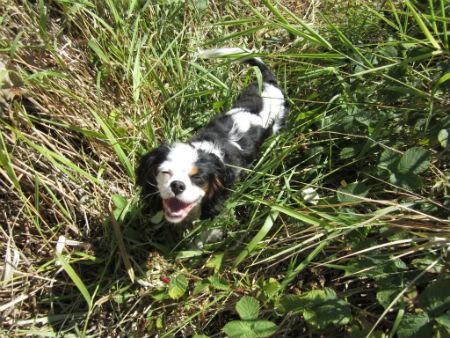 Ha ha ha, I am eating all the low berries. JOLLY TIMES!