Toasting Strudel welcomes you in to a POST HOLIDAY FUCKIN WONDERLAND.
Well! It is January again. I was thinking there would be Polar Bear dippery by my people again on New Year's Day, but much to my amusement it was completely forgotten about until midday. Whoops. I was in bed before midnight, but at 12 there were fireworks and gunshots. A friend made me feel better later by gently suggesting they were firing blanks. I was refreshed on New Year's and not at all hungover or underslept.
The same could not be said for Xmas day. I had my sister over for dinner and stayed up waaaay too late watching The Big Lebowski, which is Morgan's favorite of all time. It's safe to say the Dude blew Franny's mind. "This is the coolest movie I've ever seen," she said reverentially, as if some secret had finally been revealed.
Franny and I popped out after present opening on Xmas morning to see Les Miz. I saw Les Miz for the first time when I was 13. I tend to agree that you may be more vulnerable to being hooked by it if you're a teen girl. We got to sit side by side in the theatre, crying silently and sharing a pack of tissues. By Xmas night I was really sick–my immune system's tipping point is often when I've had less than 6 hours of sleep and am fighting it off.
Something funny happened on the way in to the movie. We were one of the first people in to the lobby and had come almost an hour early for the 11 a.m. showing. I figured it would be full of the die-hard since it opened on Xmas Day, and that was the first showing (other than the midnight opening the night before). We made our way up to the fourth floor of the googleplex and I said, "Let's get seats now and snacks later." Franny agreed with me. As I passed concessions, I could see a man and a woman standing there, waiting for popcorn. The woman turned her head towards us and a group of two other ladies and I could see her eyes pop wide in horror. Someone was going to beat her in! Our theatre was really close to concessions and I could hear her RUNNING up behind us, but would not elbow past us. Franny and I got the front and center seats on the raised tier, which I think are the best seats. I could see the shoulders of the woman behind us visibly sag as we sat down. She and her companion sat close to us and were very polite and said nothing to us. I pretended I didn't see her silent drama, since I didn't want to tussle over the seats, but hey, I am a superfan too.
I took a week and a half or so off through the holidays so I could hang out with the girls and bake and play with the Wii. Not much happened, which was awesome, except my lawyer finally decided to properly fire our guardian ad litem. The trial is now pushed out four months, since we will need a new one to assess us.
I did a lot of cooking for my sister's visit. I considered making some kind of sumptuous yule log, but I got a wild hair and decided to make four kinds of dessert: apricot, blackberry, and strawberry pâtes de fruits, brandied fruit tarts, peanut brittle, and to put out my scotch truffles.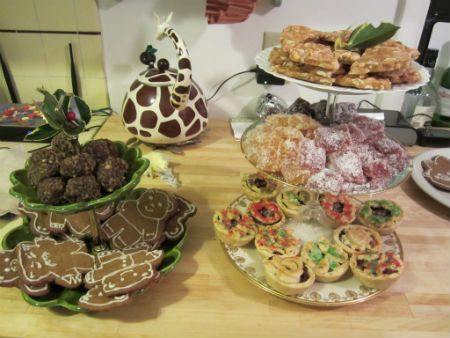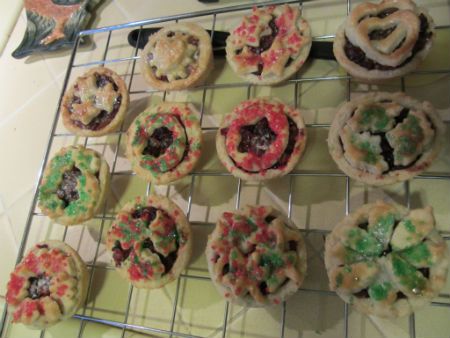 P. got involved since he wanted to make gingerbears. The recipe turned out a little oddly–they swelled and puffed more than gingerbread should, but they tasted nice.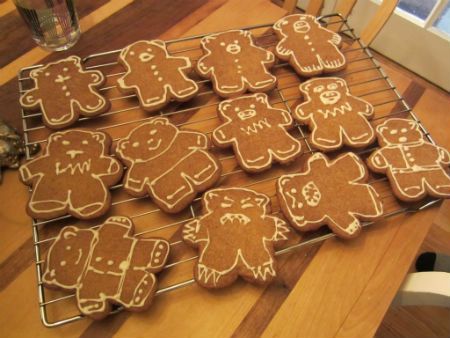 Franny thought they looked a little pedobear. It was fun to eat their heads.
Here's the table all set before the devouring began. I set out potted "hare" and quince jelly.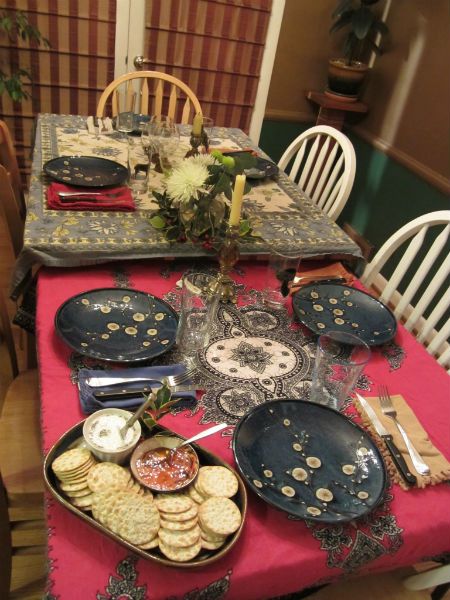 In between all this I kind of rested up and was pathetic, like everyone else in Seattle. I swear everyone got this cold. Franny left on the 26th. Then I started cooking again.
A craving for non-sucky Moroccan led me to get my own checkstub. And buy rosewater. And isn't the bottle pretty?
P. made a pattern in parchment for cinnamon. A cinnamon snowflake.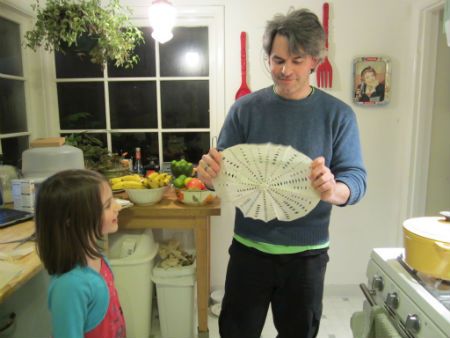 Bastilla!
The table is laid again: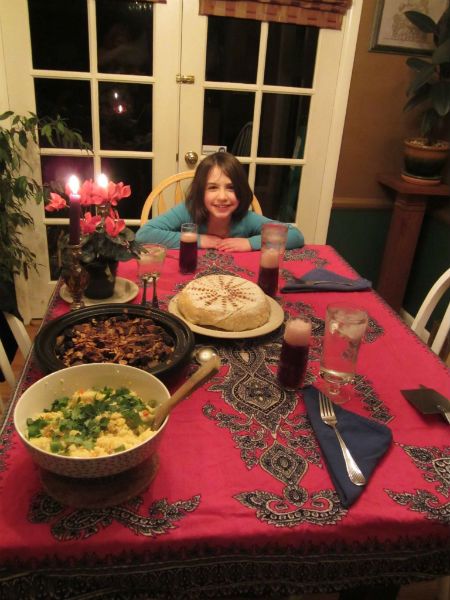 Today Franny is coming back early. Today has been deadly boring, which is pretty awesome. Her early return has been happening almost every weekend for the past little while. It's nice–I miss my kid who will correct my middle finger from the generic old man flip off into something with flair.