I'm not sure if I've ever mentioned that my sister is a DJ for a local radio station. I think she's been official for about a year now, but she's been with the station for much longer. It's been a cool thing to see unfold, since she worked at the University of Washington station and interned at KEXP for a long time. I know people pick and choose which radio personalities and hosts they like, and some people don't like certain voices or styles, but I think she's good at her job. Friends and people I don't know tell me they like her on-air too. I think she'll be there for a while.
I mention this not only because I think it's a cool thing, but also to say that Franny is getting interested in being a DJ now. We've been watching Veronica Mars together, and in the third season a college radio station is prominently featured.
"Being a DJ would be so cool," Franny said one night after we were done with an ep.
"You know, your aunt…is a DJ," I said.
"Oh yeah!"
"She knew she wanted to do music in high school and she did a job shadow in Olympia with Calvin Johnson. Maybe you could ask if you could watch what she does at the radio station?"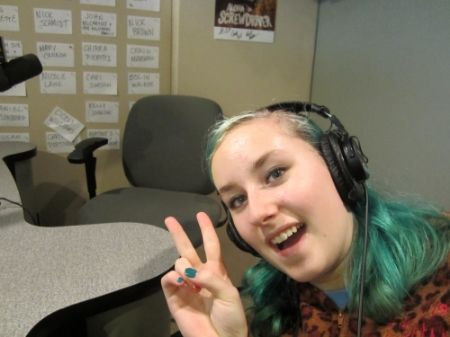 And she did. I have been trying to talk her into signing up for an email address, because I know she'll need one for high school next year. This was my chance–I asked her to email her aunt about this. Morgan was wildly enthusiastic and she managed to get Franny in for a pretty typical (but exciting) day on her show where a band comes into the studio and plays live and there is a little Q&A. Franny was even able to introduce a Depeche Mode song. I believe she is being recruited.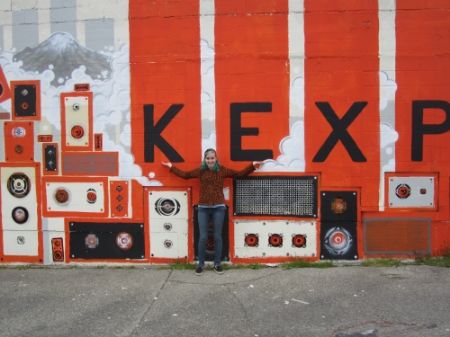 I let Franny borrow my camera and she took a ton of pictures. There's just a couple here (I will throw the rest onto Flickr for posterity) but I uploaded the ones she came home with and turned them into a little printed album for a keepsake.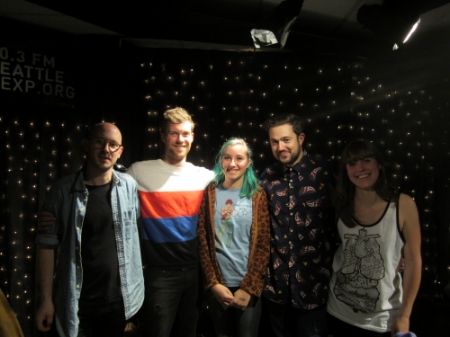 Franny with The Thumpers
My sister has just moved within a couple of neighborhoods of me for the first time in…ever? I am excited to be seeing her more, but I'm also glad that Franny can make more of a connection with her. Morgan's kind of a bridge (nine years younger than me, thirteen older than Franny) and knows about things I don't and can give her advice that I can't. Yay for family.