A. Deconstruction
I've got the day off today, involuntarily. It's slow at the shop still. I got very few hours this fall, and then I realized I was about to lose my health insurance in January regardless of how much I worked in December, so I decided to take the week of Xmas off. My vacation started on the 21st since the shop was closed that Thursday and Friday anyway.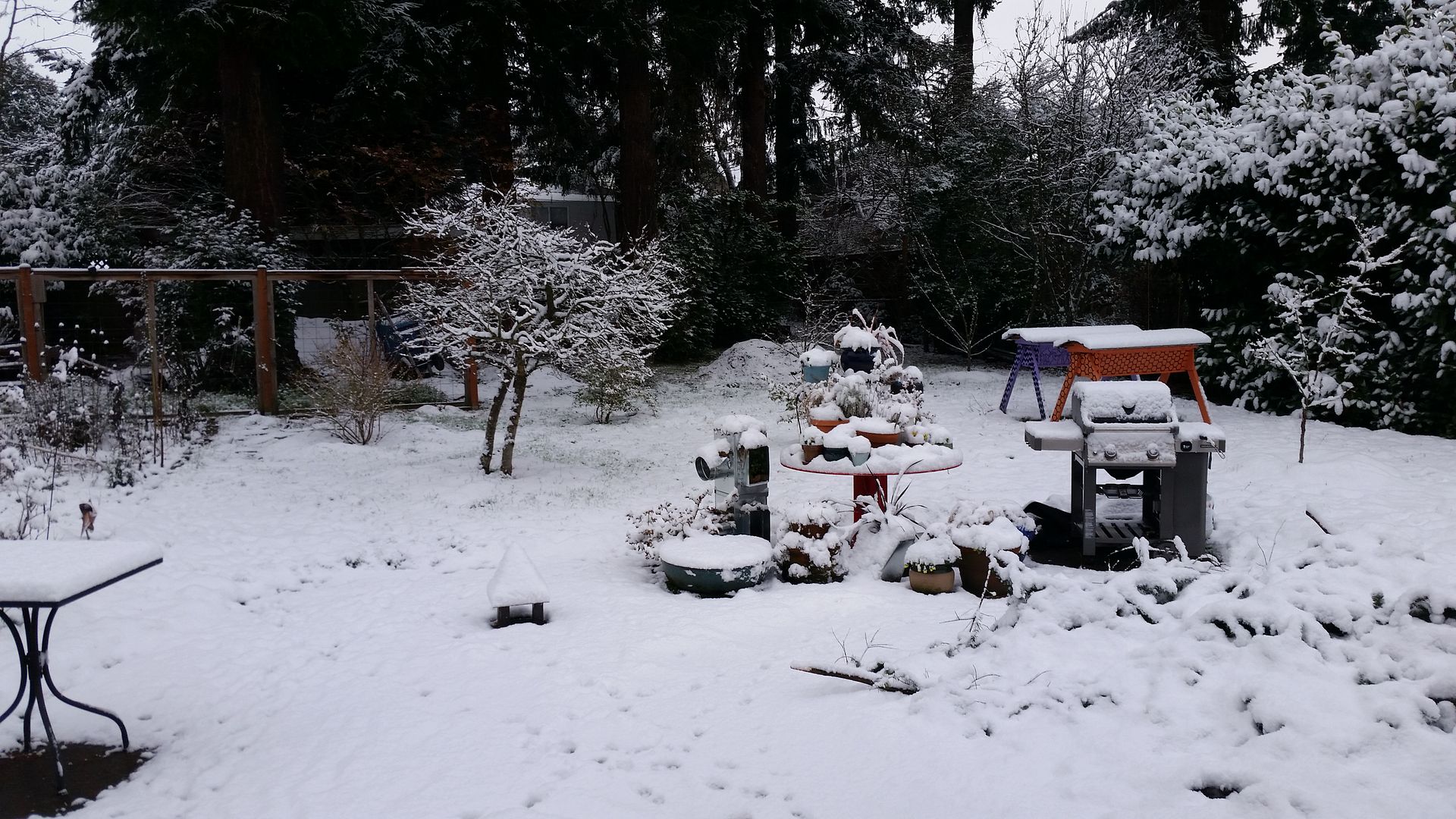 This was the longest vacation I've had since I was indentured. Just an observation, not a complaint: my butt literally hurt from sitting on it (I am a pretty terrible sitter now). I have enough hours banked that I still got my regular, scheduled apprentice raise on the first, which is pretty awesome. It's taken three years and some change since I quit my full-time, salaried tech job, but I am up to that 2014 money again. And now I can party like it's 2014? *
I could have done this faster if I'd taken the admission test for my trade immediately, but I didn't know what I wanted to do. And I'm glad I took some time to figure it out along with a couple of detours, many of them paying ones.
There's been mad layoffs at the shop, which is what happens when work is slow. Some days we were running out of work and getting cut at 9:30 in the morning, driving home in normal rush hour. My boss gathered us in the breakroom yesterday and said there would be no more layoffs unless journeymen wanted them. She said we are the "A Team," which is nice. This way you know there will be no more layoffs…unless there are. I worked last winter consistently, but I'm with a company that has less work right now. As an apprentice I am not allowed to quit a job but I'm sure we could get voluntarily laid off for lack of work too.
I am weirdly (and probably somehow wrong to be, do @ me) proud to be the lowest-level apprentice left there. Some of the higher-year apprentices who prefer field work opted to be sent out "on field assignment" so they can get more hours.
One of my drinking comrades, a drummer who reminds me of a long-lost Van Halen brother, said to me: "Attitude and attendance." Notice he did not say "skill and ability." I am very privileged to be able to stay in a situation right now where I am learning a shit-ton but not making normal paychecks, since they want to keep me and I have a two-paycheck household to lean on.
Some of the ladies I work with who have made a career out of the shop are pretty down on working in the field. Mostly they hate other trades, who are not nearly as nice and ungross as most sheet metal workers. I get it. I also kind of don't care when I'm out there. It's a coin toss for me. I'm much healthier in the field because the air quality is way better and my guns look sick because I'm not all histamine-puffy. I love building shit! Yeah! But in the shop I'm not tripping over 7,000 cords in poor/no lighting, freezing cold or boiling hot, and using portajohns that have been sawed in half and reassembled to get them up the lift. I have gotten to know people better because I'm not in Machismo Zone. In the field they warned me there can be high school drama in the shop, but guess what, there are human beings everywhere, and a crew of roughy toughy guys can be just as gossipy and backbiting as anyone.
B. Get up on his lap/ don't let him touch you
I don't know how to write this section so let's have an interview and I'll be glib until I can be real and then I'll probably delete all of this.
Q: What is it like when your kid splits abruptly and then it's the first Christmas without her?
A: Well Skip, it's challenging. As you know, I'm very, very blessed to be surrounded by so many talented family. It's been a real gift to me and my craft as a human being. There's been a lot of personal growth this year. But hard times too. Overall I gave it 112% and at the end of the day sometimes that isn't enough.
There is no way for me to say this without sounding like a complete asshole. Just get ready to slam the internet shut and throw it across the room. How was Xmas: it was a relief to not have her here. A real, profound relief. ~MY THERAPIST~ (who earns every cent listening to the ramblings of an insane person) is reminding me that a thing (some) teenagers do is push you away and reject you and go off and form their own identities and all that healthy stuff that can look like a slow-motion trainwreck at the time. Intellectually I understand that, but it's still very hard.
Living with someone for the past couple of years who said "NO!" to almost any kind of family activity or just one-on-one time unless it involved buying her something was exhausting. Living with someone who thinks you're a stupid hypocrite is exhausting. Being lied to often is exhausting. Taking care of someone whose rebellion is, in part, harming her own health, is exhausting and heartbreaking.
I am wracked with guilt over this relief, of course, because I'm not just the president of being Wracked with Guilt, I'm also a client. I did not text her on xmas because I remember when she'd get any kind of text from her dad like "Happy birthday" in the past couple of years her blood would boil and she wouldn't reply. I felt bad about that, but I also feel like she needs some space right now.
Aside: I remember being in the car with my mother after she'd moved to back to Seattle with us and her saying, "Are you ever not feeling guilty about something? You're like a closet Catholic!" (I think she was dating a recovering Catholic at the time.) In hindsight I don't think she recognized what having a conscience looked like.
Anyway, I'm not trying to vilify Franny in any way now that she's living with her dad. We weren't any kind of victims, just a family with a teenager. She is being held hostage to her own need to grow up and figure out what the hell is going on. I tried my hardest and will try again in time. I'm not trying to flip the script and say good riddance. It's just gotten easier around here and less serious. Strudel seems to be feeling better and her aunt and a family friend have commented that she seems to have more of a sense of ease. I didn't realize how strained her relationship with her sister was as well, but Strudel opens up about it now.
We need to be careful with her now, too, I know. Now the laser beams are TARGET: STRUDEL, ONLY CHILD so I need to balance supporting her where it's appropriate and letting her live her life and try things. Check back in three years when I've messed that up.
Positive: I have a lot more energy now. This sounds terrible. "My house is so clean now, and all I had to do was kill and eat my entire family!" But I do. My memory is better. Grief and worry gnawing at you can take its toll. I can both love and care with my whole self and still say, yes, and that shit is really hard sometimes.
The whole house is kind of in recovery now and we're playing house shuffle. Strudel eagerly moved into Franny's larger room, and I'm going to turn her old room into an office. We moved the bed into the basement finally and our old upstairs room will be a guest room. Right now it's gutted and looks terrible because it contains nothing but our clothes and some odds and ends. This mess is waiting for the walk-in closet downstairs (getting bids this month). There is half of a bedframe in my kitchen right now. Oh god. I have this long term fantasy/goal that everything in my house will someday have a place and then I can just lay down and die.
So things are getting better. I'm going to stop picking at this Franny scab for now unless something really shifts. Now I'm at that point where each day moving forward isn't acutely painful and full of regret. To quote Spike (yes I did), "It's just living." We're doing ok.
C. Mantra: A Lack of Planning on Your Part Never Constitutes an Emergency on My Part
In related news, I had a funny little SeaFed hiccup that I'm probably going to get a call about today. Apparently he tried to schedule an appointment with our allergist and told them we have shared custody (no comment. Wait: "LOL."). This threw the brakes on things when a person they'd never heard of before called to take a minor patient in and he was all "NEW DAD, WHO DIS?"
The allergist's office sent me a letter saying that since they have discovered we have "shared custody" ("LOL") both parents must be present at any subsequent appointments. It was crickets after this. No one called me and asked me to come with or for help. Sooo. *whistles*
This is pretty typical half-assed SeaFedry. I am not even trying to be mean. He's just never been able to manage his time or have the executive functioning to navigate through systems like this. I predict: he did not get the letter, because he did not provide his address when he called; OR, he did not read the letter; OR, he read the letter and forgot about it, and so will show up at the appointment today and call me once he's there and they turn him away; OR, they will ghost on the appointment.
This is making me think of when she was small and I took her to the dentist and sent him a copy of the bill and asked for half and he sent me a check for $14 (I think) because he "calculated" what the copay would have been if either of us had insurance at the time, which we didn't. Insane.
D. Subject Change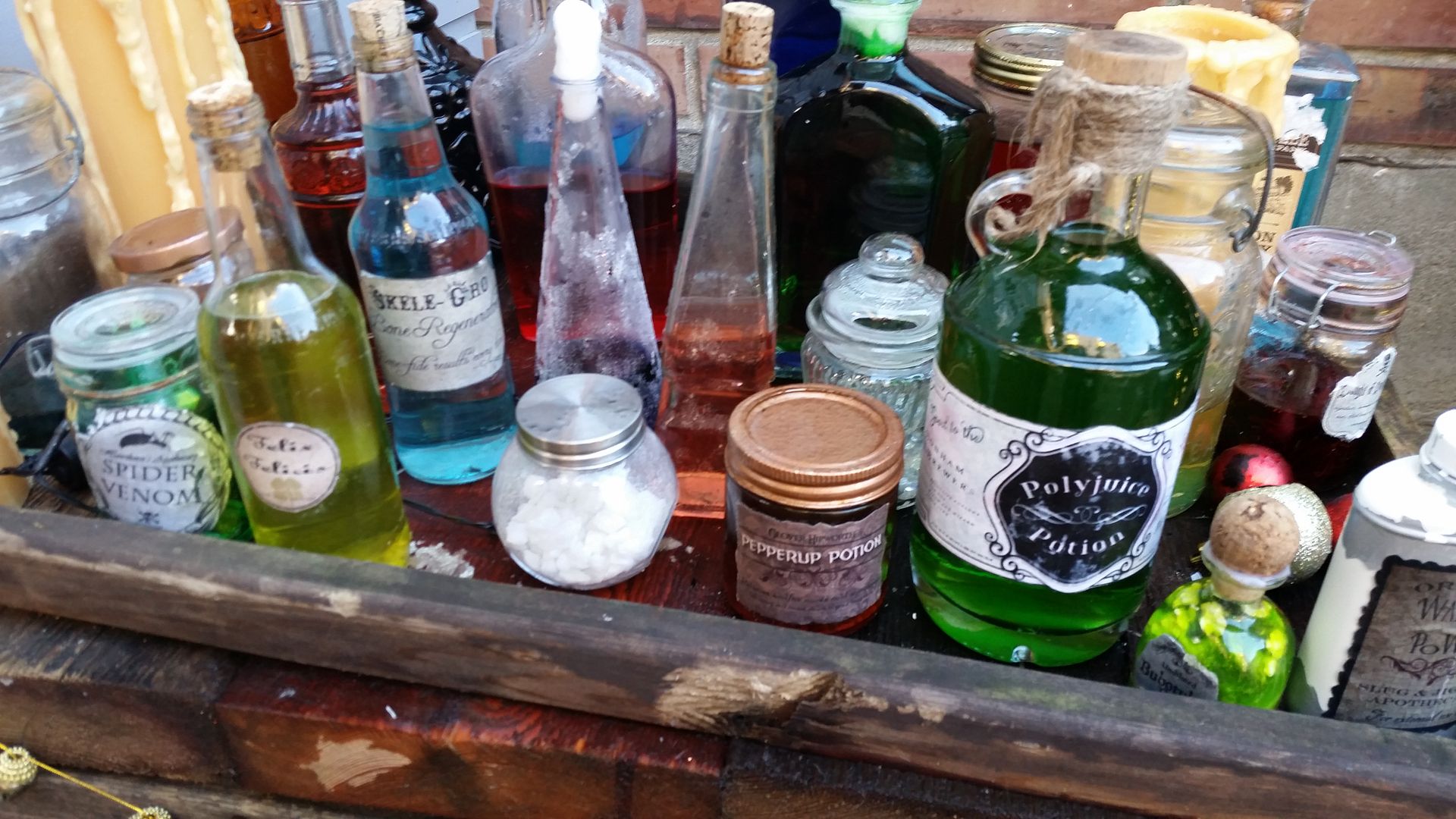 So we had some fun times on vacation together. On NYE we went to the Ballard house where they've done everything Diagon Alley in their driveway. It was for Halloween, but they've kept it up through this month and are raising money for charity.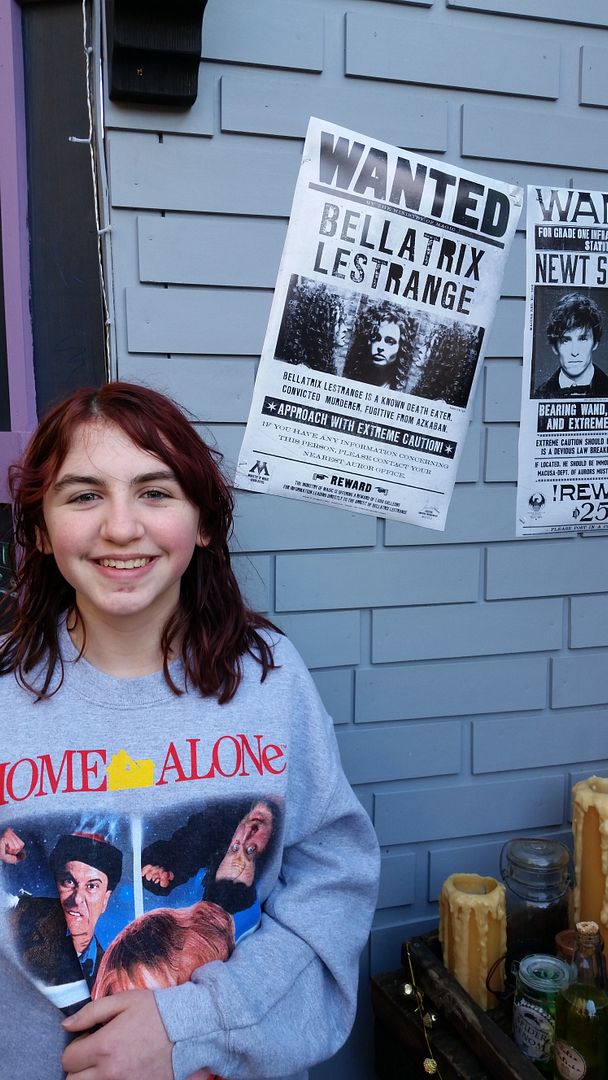 Strudel and I went to the mall and got some makeup at MAC, and I had her choose some clothes as pre-xmas fun. She's just teetering on that age where I can't reliably choose clothes for her anymore. This holiday was smaller than the usual ones because she's not really into toys anymore, is not outgrowing things like mad, and because my work hours/paychecks have been so limited.
I took menu suggestions for xmas on the chalkboard and they basically looked like this: fried squid, pho, ham, satay, pickled Korean beef, sandwiches, spaghetti. What do you do with this? I split it up.
On xmas eve we had Asian food: satay, pickled beef, sesame chicken.
Pete went out and grilled satay in the snow and he and I were both impressed with him.
If the food photography on this blog ever improves, call the police because I've been killed. *blinks SOS slowly*
Then we did jolabokaflod, which was fun as fuck.
Strudel said, "I don't have any money!" I asked if she'd be open to going to the library, and she was. She got me an Isabel Allende. I have never read her, because I am not super into sad, serious literature, this is a thing I know about myself. "I am expanding my horizons," I said. By chapter two there had been meditations on loneliness, the displacement of being alone in a foreign land, dismay over the physical aging process, a cat drinking antifreeze and growing staggeringly, foamingly ill, and I knew someone was about to get hit by a car (book flap). I quietly put it down. Whoa.
Pete played it very safe and got me Salt. I am a sucker for food plus history obviously. I got him The Secret Diary of Adrian Mole age 13 and 3/4 which is one of my favorite books of all time and he read the first page, laughed really loudly and put it down (?). Pete got Strudel some really compelling YA vs A Short Sharp Shock by Kim Stanley Robinson (mine) so he won that round too. Next year I will pander!
On xmas we voted for a cheese day had Monte Cristos for breakfast and pizza for dinner. I got kind of poofy and a little joint pain but it was actually worth it. Gluten and corn never tempt me (recovery is too horrendo and unpredictable), but twice a year or so we have cheese.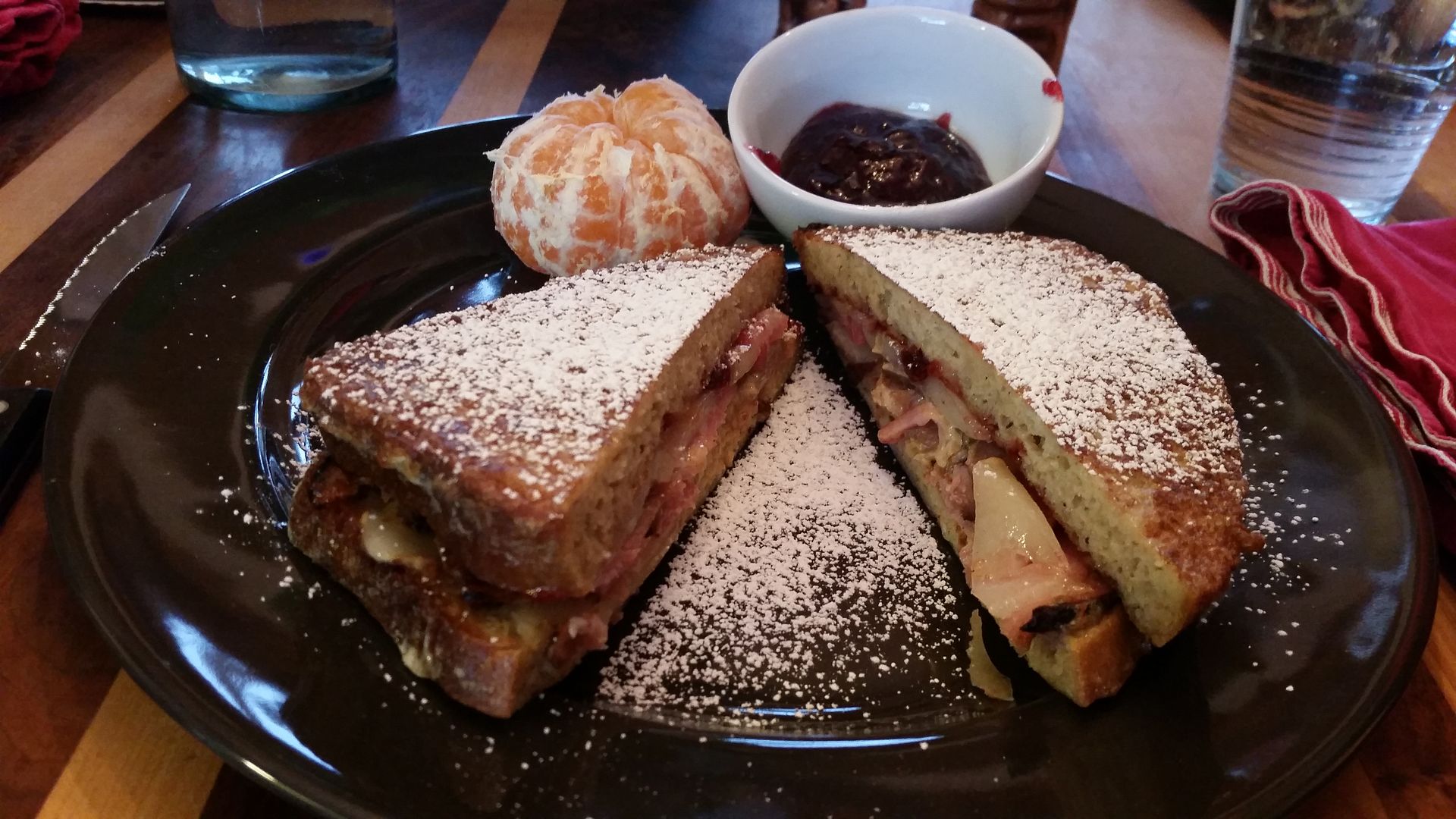 Two days after xmas we saw the new Nutcracker. It is VERY interesting now with the new set pieces and costume designs. Usually I think ballet is a little boring unless some shit is coming out of Natalie Portman's arm.


E. Meditations on Fruity Crap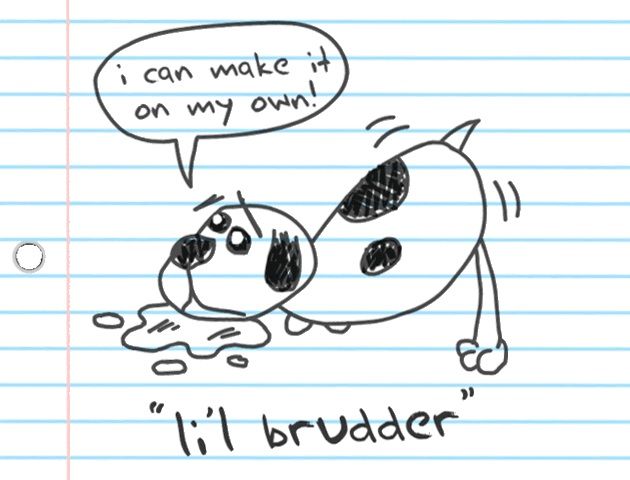 A couple of summers ago, there was a stack of books on my buffet and a ZZ plant innocently thriving on the floor next to the buffet. Of course, along came a fat Mère the cat (motto: "I don't understand physics!") and knocked the books down, crushing the ZZ plant in the process. I let it limp along for a while and hoped it would recover. It pretty much stopped growing, like "WTF fuck you people. I was doing good work here." I downsized the root ball into a smaller pot, hoping it would force growth, and saved the few remaining green leaves. I set it in my dark bathroom window, since it's a low-light plant.
Finally, there was only one leaf. I kept watering it and then pulled it down on New Year's day.
This is how we get emotionally attached to plucky plants. Thank you, plant. Happy new year to you!!
* 2014: Go out to dinner, get ill, blame self for eating too much. Go out in public, breathe air, get ill, call self "melodramatic and probably anti-social." Have drinks, get ill…eh, you get the picture. |back|