There is a lot of music that reminds me of other people, but the other people don't know I was ever thinking about them, nor have they heard the music themselves. I realized this this morning when I was listening to Felicia Carter, who I haven't listened to since last summer really. It's like someone else wrote the secret poems for you.
Yep, we're calling it spring. I even went outside in the 6 a.m.s and could see things. The birds are going crazy, but my chickens, who do get the pellet, not the worm, are sleeping in.
I think the plum tree is going to have a good year. I made like Obama with the turkey and gave it a pardon after its extremely lackluster performance last year. I figure if it wasn't actively diseased or foaming at the trunk or anything it could stay.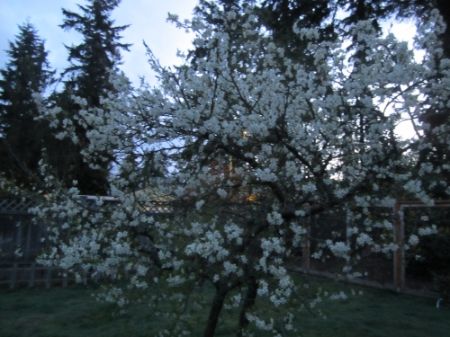 "We could just plant a new one," P. said.
"Let's give it one more year," I said. "It's old. Maybe it's just tired." If plum trees ever sit in judgment of my root system I hope they will come to the same conclusion about me. Next year. One more year.
He sprayed it with salad oil. I don't question these things, really. I mean, maybe he knows something, or maybe he is just crazy. (Cue the sound of "HEY" many hours later when he discovers this.) Something seems to have worked.
I am considering spraying salad oil all over my own face at the moment. I've got the Prednisone poof. I'm not full-on Om Nom Hamster but it's not great, either. There's this rise where the chipmunk action starts and then it stops and I can actually see normal face and cheekbone behind, so it's not like when my face has just been fat. I woke up the other morning and my nose was swollen–I actually noticed it in my peripheral vision. I am down to one pill and I feel pretty normal and sleep isn't too bad anymore. By Monday I will be on half a pill, and then done by Thursday. I hear it can take a couple of weeks for the swelling to go down. In the meantime I feel like I have grit in my eyes so I wear my sunglasses everywhere, but am considering a bag for my head. I think I have had more veins burst in my cheeks but it's hard to tell at this point. When no one is looking I kind of fondle my fat cheek parts and they sort of feel like dumplings or like mochi or something. My anpan filling is: bile.
[As a fun aside, P. came by while I was editing this, marveling over how my face is totally back to normal now. He is insane and can somehow sense when I am feeling bad about myself and will take that moment to say the most untrue thing.]
Franny left on Friday morning and I happened to be here since I had a vet appointment for the spaniels, who had ear infections and ear mites. I kind of understood their ears were off when I was really sick and I was trying to keep them clean, but I hadn't realized how bad it had gotten until Horace yelped twice at work when people were petting him. They got shots and I have ear cream and I am getting drugs for them, all is well. I am ace at cats but still kind of a dog novice, sigh.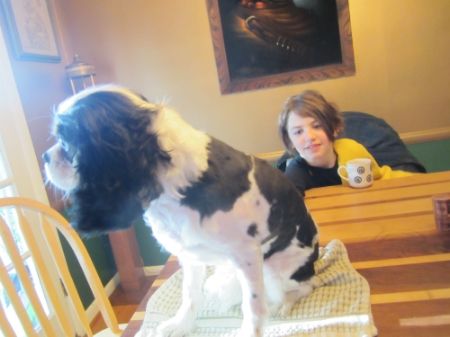 This is one of those things that is so easy to deal with when everything is normal. But getting sick, followed by lice, and now dogs. Whoosh. I think everything is under control now. (HA HA, did I really just type that.) After work I washed my car and made dinner and just that was exhausting, but not in a bad way. It's weird to go from being able to do 12,000 things in a day to having to pick three things and then being forced to stop.
But this is all an aside to say that we decided to have a fight on the way out the door. I, Official Monitor of Toothbrushes, happened to notice that hers had been untouched for a couple of days, since I had put a replacement head in the bathroom for her. I should have left it alone. Am I actually capable of not answering the siren song of neglected oral hygiene? I am not.
"Hey, you went to bed early last night," I said.
"Yeah, I was tired," she said.
"You ate a bunch of candy and then I know you didn't brush your teeth and then you went to bed." Wait for it, it gets worse: "That is a recipe for cavities, friend."
"I'm not going to GET cavities," she said.
"SAY WHAT, CRACKER?"
"I don't get them," she rephrased.
"Well, if you keep up on your teeth you are less likely to get cavities. Magical thinking like that is not going to protect you from anything."
"I need to be POSITIVE, MOM. I can't tell myself I'm going to get cavities."
"No one thinks they're going to get them, honey," I said. "But there's steps you can take…"
"ARGH. It is so hard having divorced parents," she said.
I think this bout of drama is coming from a friend at school whose parents are fighting unceasingly, causing the girl to worry her parents are splitting. It is also causing Franny to be in the ladies' bathroom with her during 4th and 5th period while the girl cries, which I don't love. Franny is the resident expert on divorce.
"I told her what it is like to go through a divorce," she said, on Thursday evening.
"Do you remember?" I asked, innocently. "You were only three."
"YESSSSSS," she sighed at me.
But back to oral hygiene.
"So what is so hard about having divorced parents?" I asked.
"You're so STRICT, Mom! If I forgot to brush my teeth, my dad would just say, 'Oh well, do it tomorrow."
This is where I interject in my head only: There's an epitaph for you.
"Your dad and I are different people," I said. "You know that."
There was a little more scrabbling and then she stomped off to her room declaring she "didn't want to talk about it anymore." This is her tack lately–get very defensive about something, then declare the conversation over.
Strudel was sitting across from me at the table.
"Do you want to live somewhere else?" I asked her sotto voce.
"Where would I go? I belong here."
"The train station?" I offered.
"There is no one who loves me at the train station."
Later Franny came out to pack her backpack for school.
"You know, honey," I tried again. "Your dad and I are so different, that even if we were still together, we would have drastically different ideas about how you should be raised and treated. We did when we were together and trying to raise you. This isn't just a divorced parent thing. This is a different people thing."
She said nothing. I went on, because when things are going down the crapper I like to enhance the situation by sticking my head in tiger mouths I guess.
"P. and I don't always agree on you guys, but we find compromises. That's the key." Silence. "Um. So. We're not going to see each other for a week. Are you sure you want to leave things like this?"
She walked out.
"Bye, Mom!" Strudel said, following her.
Franny was like this last summer as well. Really, really shitty before long breaks or vacations. This was bound to happen if I'd brought up the tooth brushing or not. I have heard all the theories and I'm not going to spend the week fretting. I assume we will have a talk at some point. I hope someday we can have more of a "Bye, have a nice trip, see you in a week," interaction.
Later, after school, Strudel surmised that Franny was jealous we are taking a trip to Portland without her. Maybe so…maybe not. I know Franny is going to Walla Walla for spring break.
In other "stupid things I have done lately" news I decided to "loan" my sister my ye olde butcher block table.

VANISHED! Now all the plants have moved and are in a terrible jumble.
It's actually really good because their apartment needed an additional countertop. Their space is like ours–50's apartment, instead of house, with a galley kitchen and an open nook and no counterspace. So the butcher block will be a counter and a workspace in the nook. You can make bread on it and chop things, which is what it was used for when SeaFed's mother had it in her kitchen. Since I've had it, it's been off to the side somewhere, holding plants, not actually being used. It was acting as a plant stand in this house, which is a shame. I just gave her the whole "If you move and you think you want to get rid of it, let me know first," but really we will be here a while, and this kitchen will never magically expand to hold it as an island, and my ass needs drawers and shit. I did give her the "This is an Alexander heirloom" lecture since we West Coast meanderers have such few possessions that actually mean anything. I did have a sigh when I tucked it away into a corner in another house yet again.
So P. is like, "Yo, what is your plan for this corner now that you have given away a thing we had that was working." This is a very legitimate question. Sadly, I do not have an answer. Yet. I think I need a Countertop Solution. I really like what's going on at this house. I'm imagining sealing the "permanent" counters that are by the sink and stove, and leaving my standalone guy sealed with food-grade oils so P. can continue making bread there as he likes. But maybe something in the corner too. Well, I have done it now. Godspeed, little butcher block table. You made my mother-in-law's 80's kitchen look fabulous, and I'm glad I inherited you when she remodeled in the aughties.
I've signed up for fruit and veg delivery, which was kind of a little epiphany I had when I was sick and getting stacks of frozen Trader Joe's food in. It's not a proper CSA in that they use multiple sources, but it's nice. I've been meaning to do it for years but the time was never quite right. It's making me really creative, because I take it as a challenge to use everything up before the next delivery. I'm thinking about going back to Amazon Fresh too. I may never leave my house again, except for work. (I am working on a secret mole tunnel; it's only four miles).
Anyway, I forced myself to quick pickle this asparagus before I left town so it wouldn't go bad.
HAVE A GOOD DAY.