FUCKING SHIT. Strudel got clipped by a car in a parking lot of a BurgerVille in Vancouver, WA. I heard a BANG which I thought was a fender bender, but it turns out someone was bending their fender on my kid. She went flying some and scraped her knees. Her shoe went blasting off into the bushes far off. I didn't see it, because she was throwing out a wrapper and I was waiting for her in the Honda with my back to her.
I ran when I saw her sitting on the road in front of the lady's car. Strudel was weeping and I ran to pick her up (bad idea, I know, but I felt physically incapable of not picking her up). She was feather-light from the adrenaline, of course. I started saying the license plate out loud as I moved her to the sidewalk–it just happened.
"She didn't even look!" the lady said. I decided that was when I was done talking to her. I looked at her: limp blonde hair, teal scrubs, but not a doctor, 40s. Small. Scarred face. Eyes that kept sliding over us and then off us.
There was a witness nearby who actually saw it. She had kids in her minivan. "She was driving really fast," she said. "You should call 911 and then file a report. Your kid might be in shock." She gave me her phone number as a witness.
"Thank you, I'm in shock, too."
So I called them. I took a picture of the front of the car that hit her while her dad comforted her.
"It always looks like that," the owner said as I snapped it. Every time I looked at her, her eyes darted away. Her face was a mask, impassive. In a weird way I admired how calm she was.
An ambulance came, but Strudel was pretty okay, thank goodness. Her head was not involved at all. They looked her over and gave us ice for her knees.
We ended up filing a police report, which is a good thing to have. I got a piece of paper that was called an "Exchange of Information" with Strudel as the pedestrian and the name of the driver. I was thinking about how I would feel if someone handed me a piece of paper saying that I had hit a kid.
Strudel has swollen knees now with bandages on him. The officer who took the report gave her a firm, but kind, dressing down about looking both ways.
"It doesn't matter whose fault it is," he said. "Little girls never win against cars. You were very, very lucky today." She nodded.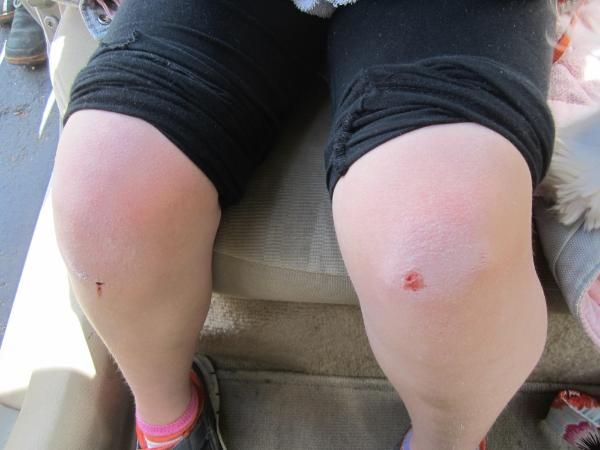 I know we're in a litigious culture but I don't think I could prevent myself from apologizing if I had hit someone's kid with my car. I don't think the lady's evil or anything. Or maybe she is, who knows? But I don't think I could have stopped myself from apologizing, and I'm sure I would have been bawling while I was doing it. But that's me.
Okay, I'm going to sit in the hotel bathtub and cry silently for a little while before dinner. I will take all of these near misses from the universe. ALL OF THEM!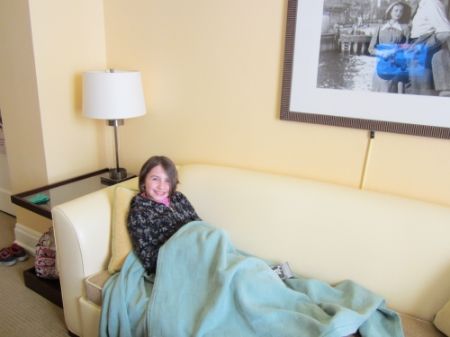 Icing knees before dinner.