Hey, it's my last steroid pill. Bye, jerk.
I am told it will take about a week for the Prednisone to leave my system completely. Once I realized I was going through withdrawal during the two week tapering process, which was causing joint pain and muscle soreness (ha ha the thing it was suppose to relieve) I felt better. Every three days I tapered down by half a pill and on that day it felt like someone came up behind me and gave me a good hard shove in the middle of the back off a curb. Brain fog, achiness, irritability.
So I want to say, as if this is my award speech, thank you to everyone who called, visited, emailed, texted, commented. It means a lot to me and it really did make me feel better. If you know someone else who is sick, do exactly what you did again for them.
My prize is a lifetime supply of Rice-a-Roni and ten pounds. I am distinctly more vibealicious than I enjoy being. However, if this is what I get over death or a chronic condition, I'll take it. It's a small setback in my four-year plan to become a furce cougar by forty with the ropy neck tendons and Courtney Cox weave and spray tan. At least all my clothes fit. Okay, most of them.
And this is much better than last week when I was so poofy due to the Prenisone bloat I looked like a 7 months pregnant Chipette giving a blowie. I discovered activated charcoal. I don't care if it's monkeyscience, it seemed to be depoofing my poor guts. I'm trying to do things like put in probiotics and take vitamin B.
Another upside of this is that I have barely noticed my last two periods. I think the steroids were having a good effect there on cramps, maybe? No cramps + menstrual cup= me forgetting I was on my period. Oops. I would wander off and not put it back in. The Gift of the Menstrual Cup. There, I have just named your bestselling self-help memoir. YOU'RE WELCOME.
I will be interested to see what life without a hammering heart is like again. I've been off coffee (drinking herbal tea or less caffeinated tea) but I bet that won't last long. I've been having fewer frightening crashes as I've been tapering down, but I was in bed at 8:30 last night, which seemed like a "mini" crash. I predict a couple of days of a LOT of sleep. Yay.
In Other News: Edith at the Hotel
I anti-socialed out and hid at the hotel with the dogs, which was the best thing for everyone. I could not really carry on a conversation, I was so tired.
Edith was amazed by baths. I think she thought only she goes in there.

"What are you doing?"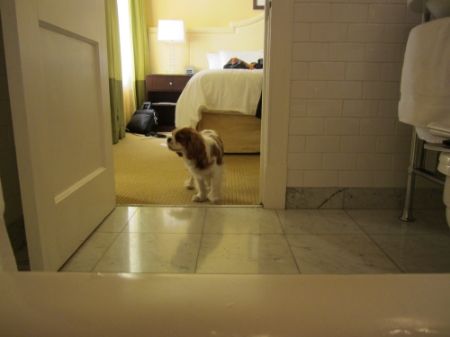 "Horace, are you seeing this?"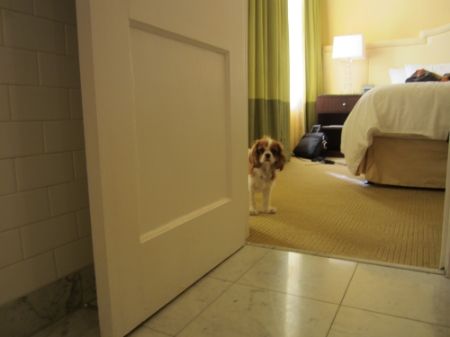 "Seriously, what the fuck are you doing?"
Eventually she got close enough so I could grab her with my bucket. I washed her with the fancy shower gel and then looked down. My bathwater was brown. I am stupid. The dog was clean, though. Then I took a shower and put the lotion on my skin.