Shit shit shit I am sick again. I have lumps on the back of my neck (swollen lymph nodes) and I am dragging ass. I kind of ignored it for a couple of days but it's not going away quickly, anyhow, and I am just sleep sleep sleeping, and turning to my usual coping mechanism, cooking. With mixed results.
I keep touching my neck bumps and going YEP STILL HURTS like a dog touching its hotspots. Why does human nature compel us to lick chancres and probe burns? I'm sure there's a reason. Don't answer that.
I've been pondering how much time I've spent in the 19th century, not in a just glue some gears on it sense, but just reading and cooking and thinking about that whole cool syphilitic cobblestoney situation. Now I kind of feel like I'm unraveling, slowly, in fits and starts, but I don't have a lady's maid and I have a job and children, so I can't sit around writing gloomy poetry and sucking on a shisha all day, like some kind of plump overeducated caterpillar, which is probably what I would be doing right now if it was 150 years ago. This too shall pass? Don't answer that either.
This weekend's ice cream was chosen by Strudel. It's fruity miso. The cookbook's authors recommend using whatever ripe fruit that will mix well with the miso and is in season–pear, apple, or peach. I used two smallish nectarines, which is what I had (it called for two "large" peaches), and augmented with a couple of small red plums.
You caramelize sugar, and then mix the fruits in and cook them down, caramelizing them as well.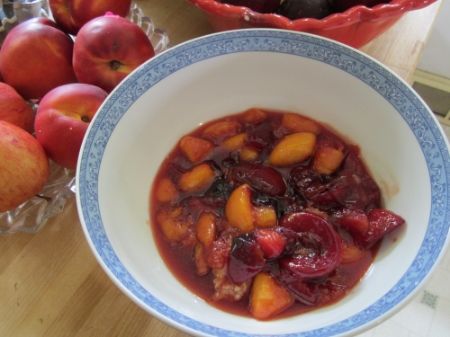 This was all well and good until it was time to stir the miso in and then blend everything. BLEH! It really called back to some unfortunate times later in high school when payday meant takeout sweet and sour chicken and a couple of bottles of Boone's sangria. The flavor part of the ice cream base really reminded me of that–fruity but also kind of sour. I made myself taste the custard once it was all blended together before it went into the fridge to cool and steep and it was…okay. A little vomity, though, really.
I'm not going to say anything to the kid. By the time I was her age I was a professional vomiter (allergies, poor parenting, etc) but I think she's only technicolor yawned three or four times in her life so far.
Oh hey, look over here! Shiny thing.
I was a plus one at a BBQ yesterday. We didn't stay too long in part because I got really cold and tired. The weather suddenly turned and I had dressed for sun. I brought this cake, which is a Texas sheet cake, and comes together very quickly. The frosting and part of the batter is boiled. Patriotic sprinkles for the win.
I like to experiment on people at parties, so I also tried a cherry slab cake. My pan was too big and I didn't like the way it looked, with the juice leaking and and slightly burnt at the edges, so we kept it at home.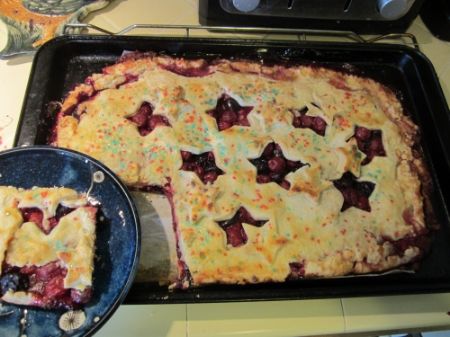 Strudel declared that we would have to have black coffee and cherry pie for breakfast, like Agent Cooper. She is getting into character to be him for Halloween. She spent the entire meal exclaiming that she was drinking a DAMN FINE CUP OF COFFEE. I really can't think of a better way to spend a Saturday morning. I told her I would rent her a small FBI agent's suit for trick or treating.
I am also getting excited to go back to the Twin Peaks festival this year.