Call me Samuel Beepys. If you have not seen this really cool video yet of a bee metamorphosis, I highly recommend it.

pollen baskets ahoy
Over the past three weeks we've been fixing a self-inflicted disaster. I was gripped by indecision paralysis about something called comb guides. Here is what the inside of our top bar hives look like, basically. You can see that there are literal bars that are supposed to remain movable, that is to say, not glued together with comb (wax) and plant goo (propolis). Check this out: it did not occur to me that if I did not make "guides" on the bars that the bees would get in there are perceive it as a big cave and just start building comb anyfuckingplace. Because surely horrible smoky bears will not come once a week and tear the roof off and poke around, right? Wrong. It's like Minecraft except I'm the monster.
So they started building their hanging combs on the cracks between the bars, or two to a bar. This was causing everything to be fused together and to fall down when we would try to inspect. I am so dumb. It's like any hobby you get into–there's a million ways to do one thing, and everyone has a different opinion. I just never decided on one thing.

double combing
So we went in and retroactively added some square "dowels" to some of the bars and fixed what we could. But this has caused a lot of chaos in the hive and for me to be stung many times now. Sooo I am over that fear. I get kind of feverish feeling and semi-useless for the rest of the day. Plus there is the big adrenaline dump (for me, some people are probably super casual about it).
Also I have discovered that it is terrifying opening a hive and looking into it sometimes. I get kind of frozen, just seeing the thousands of bees and hearing them raise their buzz until it is louder and truly angry-sounding as we get close to the queen. I think this is the last day we will be wrecking shop and the new comb is being drawn straight.
Even though you have done nothing wrong I have still made you a terrible drawing in paint to show how this works.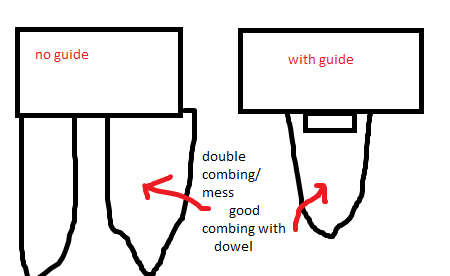 cutting away the double comb veeeery carefully
Fingers crossed next week I will not be stung. So far I think this is going well in that they are still alive and reproducing, and we have seen combs full of honey, but we are just leaving them alone for now.

Too many Todds on the dance floor
This is some wayward comb that we had to remove that had some drones hatching out of it. As we have been moving comb around and removing fallen comb from the bottom of the hive, we've been putting it back on top of the bars if it has capped brood. This means the baby bees are done eating, they are just sealed up and growing at that point. If they stay warm and safe they seem to hatch out okay in the "attic."
This is some of my favorite bee-behavior (beehavior): festooning. You can see fallen comb bits on the bottom of the hive. We had to clean those up, which caused the stings.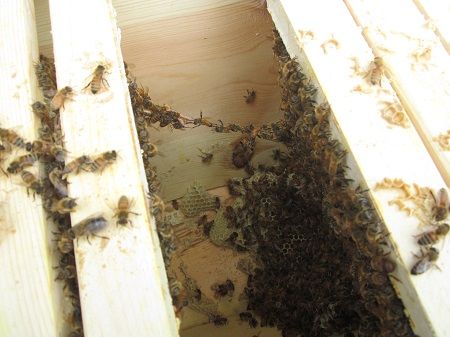 They make funny little daisy chains between the combs. When we pull the bars to inspect them, they are often chained together like this. After we were done and my heart was all racing and I was starting to swell from stings, I had a snort of gin and then mopped the kitchen. I really look forward to Saturdays now.
This morning I made sunscreen, because the last time I put on my (corny) regular sunscreen a few weeks ago I had one of my "narcoleptic" episodes where I fell asleep randomly, as I mentioned that I do recently.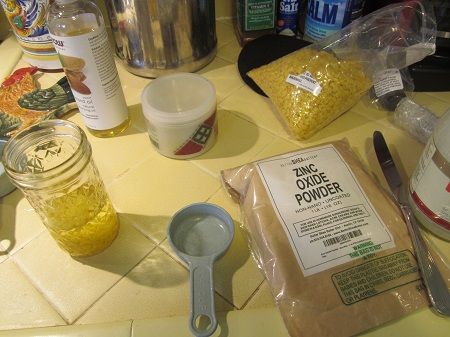 It was pretty easy. I joke about my narcoleptic episodes sometimes, but corn is no joke for me. When I worked for M$ I had a loooong bus ride home and I would deeply, deeply pass out. One time I woke up and the bus was packed and a guy was kind of pawing me. A. that shouldn't have happened to anyone but B. if I am honest, I have to say it didn't bother me that much. Would I like to kick him in the kidneys until he pees blood? Yes, I would take that chance. But (hey let's get darker) much worse things have happened to me. I didn't have anyone to tell at the time, so I didn't tell anyone. I went into my trusty ol' Don Draper mode of "it will shock you how much this never happened."
BUT LET'S AVOID THAT MOVING FORWARD, OKAY. Homemade sunscreen. HIGHKICKS.
Let's have a picture of a dog terrified by a robotic vacuum. I'd just gotten back from a run yesterday. She does this every time it runs. Poor baby.