I had a dog guest over last night.
It is hilarious to have someone else's dog in your house. I don't even know why that is! I guess it's the novelty of it.
You'll regret you ever messed with Bret from the Tough Brets.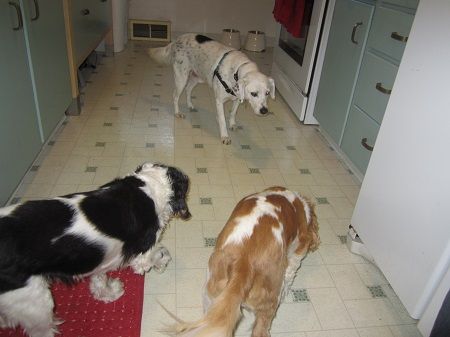 Just kidding, they were all looking for salmon on the floor. I made gravlax, forgot I made gravlax, and so bought a couple of salmons at the store and stuffed them with ginger, limes, cilantro, and lemongrass. My friend was nice enough to say "salmon two ways." Yes, I meant to do that. I made a rosemary peach white sangria for my guests. There were assorted noodles and salads and strawberry gelatins for dessert.
I skipped the sugary stuff/booze (except for the gravlax and nuoc cham because fuck that nuoc cham is God's jizz.) I hope I'm over my initial Whole 30 energy slump. I think I'm cycling pretty fast because my biggest "vice" is sugar. This month is a reminder to practice moderation and the benefits of it (for me).
My friend asked me if I was drinking a G&T and I had a twinge because I think it's weird when hosts drink things in front of you that they have not offered to you.
"It's sparkling water and lime," I whispered apologetically, like a weirdo.
"Ah," she said.
"I'm low-carbing this month," I said, briefly, trying not to be that crushing bore. (I save being a crushing bore for here.)
I thought I would have a drink with my friends but I didn't want to totally break my streak and sugar crash. The girls ate lots of noodle and had dessert with my guests.
My sister came over on Monday for dinner as usual and surprised the hell out of me–she is attempting to quit smoking for the first time since she started ten years ago. She is a very determined person about her goals so I think she'll find success in this in the long run, even if it doesn't last forever. I know not everyone goes cold turkey once and licks it. I think you can learn a lot of lessons from trying at something, even if you don't totally nail it the first time.
As I've mentioned several times I was an off-and-on smoker for many years, usually when I was out of town and away from the watchful eyes of my children. So I would smoke for three days, not smoke for 6-9 months. Sometimes I would smoke just at work, like when I was in court. It definitely made me feel better while I was doing it–giving me regular injections of serotonin and dopamine. I decided to quit for good before I changed my diet and had my health crash. And it was a struggle leaving it behind until I quit eating wheat.
I had a reminder of this around Mother's Day, because I accidentally ate wheat at the end of April. It took almost three weeks for my mental state to recover and ate that time smoking sounded AMAZING. I craved cigarettes, which was a little upsetting because I hadn't in well over a year. I knew it would just prolong the bad feelings–I would have guilt over smoking and then another sad crash when I inevitably stopped again.
Anyway, my sister is going through a lot of physical changes because this is her first time as a grown-ass lady without smoking. I really hope she makes it, not just for her health, but because she still wants a career in radio, and I think her voice is so nice on the air. Plus they are ungodly expensive. The lady side of my family smokes and mainlines black coffee. Most of them were skinny as rails, too. I remember my grandmother making mountains of southern food and then not eating it–it just didn't look good to her. I was getting there with food myself. It sucks when nothing sounds good except coffee and smokes, but I understand.
Speaking of salmon and pigs, I caught Edith at this as usual this morning. Sometimes she actually gets her head stuck in the fence.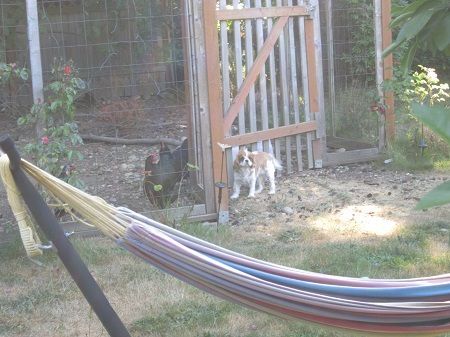 I like how this photo looks like it was taken in 1983. I am a no-filter filter master.
Snooki the chicken looking Edith over. Edith was sniffing at the chopped salmon skin I fed the chickens this morning, leftover from gravlax. Someday Lil Dorty is going to get pecked right in her piggy eye.