So it must be a VENT.
I have two things to tell you.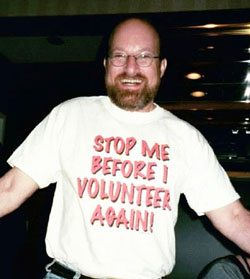 The Life of a Volunteer Coordinator
Stage One: Ask for Volunteers
"GREAT GOOGLY MOOGLY YES we'd love to do that for you!" You describe the job completely. "Yes, yes, we can do that in our sleep!"
Stage Two: Wow!
Wow. I have a team.
Stage Three: Call in Team
And then you say, OKAY, tiem to do jorb nao, and they say, "This is not as described. I have surgery/vacation/fallen arches." And then I check my sent mail and see how I described the job exactly as it is.
Stage Four: Wine
I am stupid. Cry. Do job myself. Vow to never do this again. Mean it this time.
PART DEUX
2. Today I told my friend a story about my ex-husband to make her laugh, as she was having a rough day.
Three years ago, I took my big kid to the dentist. This is when I was still under the impression that we were going to be splitting medical expenses and whatnot as outlined in the parenting plan. ("Parenting Plan: For When You Run Out of Hamster Litter.")
So I sent him a bill for the dentist, asking him to pay half. I think it was around a hundred bucks total. What I got in the mail was a check for twelve-fifty.
"What's this about?" I said.
"Well, that would be half the copay if either of us had insurance," he replied. Clever. ELEGANT.
After I finished telling the story my friend said, "Is he…special?"
Yes. He's very, very special. Turns out she gave me the laugh.