What's happening now? It's Juneuary, but more June than January at the moment. I am feeling pretty mellow.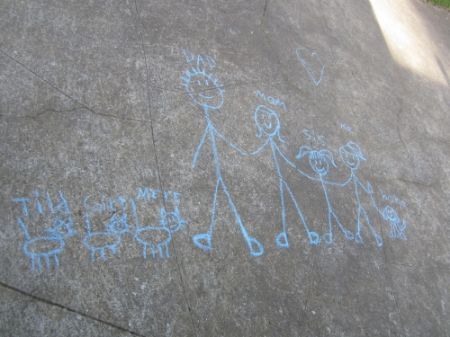 I did hit kind of a surprising rake in the grass yesterday. I had some free-floating anxiety and ended up taking a personal day. I felt better once I knocked some stuff off my list then relaxed.
I guess it wasn't totally free-floating though. I suspected it was fallout from court. I've lost twenty-five pounds in the past year. I guess I could lose a little more, but EH. Not really a priority.
The girls are looking forward to summer. Franny's going to be gone for a month out of the gate. I'm hoping she can use some of that time to talk with her dad some and just have a normal, non-overladen-with-yuk-and-subtext-and-angst times.
I don't know if I mentioned I'm going to the Twin Peaks fest with my sister this summer. I bought a chevron-patterned shirt to wear. I'm getting hyped up about it around myah. Franny and I went to a Kyle MacLachlan Q&A session that was part of him receiving an achievement award, which was followed by a screening of the Twin Peaks pilot. It was so awesome to watch her watching him. That sounds weird, doesn't it?
We decided we're having a MacLachlanfest this summer. The Hidden is going on the list (Mr. MacLachlan said: "It's a good rental."), for sure, The Flintstones, and maybe some selected eps of Sex and the City. I think it's going to be THE MOST AMAZING SUMMER EVER.
Here are some jerks I live with: