I think it's been a while since we had a pictorial, eh? I am mostly well again. I was just tired this week after emptying out my entire body. Thanks germs! And ravenous. Without further ado, Snooki welcomes you to a ASSPICTORIAL.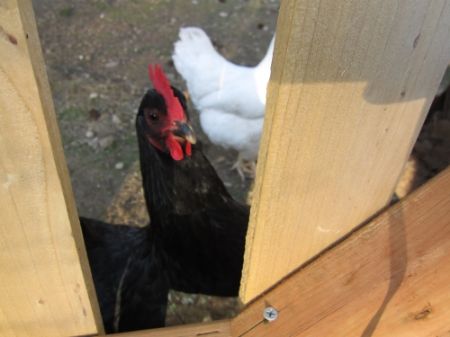 I've done a ton of planting in my yard, and decided not to take pictures of the sad sticks I planted, which is my normal custom. I need to rose nerd out, because I went rose nerd batshit around the chick fence and planted another Joseph's coat where there happens to be a trellis by the porch. "What trellis??" P. said. How do you miss a trellis? I guess you do if you are not a flower nerd. So of course I had to also put in a double delight (looks crap in this picture because I think it was the very first one) of the season, and some kind of lavender which I am forgetting, and also a hot cocoa.
There are also kiwis, which are leafing out now, and a fig, which looks quite stunned, poor thing. In addition to the cherries we planted out back where the rotten apple tree was, I think we might have a fruiting cherry out front. It was summer when we moved in, so I assumed it was ornamental. There are HELLA herbs in the front yard as well, including way too much lemon balm. Not my favorite, but apparently ve have ways of making you talk. Or delicious, or something. I will wait a month or so and then take pictures of what my sad sticks have transformed into.
Easter happened! I already wrote a little about it at the bottom of this recent post, but I thought I would finally cough up pictures. As long-time readers know, I do not have a religious bone in my body, but it nice to have an excuse to celebrate lambitarianism. I've weaned the girls off Easter baskets and candy, which just feels like a bridge too far for me. I really don't like to make a fuss about any holiday I don't believe in. Which leaves Halloween (Satan) and Thanksgiving (Indigestion). Hand turkeys will be colored. I think my "celebration" of holidays reflects my core beliefs: food and art.
First I let Strudel dye eggs.
Apparently the fuck egg has become a tradition now.
Then we had dinner. I guess I waited too long to buy my customary lamb roast and I ended up with a rack. Which was AWESOME. I made lollypops.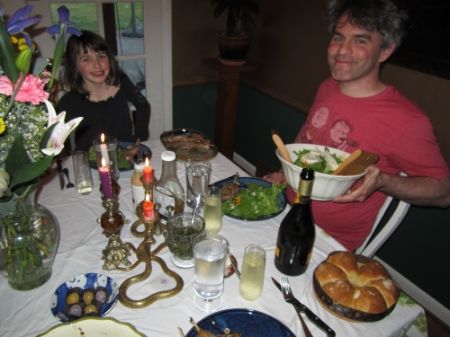 A crazy thing is that I still have part of these Easter flowers in my bathroom. Just the lilies, some greenery, and some carnations. Carnations are highly underrated. I think I came around to them after working at Lush for a while.
Strudel was VERY UPSET that I immediately used some of her Easter eggs, which I was sorry to upset her, but hard cooked eggs are great, aren't they? Yay salad.
And then, because I am a sucker, I let poor pathetic Franny talk me into letting her dye eggs later that week. She was upset because she was due to spend Easter weekend at her dad's house, as I mentioned, but for some reason they dyed eggs on Thursday or something? She missed out.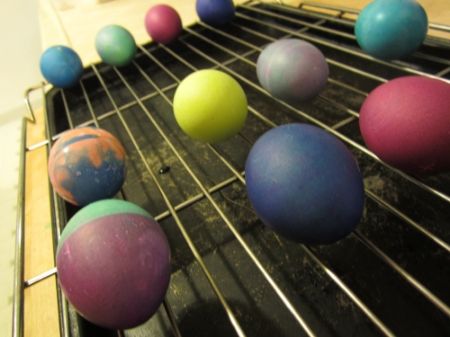 I guess I humored this because it's not a huge deal, and she's 12 now. Soon she may lose interest in dyeing eggs at all I suppose. (Cue "Sunrise, Sunset" and some maudlin weeping.) Although I dropped a lot of traditions, but kept dyeing eggs through college with roommates and before children. I have never not dyed eggs I guess.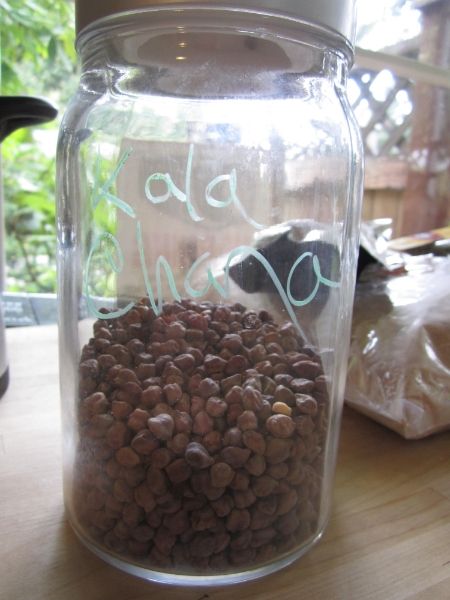 I've been lazy on my wee Indian food project, which is fine. I guess by lazy I mean, "eating other food" and "spending a lot of time writing." There are no schedules or calendars this time. My delightful work spouse brought me kala chana/black chickpeas for NO REASON except awesomeness and he loves food too, so I am making kala chana curry tomorrow. They are already soaking! I found a lot of interesting words about chickpeas on this blog. Usually I just buy the yellow ones in cans and nerm nerm nerm them up with my food processor until they are hummus. So this will be new.
Speaking of new, my friend J.B. and I will be taking a little field trip to get some new chicks soon. My youngest girls are now two years old, so it is time to cycle in some new girls. Death Ray (headless here) is now FIVE, crap. She is absolutely not laying and is fully retired. I am considering getting some more Silkies because I love them so. I will confess to you that every morning when I walk out I worry that Death Ray will be Dead Ray.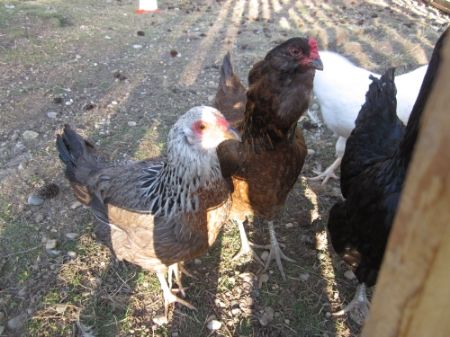 Tildy majestic on a rare clear day.