Two nights ago I dreamt I heard a noise in my sideyard and I walked to my kitchen window to look out. There was an old-fashioned black car parked there with the deepest tinted windows. I heard a pop from the car and my kitchen screen split, and a bullet went into my chest.
I slumped and P. was behind me, holding me up under my arms.
"I'm dying," I said.
"I'll call an ambulance." He is always very calm when someone is dying or really hurt. Then I got lightheaded and woke up.
After I woke up, I realized it was a hearse. Then I remembered it was my birthday. THANKS BRAIN. This does not bode well at all, does it?
Last night I watched Back to the Future 2 with the girls, as many people did last night, I think. The opening credits played as the DeLorean flew through clouds.
"This was like, the best moment of my young life when these credits rolled," I explained.
"I couldn't even follow this movie the first time I saw it," Strudel confessed.
"It's convoluted as fuck," I said.
P. popped in and out of the room as he made cookies. "I always forget that most of this movie is Marty fucking things up."
Franny had her own observations. There was a scene where Marty returns to what he thinks is his home, but it belongs to a different family and is in a run-down and crimey neighborhood in a dark 1985 timeline that he returns to. He slipped into his window to discover an African-American family living there.
"Mom, so that's actually racist," Franny said. "Now that the neighborhood's bad, there's a black family in his house."
"That's true," I said. "The director made the choice to put that family in there to show how upside down everything is in this 1985."
Later we noticed when Marty was tailing Biff, the antagonist, Biff lived at his grandmother's house, who had a lawn jockey in her yard, which was framed by the camera as we were shown the obligatory "keep off lawn" sign. The viewers were meant to understand these were bad, backwards people.
I still enjoyed it. I always do. It was a happy childhood memory.
In Other News: Bothering P on chat, who actually has things to do unlike me
I sent him the link to this image, which I think is an internet golden oldie at this point.


Presently: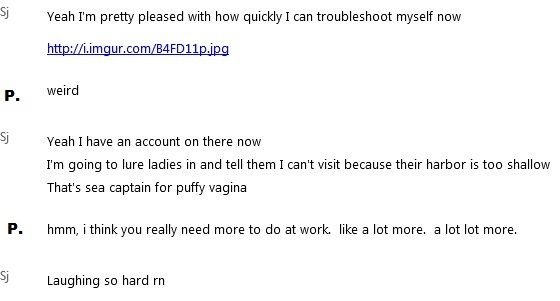 Outlook hates my name.
More Corn Dramz

When I mentioned "troubleshooting myself" in the above chat, I was being kind of silly but I really did figure something out this month. When I started work I didn't bring a mug right away, but wanted some tea. I always bring a mug, just like how I always bring a bag, and always retick my mattress with sheared pubes and lentils. It's just what you do in Seattle.
After many years of working in the same corporate veal-fattening pens with the same pretty okay corporate tea offerings, I thought the English breakfast was making me ill now. I was disappointed. My face broke out and burned, I got very tired, my lungs got "smaller" and congested. My joints hurt. And I was so crabby I could laser someone in half with a single glare.
I started having my crazy thoughts. "Maybe I can just GROW MY OWN TEA." (wat) "Maybe I can just whittle down to one basic meal template of rice, chicken, and broccoli three times a day like I'm a dog. SJ Chow." (No)
"I think there's something going on with the teabags or something," I complained to P. I stopped drinking tea for a few days and completely improved. Then I brought a mug in yesterday and cautiously experimented on myself. No effects but +5 to Caffeinated.
Then I fell down the rathole…okay International Paper Company, what are your cups coated with? Surprise, a polymer made from dextrose (corn). Don't worry, gentle citizen, it's inert and safe for allergy sufferers. Okay. I feel much better now.
I want to also tell you a story about how Franny asked me last night if I think she should be participating in more "teen activities" and all the outrageous high school stories she's been telling me lately, but I think that will have to wait til the weekend! Happy Thursday?